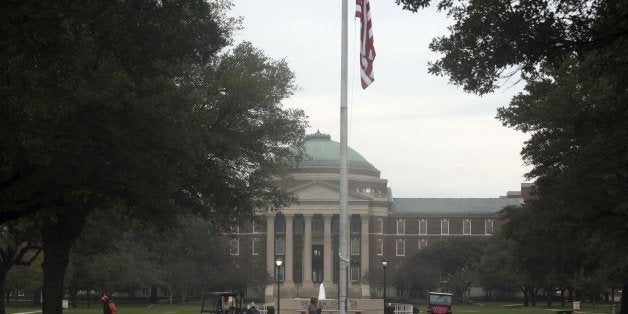 Southern Methodist University violated the federal gender equity law Title IX in its handling of sexual harassment and assault cases on campus, the U.S. Department of Education's Office for Civil Rights announced Thursday.
The findings do not carry a sanction, but SMU will undergo federal monitoring as it implements changes to its sexual misconduct procedures.
OCR reported that SMU violated Title IX regarding cases contained in two complaints, filed in June 2011 and March 2013. A separate March 2013 complaint was folded into the broader investigation, but was not found to be a violation.
In the June 2011 complaint, a law student alleged she was being harassed by a professor at the university during a spring 2010 class. According to the OCR release, the student charged that the professor had referred to her as:
"prom/beauty queen"
"hired bimbo"
"just one of those girls who thinks she's so pretty"
"bitchy"
"catty"
"bitch"
"doody blonde"
The student said the professor had also lectured the class that not paying attention to details was "like looking at a beautiful woman only she's wearing dirty panties," the OCR review said.
SMU took some actions against the professor, and a panel found the comments to be "either sexual or inappropriately sexist in nature," and "consistent with an overall pattern of offensive, gender-specific statements." However, OCR reported that the SMU president did not find that the professor violated any policy and the school ran a lackluster investigation.
In the March 2013 complaint, a male student who said he was sexually assaulted claimed that the university did not protect him when he was harassed by members of his alleged assailant's fraternity.
According to the OCR review, the student reported to SMU police on Sept. 23, 2012, that he was sexually assaulted by another male student. After filing the report, the student who said he was assaulted told SMU officials that a group of the alleged perpetrator's friends were harassing him. The victim also said his roommate sent him a photo of a shirtless man around this time, the OCR report says.
School officials told the victim to contact the police dispatch if he felt unsafe. An associate provost told OCR that the alleged assailant was "well-liked" and "powerful in the Greek system," and that the alleged victim "was not wrong to think that [the alleged assailant] could cause people to dislike him," the OCR report said.
OCR determined the university did not investigate these reports of retaliatory actions. It found that the SMU police promptly investigated and arrested a suspected assailant, but faulted the school for not having university officials conduct a separate Title IX investigation and allowing retaliatory harassment against the victim to continue.
"This voluntary resolution agreement with OCR confirms SMU's commitment to provide a safe and supportive campus environment and to follow the Department of Education's Title IX guidelines as they continue to evolve," the university said in a statement. "We appreciate OCR's recognition of the new policies and procedures SMU has implemented prior to and during its investigation, as well as recognition of the work of the President's Task Force on Sexual Misconduct. Although we take issue with some of OCR's conclusions and generalizations, we look forward to taking additional actions as outlined. The well-being of our students is our highest priority."
Kent D. Talbert, special counsel to SMU, later added that OCR made "some generalizations that mischaracterize the facts."
Erin Buzuvis, the director of the Center for Gender & Sexuality Studies at Western New England University School of Law, said that SMU's resolution, like Princeton's, shows that schools still "haven't fully internalized the detailed content" of the Education Department's 2011 guidance on sexual assaults. Investigations at both schools reviewed policies in place after the 2011 guidance, which laid out what's expected regarding sexual misconduct cases.
The issue could be the complexity of the guidance, she said, or "maybe it's lack of attention to detail on the part of universities' officials."
"But either way, I think it's appropriate that OCR is using the enforcement process to ensure compliance at that level of detail, to ensure that problems 'on paper' don't become problems in real life for those who are relying on the policies to ensure a fair process," Buzuvis said.
An SMU task force on sexual violence, created in September 2012, concluded in April 2013 that the school had a strong commitment to and procedures for helping students report sexual misconduct. It did, however, recommend several improvements, including that the university provide clear information about internal and external support services and increase the promotion of options available for students who have been assaulted.
OCR noted that the university also sent legal and student affairs staff to visit all fraternities and sororities on campus to discuss harassment and prohibited conduct, and created a legal center to assist victims of child abuse and sexual and domestic violence. SMU also launched a "Not on My Campus" campaign against sexual assault.
SMU's president accepted all of the recommendations of the task force, and OCR will monitor their implementation. The school will also need to conduct annual climate surveys to gauge the effectiveness of its efforts, and look back at past sexual violence cases in recent years for potential errors.
CORRECTION: A previous version of this article said three higher education institutions were found in violation of Title IX this year, though the actual number is five, including Virginia Military Institute or Ohio State University.