Snakes. They're not just fast, some are furious.
A motorcyclist was riding along a road when the driver was suddenly attacked by a snake lying in the median, incredible video shows.
The video, reportedly taken in Lampang, Thailand, shows the reptile at first lying motionless in the road ahead. Just as the cyclist pulls up to the animal, it lunges into the air, appearing to come within inches of the driver's raised legs.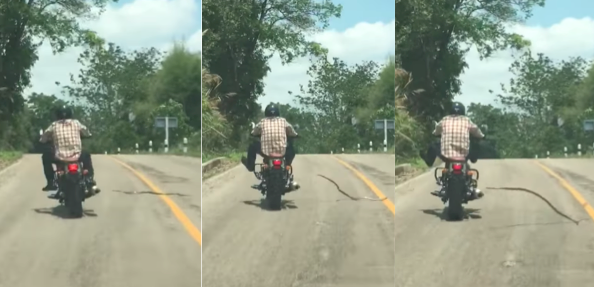 It's not clear what happened next to the snake. A trailing vehicle, filming the incident, appears to be following just a couple yards behind, suggesting that the snake could have been crushed.
Think that was a close call? Another video taken in Brazil years earlier shows a motorcyclist speeding down a roadway when a yellow snake slithered onto the dashboard.
A word to motorcyclists: Apparently hitchhiking snakes are a thing.
Popular in the Community