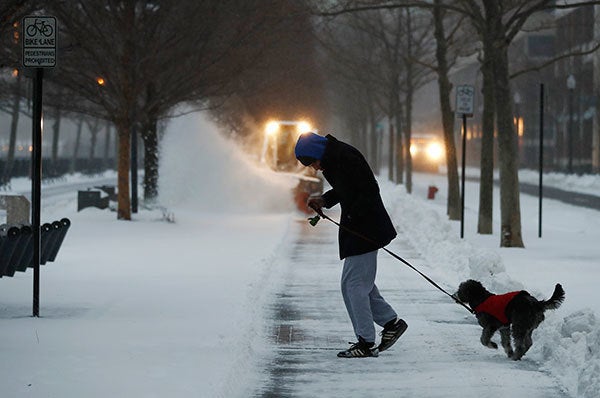 Blizzard warnings were forecast from DC to Boston, with up to two feet of snow expected "in what forecasters confidently predicted would be a historic storm that would disrupt lives in one of the nation's densest population corridors."
National Weather Service meteorologists in Boston, New York, Philadelphia and Washington held a conference call Monday afternoon about computer models that dramatically cut predicted snow amounts. They decided to keep the super snowy warnings.
They knew MONDAY that their totals of one to two feet for the NY metropolitan area were highly exaggerated, but chose not to revise the forecast?
Out of extreme caution we decided to stick with higher amounts," Greg Carbin, chief of forecast operations at the Weather Prediction Center in suburban Maryland, told The Associated Press.
The lame excuse was that they "didn't want to confuse people"? Didn't want to confuse us with the TRUTH?
Carbin said a last-minute change downgrading snowfall totals might have given people the wrong message that the storm was no longer a threat. It still was, but real danger was from ice and sleet in places like New York City and Washington, he said.
In the end the public is confused about one thing: Why were we deceived? Was all a HOAX for TV ratings! Keep everyone glued to their TV screens?
One media outlet got it right and reported the truth, at least for those of us in Southern Middlesex County, NJ. The local Weather Channel reported 1-3 inches. And yes, at that point in time, with all other news outlets reporting a total catastrophe, it was confusing.
But, this wasn't the first time. Two years earlier, on Jan. 27, 2015, a series of escalating warnings predicted feet of snow, not inches and New Jersey came to a standstill for a blizzard in another state.
In March 2001 airports in NY and NJ were closed in advance of severe snowstorm predictions which amounted to a light dusting of less than an inch in central NJ.
We understand that weather prediction is an art and even with state-of-the-art equipment it requires interpretation and a good deal of lucky guesswork. We understand that winds shift and storms don't always follow the track that appears to be most likely.
To err is human and understandable, BUT… Intentionally and knowingly misleading the public, instead of telling us the various possibilities, is risky business. It destroys credibility. It risks eroding trust and destroying confidence in our meteorological reports and perhaps next time there are dire warnings people will assume it's another exaggeration , laugh it off, and not take proper precautions.
REAL LIFE. REAL NEWS. REAL VOICES.
Help us tell more of the stories that matter from voices that too often remain unheard.
BEFORE YOU GO
PHOTO GALLERY
Winter Storm Pounds Northeast March 2017