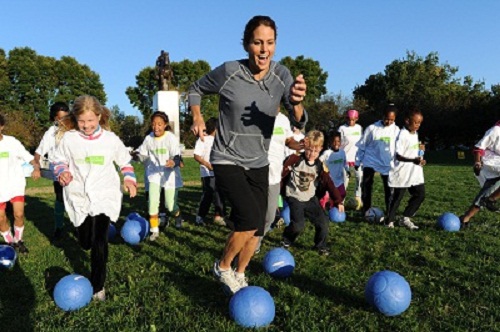 Photo: marcmonaghan.com
Olympic Gold Medalist and Soccer Hall-of-Famer, Julie Foudy, and kids from AYSO 751 (Hyde Park/Kenwood) kick around the One World Futbol at Midway Park in Chicago.
When we talk about the One World Futbol and the impact it has, my team and I often focus on the kids who receive the balls, who live in challenging environments, and who persevere and inspire us. Refugee kids were, in fact, the inspiration for the ball.
But, in every community we work with there are also unsung heroes- - parents, coaches, teachers, volunteers -- who not only help us distribute the balls, but also provide inspiration and guidance to the kids and the community at large. These unsung heroes are everywhere around the world -- from Rwanda to Haiti and here in our own backyard.

This week, I met three of these outstanding leaders making a difference in the U.S. We were in Chicago attending the Beyond Sport Summit (more on this in a later blog post). But we were also there to participate in the first bulk donation of One World Futbols in the U.S. through our company's Buy One Give One model. We had the great opportunity to work with Olympic women's soccer legend Julie Foudy and GoGirlGo! Chicago (a nonprofit affiliated with the Women's Sports Foundation) to give 50 balls away to a local league of the American Youth Soccer Organization -- AYSO 751 in South Side Chicago.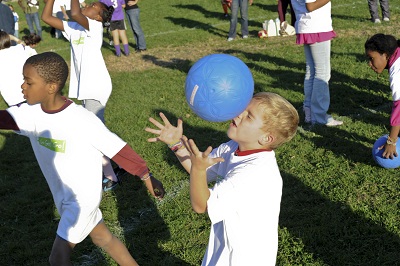 Photo: marcmonaghan.com
AYSO 751 received 50 of the One World Futbols at the event. This was the first bulk donation of the balls to a soccer league in the U.S.
The ball giveaway took place at Midway Plaisance Park on one of the finest days of the year -- crisp, clear, and still warm in the late afternoon. The park has a big open field -- it's not a soccer field per se, but it was transformed by Louise McCurry, the local director of the AYSO 751, into a perfect place for a soccer game and event.
People started arriving; the field started to fill. First to arrive: Louise, who was there to start the set up, followed by me, my colleague Sandra Cress, Julie Foudy, and Cicley Gay, a national director for the Women's Sports Foundation. Then came about 100 kids -- mostly girls of all ages, but a few boys, too. They were running, laughing, excited to meet Julie and get some new soccer balls and t-shirts -- but mostly happy to just kick the ball around. We all played, cheered and soaked in the enthusiasm of the kids.
Everywhere I go, I meet incredible people who make a difference in the world. This week was no exception -- the women who made the event a success deserve recognition for the energy they put into not just this event but for the work they do every day.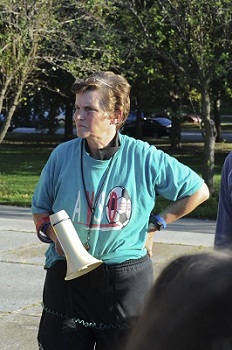 Photo: marcmonaghan.com
AYSO 751 Director Louise McCurry calling the shots at Midway Park in Chicago during the One World Futbol Project and GoGirlGo! Chicago event.
Louise McCurry -- An amazing and dedicated woman, Louise showed up an hour before the event started. She had to deal with traffic, a full schedule and many other things. I watched her open her car trunk and pull out the many things that make her program work: flags, field markers, banners, goals, folding tables, and more. Within minutes, she created something out of nothing, and we were off and running. Literally!
Julie Foudy -- Julie is an Olympic hero and a true crusader for women in sports. She has already touched the lives of many young people through the Julie Foudy Leadership Foundation and was incredible with the kids. She has such a natural and generous way that you couldn't help but be motivated by her as she began coaching to a mass of squeals and giggles. She enthusiastically signed every single ball and t-shirt even after she gave out all the photos she signed in the car earlier.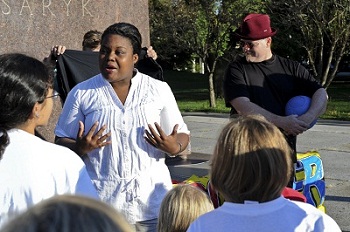 Photo: marcmonaghan.com
Cicley Gay from the Women's Sports Foundation talks to a group of players from the AYSO 751. Tim Jahnigen, co-founder of the One World Futbol Project, holds one of the One World Futbols being given away to the players.
Cicley Gay -- Cicley and the Women's Sports Foundation are strong supporters of promoting health and wellness in girls. A testament to her dedication and "roll-up your sleeves" attitude, Cicley jumped right in, set up shop, and started handing out One World Futbols and GoGirlGo! t-shirts to the bright-eyed girls.
These women, along with a number of other behind-the-scenes contributors, helped us pull together a memorable event for the kids. Julie allowed herself to be a true conduit between the sports establishment and the real world, where young people meet the challenges of life head on. And all of us were inspired by people like Cicley and Louise, who stand on a daily basis at an intersection where the ideas and hopes for a program's success are translated into reality.
For me and the One World Futbol Project team, to have the support of Julie, Louise, Cicley, and others like them, is an honor and blessing -- both humbling and affirming that we can be part of the beacon of hope for the future. It's people like these everywhere -- coaches, mentors, teachers, community leaders -- who put into action the theories that we know can change the world. I'd love to hear your stories about those who have helped and inspired you somewhere in your life. Please share your experiences with us.

Calling all HuffPost superfans!
Sign up for membership to become a founding member and help shape HuffPost's next chapter