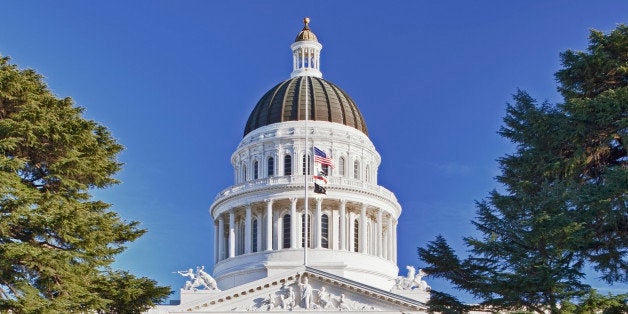 A California judge has ruled against a proposed ballot initiative authorizing the execution of gay and lesbian people, calling the suggested measure "unconstitutional on its face."
The proposed Sodomite Suppression Act calls for "any person who willingly touches another person of the same gender for purposes of sexual gratification be put to death by bullets to the head or by any other convenient method." The measure also would outlaw advocating gay rights to minors, punishable by 10 years in prison and permanent expulsion from California.
While the measure was publicly ridiculed and stood little chance of collecting more than 365,000 signatures necessary to appear on the 2016 ballot, California Attorney General Kamala Harris was required by state law to circulate the proposed initiative because its backer, attorney Matt McLaughlin, paid a $200 filing fee ahead of the February deadline. In March, Harris asked for legal permission to toss out the initiative.
"As Attorney General of California, it is my sworn duty to uphold the California and United States Constitutions and to protect the rights of all Californians," Harris said in a statement after filing the request for declaratory relief. "This proposal not only threatens public safety, it is patently unconstitutional, utterly reprehensible, and has no place in a civil society."
Superior Judge Raymond M. Cadei on Monday sided with Harris, ruling that the attorney general has no obligation to issue a title and summary for the measure.
"The proposed initiative ... is patently unconstitutional on its face," Cadei wrote. "Any preparation and official issuance of a circulating title and summary for the Act by the Attorney General would be inappropriate, waste public resources, generate unnecessary divisions among the public, and tend to mislead the electorate."
Human Rights Campaign president Chad Griffin praised the order in a statement on Tuesday.
"Lest there was any doubt, a heinous California ballot initiative seeking to put gay people to death has been found unconstitutional," Griffin said. "HRC thanks Attorney General Kamala Harris for her continued leadership in standing up for the rights and dignity of LGBT Californians, and Superior Court Judge Raymond Cadei for recognizing that this barbaric initiative has no place on a ballot in California or anywhere else."
McLaughlin did not immediately return a call requesting comment.
Calling all HuffPost superfans!
Sign up for membership to become a founding member and help shape HuffPost's next chapter
BEFORE YOU GO
PHOTO GALLERY
Pride Around the World