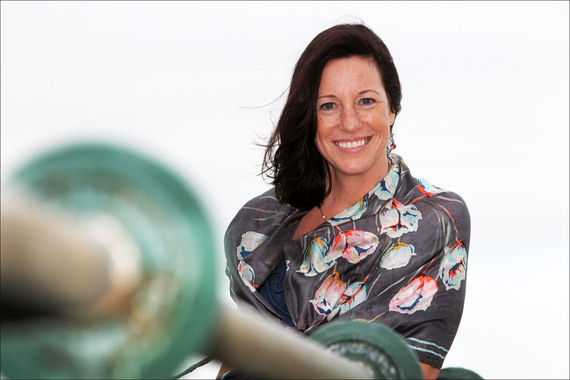 Despite a cultural zeitgeist - particularly in the political and economic arenas - that is awash in themes of greed, corruption, partisanship, and intolerance, there are a great many, perhaps quieter, movements within our diverse and vibrant culture that are, in fact, driven by people with a deep, abiding desire to do good. We don't necessarily hear about them as much as the others - the misbehavers - but they're there, they're essential, and a great many of them are extraordinary. Lisa Schultz of The Peace Project is one of those people, someone who's not only out to make a tangible difference in the lives of real people around the world, but an innovator who's putting her time, effort, money, and incredible drive right where her mouth - and her mission - is.
A former marketing guru with tremendous success in her field, Lisa felt there was a more essential role she could play in, quite simply, making the world a better place. With an artistic bent and a mission in mind, she founded TheWhole9.com, an international social networking site for creatives, which features the work of a wide variety of artists of many mediums; in July 2010, she launched The Peace Project, with a mission to promote peace in its most tangible form: helping people in need.
I met Lisa while participating in The Peace Project's 2014 annual "traveling exhibit," and was impressed not only by her incredible energy and dedication, but also by her insightful perspective on how best to affect definable change in a seemingly intransigent world, all while inspiring others to join the cause. When she talks about the work, her passion and drive is palpable, energy that's propelled her, many times, to cross the globe in development of her programs -- "all initiatives that we conceive, develop, implement and fund, although we bring lots of individuals and organizations in to work with us."
When I asked her about the basic philosophy behind what she does, she put it very succinctly:
"Change the way people think about change.

"In a world where most have stopped believing that significant change is possible, The Peace Project identifies problems and then conceives simple and dramatic solutions to address them. Our heartfelt belief is that people working in unison, in community, are the most powerful agents for change.

"If one person can singlehandedly establish World Peace Day, what can an entire creative community do? Through creativity and community, we ARE changing the world."
And that's not just talk; The Peace Project has accrued an incredible roster of accomplishments in just four short years: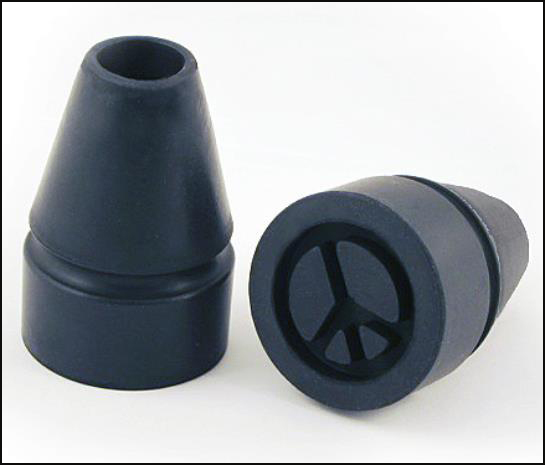 On World Peace Day, September 2011, the Project developed and implemented the Operation Rise campaign in Sierra Leone by creating a nationwide network of amputees, war victims, medical professionals and concerned citizens, and distributing 10,000 pairs of crutches to those in need of them. When it was discovered that "within one month of use, the rubber crutch tips wear out, traction and shock absorption is lost, accidents occur, structural pain sets in, and rapid degradation of the crutches take place," the Project began work with Tom Fetterman, "one of the world's leading crutch and crutch tip innovators," and found a solution: "Peace Tips," an innovative and hearty rubber tip that not only offered extended wear-life of over a year, but featured the clever addition of a peace sign at the bottom of each tip that leaves an impression in the dirt with each step, making the users active promoters of peace! [Note: an interview with Lisa on the Operation Rise project can be found HERE.]
The Project designed a Peace Museum in Sierra Leone in partnership with the United Nations; they also created a "peace wall" in that country; additionally, they sponsored the education of dozens of Sierra Leone children who would not otherwise have been able to go to school.
The Project has created five traveling exhibits to help raise both funds and awareness of the Project and its mission. These eclectic and phenomenally beautiful collections of art feature the work of thousands of artists from around the world, many of whom are contributing members of TheWhole9 community.
Most recently, the Project has been in the Philippines to participate in efforts to rebuild what Typhoon Yolanda torn down almost exactly a year ago. The Project's architect, Stephen Gardner, along with local tradesmen and dozens of community volunteers, led the effort to rebuild houses and communities decimated by the typhoon. Lisa explained the focus of the Project's work there: "The Peace Project is proud to have just finished our first community of 40 houses in Tabunok in Santa Fe on Bantayan Island. We've also been working with the Tabunok community to plant organic vegetable gardens and start a cooperative to sell rice and other staples to community members. This will result in money being put back into the community and will provide a buffer for future emergencies. We're currently raising money for communal restrooms and a Community Center from which vocational training, micro-financing, and a Farmer's Market will take place, helping to bring abundance into the community and turning a tragedy into a remarkable opportunity."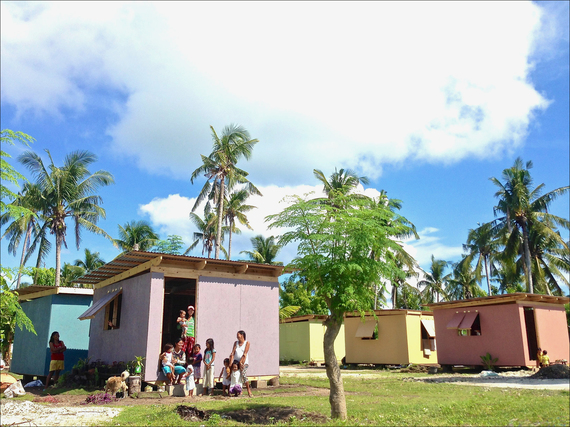 Beyond admiration at the scope of the work being done, there's a powerful pull to a charitable effort that goes beyond 10Ks, pink products, street corner bell-ringing, and arcane research drives, to put real money behind feet on the ground, hammers to wood, rubber to crutches, and tangible products into actual hands in need. When we think about how and why we give, there's too often a confusion about who, what and where presents the best possible result for our generosity. When I asked people what makes them most reticent about contributing money to various causes, a partial list goes something like this:
"I don't know where it's going."
"I've heard the board pays themselves incredible salaries."
"I read where the country's warlords took all the donated products."
"I don't agree with that charity's politics... I mean, pink fracking drills?!"
"I don't trust that the money will be used for what I intended."
"Those organizations have been caught doing unethical things."
"It doesn't get to the people who need it."
We can all understand those concerns; likely we've had them ourselves... certainly I have. Which is one of the reasons why Lisa Schultz and her Peace Project so stood out to me. The founder is accessible, the work is visible, the money goes to real, tangible products and projects; the people with needs - whether homes, crutches, education, or opportunities - are the ones getting the benefit of the effort, and, as a bonus, much of the money is raised by artists and creators from around the world rallying to participate and share their art. I can think of no better collaboration than that. Nor can I think of a better place in which to put one's charitable dollars.
If you live in the Los Angeles area, The Peace Project Traveling Exhibit's Los Angeles premiere will be on Saturday, November 15th, 6:00pm-10:00pm PST, at The Whole 9 Gallery at 3830 Main St., Culver City, CA 90232. Come by and see the exhibit, explore the work of other artists shown at the gallery; learn something about the history of The Project, have a beverage and a bite, and meet the remarkable Lisa Schultz.
If you can't be there, I hope you'll explore the sites linked throughout this piece and be inspired by an organization that offers a distinct way to help change the world. Despite those aforementioned darker cultural themes, there remains so much light in the world and so many ways to participate in it. As Lisa said to the Tabunok citizens after they transformed an overgrown lot into a hope-filled community in just one month:

"If you believe you are powerless, if you think you can't create miracles, simply look around at what you've created."
For those willing to look around, The Peace Project is there to help open the door... to whatever miracle you might just help create!
Photographs by permission of Lisa Schultz.
___________________________________________________________
Follow Lorraine Devon Wilke on Facebook, Twitter, and Rock+Paper+Music. Find details and links to her other work at www.lorrainedevonwilke.com and her Author Page at Amazon, watch her book trailer HERE, and be sure to follow her adventures in independent publishing @ AfterTheSuckerPunch.com.

AFTER THE SUCKER PUNCH
by Lorraine Devon Wilke
______________________________
Related
Popular in the Community