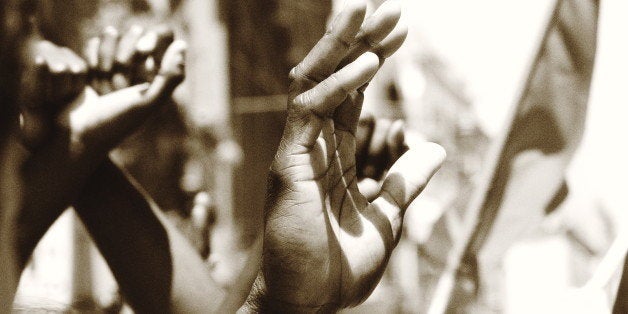 Isn't it absurd that, as the fossil fuel era comes to a close and one of the world's largest coal companies stares down the barrel of bankruptcy, the New South Wales (NSW) Government introduces draconian laws which could send everyday people to jail for peacefully protesting against the damage wrought by the coal and gas industry?
Isn't it also absurd that the companies who will benefit most from these laws are the same companies who are responsible for the planet's rapidly rising temperatures? And that these laws will mean protesters face fines in excess of those faced by fossil fuel companies for breaches of environmental and health regulations?
And isn't it absurd that NSW's new anti-protest laws were introduced in the hottest month the planet has ever experienced, just as the northern hemisphere hit two degrees of warming above normal for the first time ever -- a milestone we promised not to breach for another 84 years, a milestone that could spell the end of entire small island states, precious ecosystems and civilizations?
Indeed, something is deeply wrong in the state of NSW when all of this is allowed to take place.
One could be excused for wondering who the Baird Government thinks they were elected to serve: the people of NSW or the big polluters?
As the fossil fuel industry crumbles into disrepair, here is a Government attempting to fine and even jail those who seek to accelerate the transition to a clean energy future.
A Government that plans to slap $5500 penalties on farmers, health professionals and traditional owners who take action to protect us all from the scourge of coal and gas. A scourge the Baird Government has comprehensively failed to deal with. This is now a Government that would jail grandparents, faith leaders and Pacific Islanders who try to stop coal companies digging up our backyards and exporting pollution and climate change to the world.
Throughout history, peaceful protest has played a pivotal role in securing social and environmental justices. From the civil rights movement to the battle to save the Franklin, when Governments have failed to lead, ordinary people have stepped in to do it for them at critical moments.
The threat posed by climate change and the fossil fuel industry's plans to dig up and burn more coal, oil and gas than our planet can safely handle presents us as with another critical moment. In fact, one could argue this is our greatest historical moment, given all of humanity's future depends on how we respond to the crisis that climate change presents.
Viewing Baird's laws against this backdrop demonstrates how draconian they really are - laws which empower police to shut down peaceful assemblies, search and destroy private property and fine those who protest on business property; laws which threaten to put those who take peaceful action to halt mining operations in jail for up to 7 years. That's a harsher penalty than that handed out for stalking or drink driving.
Were it not for the brave people who are now being targeted by these laws, big mining companies would long since have destroyed many of the places we love most. Those who protest against this dystopian and unjust future should be celebrated as heroes, not thrown in jail or fined more than the companies who are fuelling it.
From May 7-8, hundreds of Australians will come together in Newcastle to peacefully protest against the export of vast quantities of coal pollution flowing through the world's largest coal port. This is coal that must be halted if the world is to avoid devastating global warming. It is coal that is leaving our shores and contributing to health and environmental crises in developing countries.
The protesters in Newcastle will be joined by thousands of people taking action at some of the world's most dangerous fossil fuel sites across 13 countries and 6 continents, from Nigeria and Germany to Indonesia and the Philippines.
In Australia, this will be the first major test of NSW's new laws. But, already hundreds of Australians have signed up to participate. They are not deterred by these draconian measures.
These people are the 21st century's equivalent of Rosa Parkes, Martin Luther King and Mahatma Ghandi. They deserve our praise and reverence not prison sentences and fines.
Democratic governments are elected to serve and protect their people. NSW's new laws do exactly the opposite. They protect the interests of a handful of dying and destructive companies and they run roughshod over our democratic right to peacefully protest and protect the places we love.
If the Baird Government is serious about serving the NSW people, they will revoke these laws immediately. If the Baird Government was serious about tackling the greatest moral challenge of our time, they would never have introduced these laws in the first place.
For more information about the global wave of peaceful resistance to the world's most dangerous fossil fuel projects this May, click here.
REAL LIFE. REAL NEWS. REAL VOICES.
Help us tell more of the stories that matter from voices that too often remain unheard.