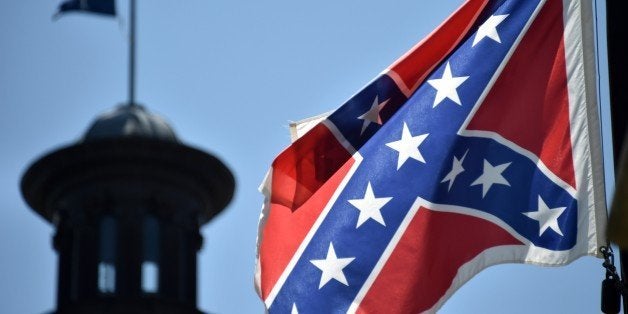 University of South Carolina Athletic Director Ray Tanner on Monday called for the state to stop flying the Confederate flag.
"It is time to remove the flag," Tanner said in a tweet.
Under a 2000 legislative compromise, the Confederate battle flag was moved from the top of South Carolina's capitol building to a Confederate soldiers' memorial in front of it. However, Wednesday's racially motivated massacre of nine churchgoers at Emanuel African Methodist Episcopal Church, a historically black church in Charleston, has reignited calls for the flag to be removed entirely. Protesters gathered outside the statehouse over the weekend, while state Rep. Norman "Doug" Brannon (R) said he would introduce legislation to take down the flag to honor state Sen. Clementa Pinckney, the Emanuel pastor who was killed in the shooting.
Frank Martin and Dawn Staley, the coaches of, respectively, the university's men's and women's basketball teams, tweeted their support for Tanner's message.
South Carolina football coach Steve Spurrier spoke out against the flag in 2007.
"My opinion is we don't need the Confederate flag at our capitol," Spurrier said, according to The Associated Press. "I don't really know anybody that wants it there, but I guess there are a lot of South Carolinians that do want it there."
Spurrier made the comments in response to a fan waving a Confederate flag during a 2006 game against Tennessee. The game was spoiled, Spurrier said, by "some clown waving that dang, damn Confederate flag behind the TV set. And it was embarrassing to me and I know embarrassing to our state."
A spokesman for the South Carolina athletics department did not immediately respond to a request for further comment from Spurrier or Tanner, who was the Gamecocks' baseball coach at the time Spurrier made his comments in 2007.
The NCAA instituted a policy in 2001 barring South Carolina and Mississippi from hosting many postseason events -- most prominently, the men's and women's NCAA basketball tournaments -- because both states still flew the Confederate flag. In the 2015 women's NCAA Tournament, however, the NCAA went against that policy and allowed South Carolina to host opening-ground games, a move that drew protests from the NAACP.
Gov. Nikki Haley (R), who refused to wade into the issue during her 2014 re-election bid, is expected to call for the flag's removal from statehouse grounds at a press conference Monday afternoon.