Every city and village in Spain has a festival unique to them. During the summer months urban families journey back to their grandparents' pueblos to enjoy their free time. This is how it all began: a tiny blurb in a magazine detailing a festival that celebrates a 13th century legend about two tragic lovers. It was that blurb which set me on a journey eleven years ago; it was at this festival in Teruel, Las Bodas de Isabel de Segura, that I met Diego in this typical Spanish way.
As an American living in Spain, I have the opportunity to experience the authentic culture. In our blogs, we are not going to just tell you about the typical travel destinations like Madrid, Barcelona and Seville; we´ll take you on a journey through the back roads and interiors of Spain, places we consider the real España. It's only right that we begin with the Spanish ¨City of Love,¨ where we met.
Teruel - Aragón, Spain
España is divided into 17 comunidades autónomas (regions) and 2 ciudades autónomas (cities) in the north of Africa (Ceuta and Melilla). The city and the province of Teruel (te´rwel) are known for its Mudejár art, varied landscapes, jamón (ham), dinosaur remains and the tragic 13th century love story, Los Amantes de Teruel.
As one of the smallest capitals in Spain, Teruel has a population of 35,000. What makes it so special is its main center, La Plaza del Torico. At all hours of the day, the heart of the city is dancing with activities, and has been since the Middle Ages. From its main festivals to painting contests, charity events, and music festivals, this square is constantly bustling.
Getting To Teruel
Teruel is situated just an hour northwest of the Mediterranean capital, Valencia, Spain's third largest city (3½ hours from Madrid). You can take a Renfe train from Valencia or a Samar bus from Valencia (2 hours) or Madrid (5 hours). It may take a little time, but it´s well worth the trip.
The Heart: La Plaza del Torico
Meeting friends at a terrace café in La Plaza del Torico is a favorite pastime for most Turolenses. Confitería Muñoz is a chic family bakery that has been making traditional Spanish pastries since 1855. If it´s summer, try their homemade artisan helado, as it is phenomenal. From its terrace, you can watch as the local children and tourists mingle by ¨El Torico,¨ a fountain surrounding a statue of a little bull which is the symbol of the city. Legend has it that when the Christians reconquered the territory of Teruel in 1171, they sent bulls with burning torches on their horns to force the Moors out. At the end of the battle, a single bull remained standing under a star. The Christians thought it was a good sign to build a city around where it stood.
The Legend: Los Amantes de Teruel
Los Amantes de Teruel (The Lovers of Teruel) is a 13th century tragedy that will break your heart.
...Two young childhood friends, Isabel and Diego, wished to marry but could not for Isabel was rich and Diego was a second son who would not receive an inheritance. Therefore, Diego was given five years to secure a fortune. If he did not, Isabel´s father would marry her off. Upon his return from war...
...and so the story is told. In 1555, their corpses were discovered and later placed in a mausoleum. La Fundación Amantes is a museum dedicated to the tragic lovers and displays works of art, music, writings and their actual remains.
The Festivals
Las Bodas de Isabel de Segura (February)
La Fundación Bodas de Isabel has been celebrating the romantic tragedy of Los Amantes de Teruel for over 16 years. Life as it was in the 13th century is reenacted with a medieval market, food, games and the story itself is played out. The entire town wears medieval clothing and many groups have jaimas (arabic tents) where they celebrate for three days. This amazing and worthwhile experience is a testament to Spain's romantic embrace of tradition.
La Semana Santa (March or April)
Known as Holy Week, this Christian holiday is the week before Easter. Throughout Spain, there are processions where participants conceal their identity by wearing robes and cone-like hoods to demonstrate their penance. The costaleros (bearers) are part of cofradias (brotherhoods) and carry floats with different dramatizations of The Passion of Christ. In Teruel, the processions are accompanied by rhythmic drumming and the sound is popular for its bombos (large drums) and trumpets.
La Vaquilla del Ángel (July)
Wearing white and red, townsfolk have their own peñas (groups) where they dance, eat and drink for three wild days enjoying bullfighting, bulls running in the streets and live music. The locals believe that it is an occasion to remove their day-to-day masks and unveil their hidden wild side. No one wants to be away from Teruel for its unbridled celebration. Turolenses, especially teenagers, refuse to leave the city until after ¨La Vaquilla.¨
The Architecture: The City of Mudéjar
Teruel is most notable for its Mudéjar architecture. Influenced by Gothic, Romanesque, and Islamic styles, it used bricks and ceramic glazed tiles during the 12th to 17th centuries. Several buildings designed in the Mudéjar style have been named World Heritage sites by UNESCO, namely Teruel's four bell towers; La Torre de El Salvador, San Martín, San Pedro and La Catedral de Santa María de Mediavilla, as well as the techumbre (ceiling) of La Catedral and the iglesia (church) and claustro (cloister) of La Iglesia de San Pedro. La Catedral ceiling is known as "The Sistine Chapel of Mudéjar Art.¨ Adorned with representations of kings, warriors, musicians, priests, dragons, and religious motifs, it is a mirror of 14th century society.
The Dinosaurs: Dinópolis
The Aragón region is considered one of the richest repositories of dinosaur remains, which is why Dinópolis and its main research center, theme park, and paleontology museum is there. Children and adults can discover the world of dinosaurs, including the original fossil remains of the ¨European Giant¨ Turiasaurus riodevensis found in 2003 by paleontologists from La Fundación Conjunto Paleontológico de Teruel-Dinópolis.
To miss this gem of a city would be a shame. Not only is it an authentic Spanish experience, you just might meet the love of your life.
-- Lori Needleman with Diego Hernández Estopiñán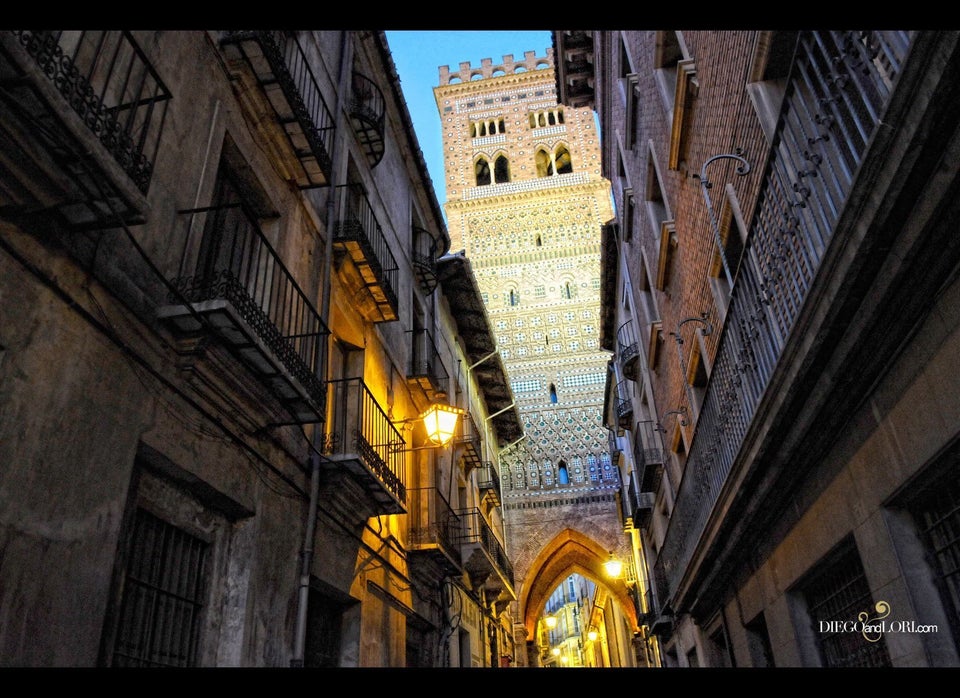 Teruel: The Spanish City of Love