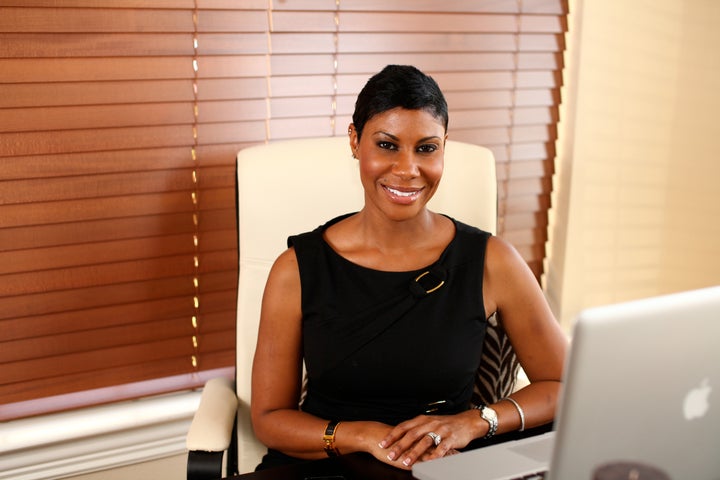 For an expectant mom, bed rest is far from the rest and relaxation Monday morning daydreams are made of, Plano, Texas mom Stephanie Johnson can attest. The former corporate finance maven spent 26 weeks out of commission last year while pregnant with her daughter, Harlow Grace.
But as harrowing as her experience was, leaving her daughter with a nanny after six weeks and heading back into the corporate world was far worse, Johnson said.
"After 26 weeks trying to get this baby here, I wanted to spend every moment that I had with her," Johnson told The Huffington Post. "I had to find something that was going to sustain my lifestyle and afford me the luxury to be home with my daughter, and I just went for it," she says of the business venture she launched just two months after giving birth.
Johnson explained how she did it, and how fellow "mompreneurs" can, too.
What did the timeline look like for you, being on bed rest, having your daughter and launching this company?
I delivered my daughter on March 28, 2011, and opened the doors to Bed Rest Concierge on June 8, 2011.
From bed! During one of my last stints in the hospital, the last 12 weeks of my pregnancy, I was like, "This is ridiculous!" I was feeling vulnerable, I was at a very low place in my life and I remember thinking, "What am I supposed to do with this?"
My creative juices just got going and I was talking to my husband and I said, "What do you think about me starting a business?" He kind of patted me on the head and said, "Oh, it's a personal errand service, personal shopping, that's cute, that'll be great."
I went from there and just started contacting people. I drew the Bed Rest Concierge logo on my hospital napkin (that I still have on my vision board). I started researching how to start a business. I had spent 15 years in corporate America and I have a finance degree, so my mind was always on business and I was creative at the same time.
What do your services consist of?
It's not really just for women that are on bed rest, it's for the pregnancy experience -- that entire nine months. If there's anything you can think of, from baby registries to baby cooking to creating a birth plan, wanting information on different types of birth, we are able to provide those services to you. We're [also] able to provide the necessary resource, where you can go to get this information.
What if you're a new mom and don't know what you need?
You might be a first-time mom, or this may be your second pregnancy and your first child was 18-20 years ago. We have such a vast resource [list] for women, no matter what area you're in in the nation, we're able to find those experts. I have a team that's dedicated to research, that goes out and combs the internet every single day. That's their job: to look for new products, product recalls, etc.
How do you feel about being billed as the black Rosie Pope?
I say what I told Bethenny: I'm the black Bethenny Frankel. I took the idea of something simple in everyday life and I made it into a business and I made it tangible and affordable for women. The difference between Rosie Pope and I is [she] does maternity and she deals with clients that are so far out there that they're even beyond celebrity clients. I deal with day-to-day, normal middle- and upper-class women who need help maintaining their lives on the bed rest journey.
I don't want to be the black Rosie Pope; I'd rather be the black Bethenny. She's worth about $120 million, so I want to stay on her team!
So how much has your business grown in the last year? How much is it worth now?
My business is valued at $3.8 million today and it's growing by leaps and bounds, the more hospitals we take on, the more we partner with adoption agencies. We've launched our corporate wellness packages, an enhancement to traditional benefits for forward-thinking companies.
Who were your first clients and how did you get them?
My first expectant moms were actually from OB/GYN referrals that I knew here. I tapped into the relationships that I had made in Plano and Dallas, Texas.
What does your husband think now that the business is off the ground and proving successful?
I always ask him "Do you want your $4,000 back?" [Laughs] I have to buy him out.
What have been the biggest challenges for you in the last year?
The biggest challenges came when I was starting out. I had a lot of support in the OB/GYN community and in the hospitals and with women, but the biggest obstacle was translating feeling and emotion and need into man language, into corporate language, so that they understood really how it monetizes. You can say, "This is a great personal errand service," but when you're thinking about it as a whole, it takes a lot of personal errands to make a million dollars. I had to let people understand that it's bigger than that -- we're partnering with large corporations, with hospitals.
I always had the mindset that I was running a million-dollar business, even when I had $4,000. Nobody on this planet could have told me differently.
What advice do you have for other budding entrepreneurs out there?
I get hundreds of emails from women who say, "I've been given this great idea and I've been sitting on it for two years," and I say if it's a great idea and it's your passion ... then you can't stop talking about it. If you can sit on it for two years, then it's a hobby. Your vision, your business and your mission should keep you up at night.
Calling all HuffPost superfans!
Sign up for membership to become a founding member and help shape HuffPost's next chapter
BEFORE YOU GO
PHOTO GALLERY
Top States For Black-Business Owners