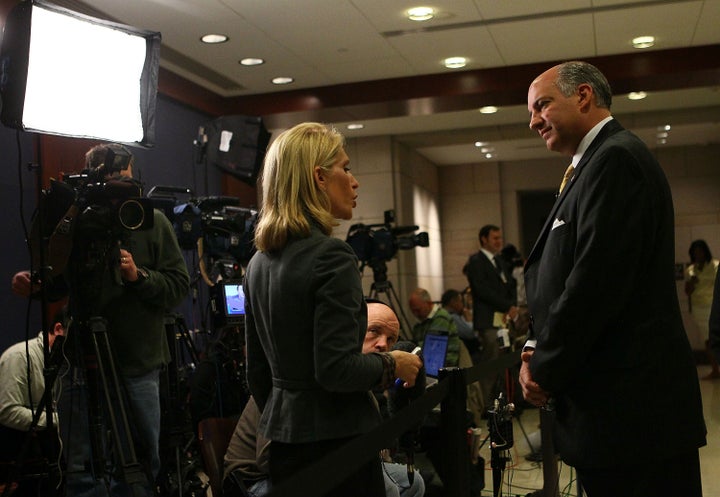 According to the U.S. Census Bureau the median household income in 2009 was $49,177, almost $98,000 less than what a member of the House of Representatives makes. But that's apparently not enough for Rep. Steve Southerland (R-Fla.).
During a town hall meeting in Florida on Wednesday, when asked about his pay, the congressman told his constituents that his yearly salary of $174,000 was "not so much" -- especially once you account for the number of hours he works, the fact he had to sever ties with his family's funeral home business upon assuming office, and the heightened danger he faces as a public official.
"By the way, did I mention? They're shooting at us. There is law-enforcement security in this room right now, and why is that?" Southerland told his constituents, according to the Tallahassee Democrat. "If you think this job pays too much, with those kinds of risks and cutting me off from my family business, I'll just tell you: This job don't mean that much to me. I had a good life in Panama City."
The Democratic Congressional Campaign Committee criticized the congressman for the comment.
"It's unbelievable how far out of touch Representative Steve Southerland is with Florida families if he thinks his $174,000 salary is not so much," said spokesman Adam Hodge in a press release. "While he's complaining about only making $174,000, his constituents are struggling to put food on the table, keep a roof over their head or find a job."
Earlier this year, Florida became the stingiest state in the country when it comes to unemployment benefits, reducing the maximum benefits for people laid off through no fault of their own to 23 weeks. Florida's unemployment rate is one of the highest in the nation at 10.7 percent.
Southerland's comments are similar to what Rep. Sean Duffy (R-Wis.) said at his own town hall meeting in March when he complained that he "drives a used minivan" and assured his constituents that, "I have more debt than all of you."
Rep. Linda Sanchez (D-Calif.) also has made comments lamenting her congressional pay. In April, when asked if she would forgo her pay if the government shutdown the congresswoman replied that she couldn't because, "I live paycheck to paycheck."
Popular in the Community