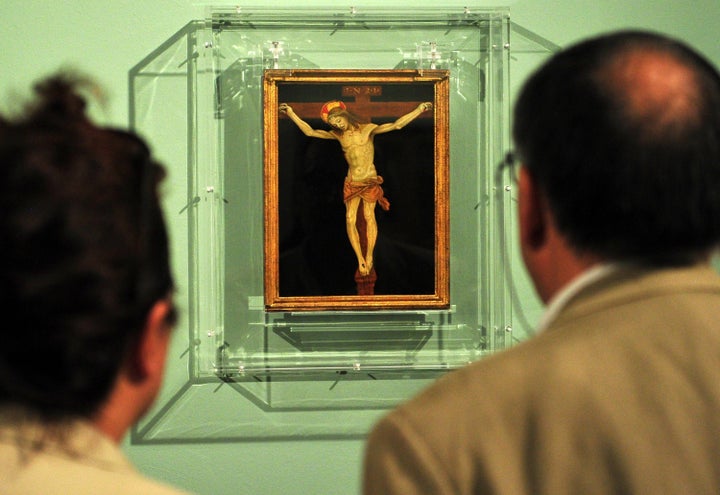 This week is Holy Week, the group of days that constitute the last week of Lent and the week preceding Easter in most Christian traditions. Observers commemorate the transition of Jesus' life as a mortal, human being on earth to an other-worldly presence after his resurrection. Since the dawn of communication media beyond text, people have found ways, complementary to accounts found in the written Bible, to relive this time in history. Most recently, films like Mel Gibson's "The Passion of the Christ" and television depictions like the History Channel's "The Bible" mini-series, timed to culminate on Easter Sunday by depicting the crucifixion and resurrection of Jesus, have given Holy Week observers an audio-visual means to remember these accounts essential to their faith.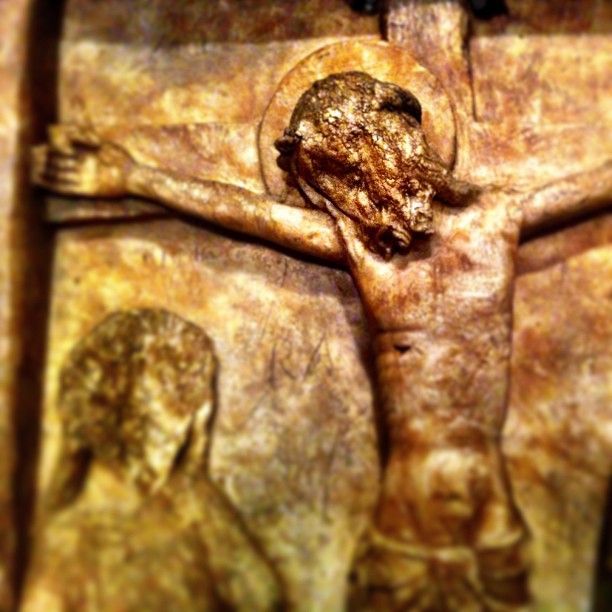 But these contemporary, multi-sensory feats of technology have caused observers to overlook another medium of remembrance, educational and a historically innovative achievement in its own right. From Michelangelo's Pietà in Vatican City to the Crucifixion by Salvador Dalí in Germany's Mainz Cathedral, analog sculptures illustrating Jesus' final moments also provide a way for people, regardless of their beliefs, to experience this story of life and death that has influenced the development of both the ancient and modern worlds.
This Easter season, a set of 59 medieval English alabaster panels on loan from London's Victoria and Albert Museum allows those residing in the United States to relive this narrative central to some of the world's most prevailing faith traditions. Currently on display in the North Carolina Museum of Art in Raleigh, N.C., the collection has been on its first North American tour since December of 2010.
"This is the first exhibition of English alabasters to have ever traveled the United States," says David Steel, Curator of European Art at the North Carolina Museum of Art. "All of these works are drawn from the collection of Victoria and Albert Museum ... which is the mother load -- the greatest repository of this work in the world."
The collection of reliefs spans a wide range of events in Christian history, from St. John the Baptist's decapitation to the martyrdom of Saint Edmund' with arrows. And toward the end of the largely chronological exhibit, museum-goers can experience Holy Week, one fine-grained gypsum panel at a time.
"You have the life story of Christ," says Steel. "The Passion, though the Resurrection on Easter Sunday, to his appearance to Mary Magdalene," he adds. "It's no mistake that the exhibit is opening around Easter."
Not only can visitors see the New Testament's account of Jesus' final days played out on intricate carvings from the 14th and early 15th centuries, but they can also observe and learn about a significant period in church history from later, unfortunate modifications to some of the panels.
"The end of the story is not a happy one," says Steel, and he's not referring to the death of Christ.
Steel explains that Henry VIII wanted to change the public's relationship with the Catholic Church. "Because the Church had too much power and money, Henry VIII started to put through edicts to deprive the Church of its power and influence," says Steel. One way in which the monarch intended to accomplish this deprivation of power involved eliminating what he deemed "idols" of the Catholic Church. Henry and his successor son Edward VI "pushed through a series of reforms geared toward eliminations of works of art in churches and in private homes because this promoted idolatry," says Steel. In fact, they "offered rewards to destroy these."
As evidence of the "iconoclasm," a few of the alabaster panels show Henry and Edward sympathizers' attempts to deface depictions of holy figures, along with Jesus' last few days on earth.
"In this crucifixion, you can see that the heads have been cut off," says Steel, pointing to a panel where Jesus no longer has a head where one obviously had been. Even in this state, Steel says, it's a miracle that these works survived this time period at all. "They were buried, hidden away, or otherwise removed from the ravages of the iconoclasm."
Several centuries later, the alabaster panels still serve as reminders of Christianity's most trying times. During some of these wearisome moments, Mark recounts that Jesus himself often left the hustle and bustle of crowds to pray alone (Mark 6:45-46). Maybe He had the right idea.
Though "Jesus Christ Superstar," Franco Zeffirelli's "Jesus of Nazareth," and other similar musicals, films and television shows provide toe-tapping, entertaining and yet admittedly educational depictions of the Gospels' accounts of Jesus' final moments and resurrection, perhaps quieting the mind, stilling the heart, and giving each sense its own time and space by soaking in these delicate carvings or other similar, hand-wrought works will provide a deeper sense of gratitude and remembrance this Easter season.