We're still traveling, so there's been no home cooking, at least not in our home. But here are two dishes Jackie and I will be eating once we get back to New York, plus one amazing revelation about an ingredient we all know very well.
First the revelation: At Restaurant As in Amsterdam (which I wrote about a couple of years ago), the chef Sander Overeinder gets his endive (chicory in the UK) grower to deliver not just the compact pointed head that we usually braise or eat in salad, but the whole plant, including the long, thick, potentially tough stem. It's delicious: when cooked by the skillful Mr. Overeinder, it is firm but not fibrous, flavorful but not particularly bitter. In fact, now that so much bitterness has been bred out of endive, the stem is a happy reminder of the more interesting way it used to taste. For the record, it was served with perfect pheasant, moist, tender, tasty and almost headily scented with good butter. If I can get a farmers' market grower in New York to keep me some stem-on endive (or a related vegetable), I'll report back next summer, but I doubt that this is going to happen.
The more practical dishes were both eaten at a new, somewhat Alsatian restaurant in London's Islington area: Bellanger, operated by the Corbin and King group. Like all their restaurants, this one has great style and is fun to be in. Among the traditional Alsatian dishes on the menu is baeckeoffe (I use their spelling, which is as good as any of the other variants), a one-pot dinner of winter vegetables, potatoes and a mixture of wine-marinated meats baked in a casserole: here, a pretty glazed earthenware one. I haven't made it for years and years, and our dinner at Bellanger reminded me of what a good dish it is. Baeckeoffe now tops the to-cook list for a winter dinner party.
The other addition to the list from this restaurant was something I'd never tasted but had always been mildly curious about: a gratin of ravioli. Yes, it was like macaroni and cheese, but with filled pasta. The filling for these ravioles du Royans is cheese based - fresh and aged cheeses combined - and is delicious in itself, but it was such fun to get them glazed in cheesy, spinachy cream sauce. Sure, the pasta gets overcooked by Italian standards, but it's a friendly, surprising way to eat ravioli.
By next week, we'll be back home - and back in the kitchen.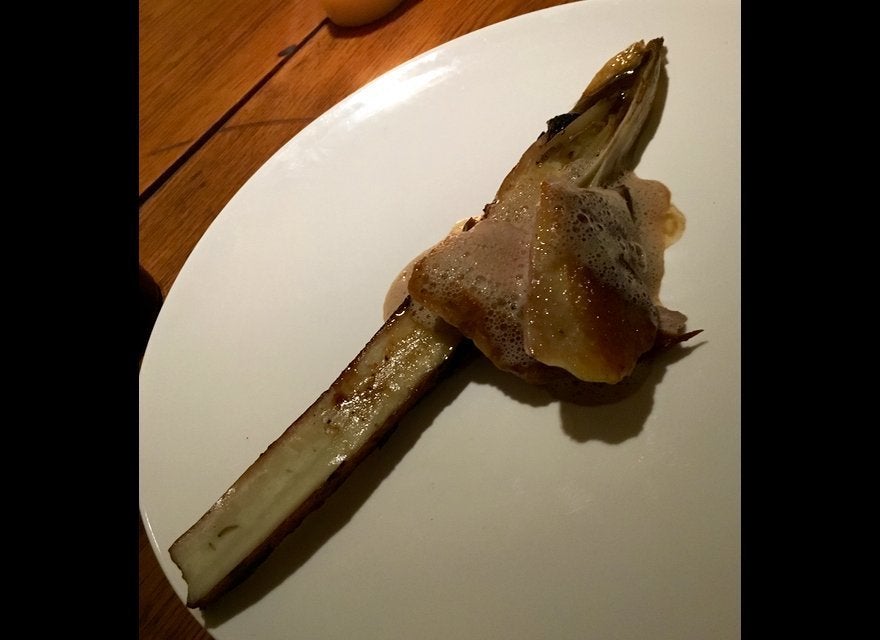 Alsace and Endive On the Menu