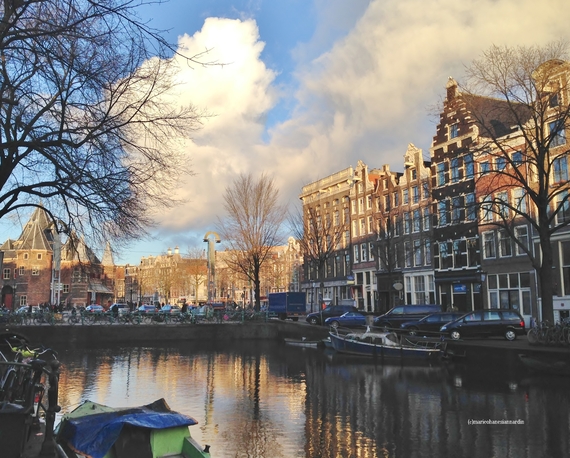 "Mom, there's more to Amsterdam than cannabis coffee shops," said my twenty something year old daughter as she boarded her plane for The Netherlands. She, a professional contemporary dancer and choreographer, would be working in Amsterdam for the next two months. "Its canals make it similar to Venice, only it's colder," she added with a flash of her beautiful smile.
I'm a loyal kind of person, even when it comes to favorite cities. So, let me be clear, no European city can surpass the love I feel for Venice, Italy--an affair that reaches back 30 years when I fell fast for a handsome gondolier and his city. Soon, I married my gondolier and began calling the Serenissima, home. However, recently, our daughter's contract to teach at The Theatre School in Amsterdam gave me the push I needed to visit the Venice of the North. That's when I fell fast in love, again, with another European city.
Organized and easy to get around in, Amsterdam buzzes with pleasant souls who smile at lost tourists and point them in the right direction. Even when the winter temperatures drop below freezing and the North Sea wind turns the sky a darker shade of grey, everything seems easier in Amsterdam. Everyone, from tram conductors to hotel housekeepers, speaks English, making a stay in Amsterdam easy to navigate, too.

Walking the cobblestone streets comes second only to riding a bicycle. Set out on foot from Dam Square, Amsterdam's main plaza, down Kalverstraat, a shop lined pedestrian-only street which is baby-stroller and wheelchair accessible. At the end, cross the canal to the Bloemenmarkt--the world's only floating flower market--where rows of yellow, purple, pink and orange blossoms wading in buckets beneath sprawling white canopies tug at the senses.
Got tired feet? Step into a pub or café. Try an imported beer on draught, a delicious hamburger, and hand-cut French fries that are so delicious they should be called Dutch fries. I, especially, liked those served at Café Berkhout. A, half old-west half flower-child, wood paneled eatery which sits on a busy street corner between the Rijksmuseum and the Heineken Experience. http://www.cafeberkhout.nl/
Want to blend-in with the locals? Rent a bike to get around town. Amsterdam is a city of 800,000 residents and their 600,000 bicycles have the right-of-way over pedestrians and cars. The city's bicycle lanes stretch out to brisk you across the historical center in less than 15 minutes. Be certain to move with the flow and obey the traffic signals. However, always give the right of way to taxis, trams and buses, and yield to all traffic approaching from the right unless otherwise indicated.
Haven't been on a bike in years? Public transportation is well maintained, on time and affordable. A €2.80 ticket, after validation, is good for up to one hour on all local transportation lines. Or purchase a 24 or 48 hour pass, and save. Tickets can be purchased on the tram at no extra cost.
Museums: The Van Gogh Museum is a must. http://www.vangoghmuseum.nl/ Book online for a fast-lane entrance and plan your visit before 11 a.m. or after 2 p.m. to avoid the crowds. An additional €5 audio tour rental is well worth the intimate look it provides into the artist's life and work. Stop by the book store and, if you have an extra €25.000, (yes, that's twenty-five thousand euros) take home a limited edition Rilievo of one of Van Gogh's finest paintings. Don't have that much spare change? No problem, you'll find affordable prints, books and table-top souvenirs to remember Vincent's genius by.
Stroll across museum square to the Rijksmuseum, Amsterdam's State Museum. The palatial building first opened its doors in 1885, and a ten-year restoration was completed in 2013. In addition to viewing Rembrandt's and Vermeer's awe-inspiring masterpieces there, from June 19 to October 11, 2015 you can catch the special exhibit: Mirò in the Rijksmuseum Gardens https://www.rijksmuseum.nl/en/miro
Across town, at the Rembrandt Museum walk the rooms the master worked in and lived in, and where he greeted the wealthy patrons he immortalized with his brush. Creak up the winding wooden staircase to the attic room, and imagine what it was like for Rembrandt to work in the soft daylight that spills through the beveled glass windows. Light which surely inspired the browns and yellows that made his notable chiaroscuro. http://www.rembrandthuis.nl/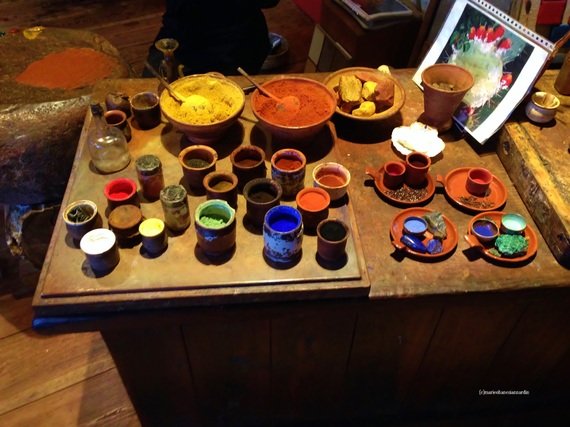 Want to relax, away from the city's hustle and bustle? The Hortus Botanicus gardens offer a quiet oasis of flowers, greenery, butterflies and a three-hundred year old potted palm in the city center. Breathe in the fresh surroundings and relax in the Orangery Café for lunch or for a cup of fresh mint tea. http://dehortus.nl/en/home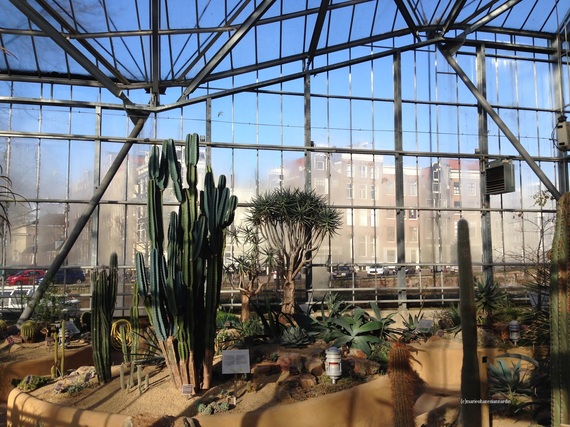 Staying a few days? Haarlem is a twelve minute train ride from Amsterdam's Central Station. Trains run often, and a round trip ticket is under €10. Saturday is market day, when the main square fills with local produce stalls which offer samples of traditional Dutch cheeses, bread and cured-meats. Then visit De Jopenkerk, a deconsecrated church transformed into a modern day brewery. Its Grand Café serves tasty soups, sandwiches and, of course, their special draught beers for lunch. http://www.jopenkerk.nl/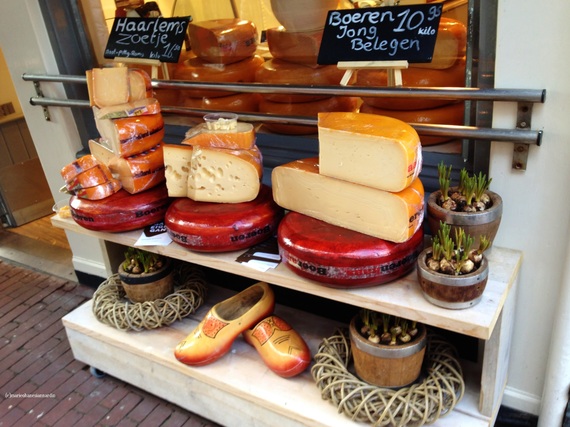 Where to sleep: If you crave cozy, stylish and friendly look no further than Boogaard's Bed and Breakfast.Owned and run by Peter Boogaard, a Dutchman who lived and worked in New York City for many years, this restored-to-perfection historical townhome sits on a quiet cobblestone street steps from Dam Square. In the high season, Peter prepares and serves homemade breakfast for his guests in his ground floor full-service kitchen. However, his winter-special rates don't leave his guests hungry or feeling abandoned either. Daily, he stocks their mini-bar kitchen with fresh fruit, coffee, tea, milk, granola cereal, cookies, and yogurt. After a long day of touring, Peter will welcome you back "home" with cakes, brownies or cookies he bakes himself--much like Mom's homemade afterschool snacks. All around, it's delightful. http://www.boogaardsbnb.com/
Where to eat Dutch: Fine contemporary Dutch cooking can be savored on the south side of the city at Restaurant Elmar http://www.restaurantelmar.nl/english and in the historical center at Café-Restaurant Van Kerkwijk http://www.caferestaurantvankerkwijk.nl/eng/11.html. Both establishments, run by creative thirtysomething year old chefs, offer dishes made with local organic produce, meat and fish. The charming sous chef at Elmar explained that they plan their menu around ingredients his grandmother used to grow in her vegetable garden. Try their delicious beet root salad seasoned with beet sorbet and lavender sauce, and their tender breast of wild duck.
At Café-Restaurant Van Kerkwijk you won't be disappointed with their grilled salmon served on a stream of creamed goat cheese. Surprisingly, the unusual combination of fish and cheese was divine. I liked this place so much I went back for lunch, and ordered their shredded Coq Au Vin sandwich served on freshly baked multi-grain and sunflower seed bread. Try it!
Want exotic Thai food? Reserve a table at Thai & Co. This quaint restaurant is within walking distance of Dam Square and the Central Train Station. Theirs is some of the best Thai food I've eaten. But be forewarned, my taste buds thought mild hot was pretty darn spicy! http://www.thaiandco.nl/
Oh, and if you're a traditionalist looking for one of Amsterdam's notable Coffee Shops, just follow your nose.