A leading anti-abortion group lashed out at former President Donald Trump on Thursday after he suggested leaving the question of abortion rights to the states.
The group, Susan B. Anthony List, called his position "morally indefensible," marking a break between the anti-abortion movement and the president who delivered their greatest victory.
The exchange illustrates the ongoing challenge Republicans face with abortion rights, caught between a conservative movement eager to stamp out the practice nationally following their victory in the Dobbs v. Jackson Women's Health Organization case last year, and a public largely resistant to further restrictions.
The group said it would oppose any Republican candidate who declines to support at least a national 15-week abortion ban.
An aide to Trump, who appointed three of the five Supreme Court justices who voted to overturn Roe v. Wade and end guaranteed abortion rights in America, suggested to The Washington Post on Thursday the former president was content to leave the issue to the states.
"President Donald J. Trump believes that the Supreme Court, led by the three Justices which he supported, got it right when they ruled this is an issue that should be decided at the State level," campaign spokesman Steven Cheung told the Post in a statement. "Republicans have been trying to get this done for 50 years, but were unable to do so. President Trump, who is considered the most pro-life President in history, got it done."
"He will continue these policies when reelected to the White House," Cheung continued. "Like President Reagan before him, President Trump supports exceptions for rape, incest and life of the mother."
What the campaign's statement did not say was whether Trump would support any national-level restrictions on abortion rights, or whether he agreed with Florida Gov. Ron DeSantis' decision to sign a six-week ban on abortion earlier this month. DeSantis is considered Trump's primary rival for the GOP presidential nomination.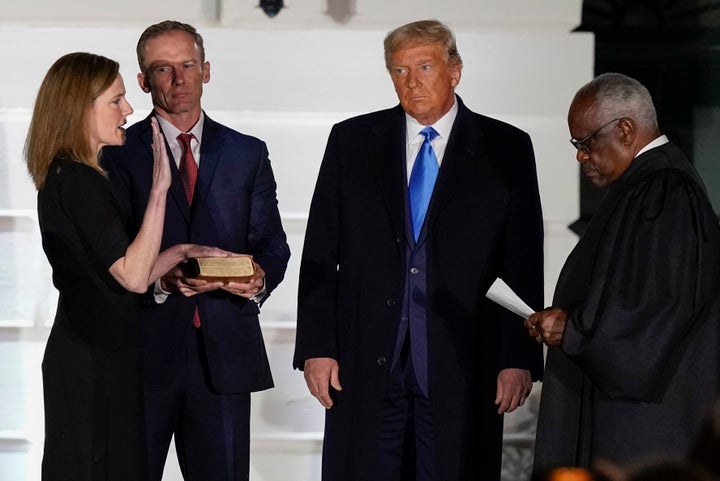 Marjorie Dannenfelser, the president of Susan B. Anthony List, said in a statement the Trump campaign's reading of the Dobbs decision was simply incorrect and an "endorsement" of the permissive abortion laws in liberal states.
"President Trump's assertion that the Supreme Court returned the issue of abortion solely to the states is a completely inaccurate reading of the Dobbs decision and is a morally indefensible position for a self-proclaimed pro-life presidential candidate to hold," Dannenfelser said. "Life is a matter of human rights, not states' rights."
Trump's promise to appoint judges opposed to abortion rights was critical to rallying evangelical and other socially conservative voters to his side in the 2016 presidential election following a brutal primary where the infamously libertine real estate developer and casino owner defeated candidates with deep ties to the social conservative movement.
At the same time, his image as a womanizer created skepticism among swing voters he would actually work to overturn Roe v. Wade or otherwise restrict abortion, helping him win over some voters who had turned against past GOP presidential candidates known for their staunch faith, including now-Sen. Mitt Romney (R-Utah) and former President George W. Bush.
Eight years later, however, there is little sign GOP primary voters are troubled by Trump's occasional breaks with social conservative orthodoxy on abortion or other issues. Early polls of the GOP presidential primary show him with a healthy but not insurmountable lead over DeSantis, with other candidates, including Trump's fiercely anti-abortion vice president, Mike Pence, trailing far behind.
The Democratic National Committee, meanwhile, attacked Trump for attempting to back away from his previously harsh anti-abortion rhetoric, noting he once even suggested women who have abortion should face prison time.
"It's directly thanks to Trump's MAGA agenda that Republicans across the country are ripping away women's right to make their own medical decisions ― and Trump owns every new extreme abortion ban the GOP pushes," the committee said on Thursday.
Popular in the Community