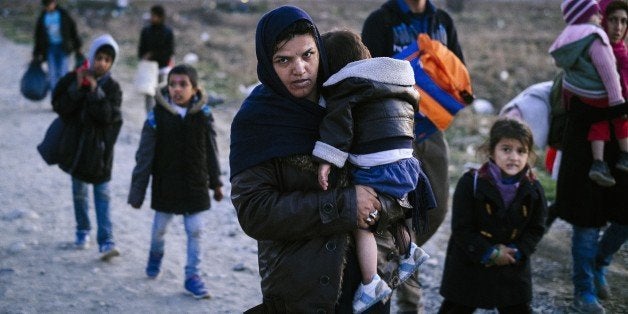 The Statue of Liberty never said "Give Me Your Tired, Your Poor Your Huddled Masses Yearning To Breathe Free, Only If They Are Christian." Neither did she say, "We'll Take Terrorists As Well."
Nowhere has Washington dysfunction shown as quickly and powerfully as in the post-Paris debate about taking Syrian refugees. In a working democracy we would be able to absorb two apparently contradictory impulses, and address them both. That's not how we're behaving recently.
The fear of terrorist infiltration of immigrants from Syria and elsewhere is not a paranoid fantasy. It's a possibility that is diminished only if we take it seriously.
The American tradition of compassion and inclusion is a historical fact, even if sometimes neglected. After WWII, to one degree or another, we took in European, Korean, Vietnamese, Iraqi, Somali, Hmong and other refugees -- mostly non-Christian, and mostly where our military activity was part of causing the outmigration. We also interned Japanese Americans as security risks. Sometimes we get it right, sometimes not.
Safety and human decency. With both of these legitimate values in mind, what's happened? One side is lecturing the other about American compassion, and the other is for barring Muslims. "There is no meaningful risk of Christians committing acts of terror," says Senator Cruz. "We should focus our efforts as it relates to refugees on the Christians," says Governor Bush. "That's not American," says President Obama.
At the same time the danger of infiltration is acknowledged by Obama officials: James Comey, head of the FBI, acknowledges that "a number of people who were of serious concern" came in when we were admitting Iraqis fleeing the war and devastation of that conflict. For Syrian refugees "My concern there is there are certain gaps ... in the data available to us".
Predictably, governors, mostly Republican, from Alabama, Arkansas, Illinois, Indiana, Massachusetts, Michigan, Ohio, Texas and elsewhere won't accept Syrian refugees at all. And the rhetoric is of a piece with the Trump-ish concern about Mexicans.
It's like we can't think about two things at once, and can't adjust our policies and politics to accommodate the real world.
Here's the deal. Fix the screening process until the FBI is happy with it. Anyone who makes it through, even a Muslim, gets to go to resettlement programs anywhere in the US. This is not rocket science. What makes the debate appalling is the inability of our democracy to resolve this kind of conflict. Blame is placed on Reps or Dems or reapportionment or bigotry or government incompetence and I suppose there's truth in all of it.
But we have lost the functionality of democratic government, we simply aren't solving problems and adjusting policies and enacting legislation. The big stick as always is the President's. As irritating and irrational as are some of the players, only he can reach out and change the direction of the conversation and ultimately restore a government that works to the American people. He's got fourteen months.
Calling all HuffPost superfans!
Sign up for membership to become a founding member and help shape HuffPost's next chapter