ACORN members know what that does to a family and to a community. So today, 300 ACORN members took over the Mitchell Courthouse in Baltimore, Maryland singing and chanting as they overwhelmed the 20 or so sheriff's deputies assigned to "protect" auctioneers from selling off foreclosed properties.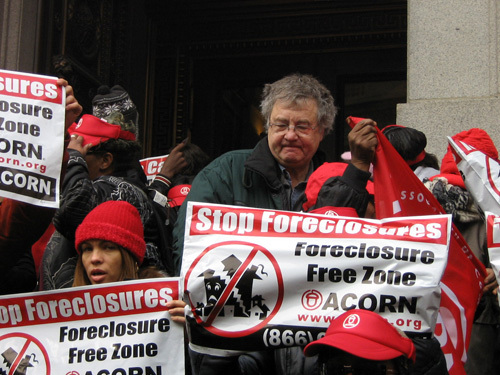 50 miles away in Washington, DC, another 120 took over two buildings on the same block where foreclosure auctions were being held.
In Baltimore, Donna Hanks, a foreclosure victim who lost her home a year ago - a home that still sits vacant in the bank's hands today - led the action and later talked to film crews about the turmoil she is going through. "I've moved six times in the last year - and I have a steady, union job. Families that are losing their jobs are even worse off than I am. That's why I came out today to help working people keep their homes."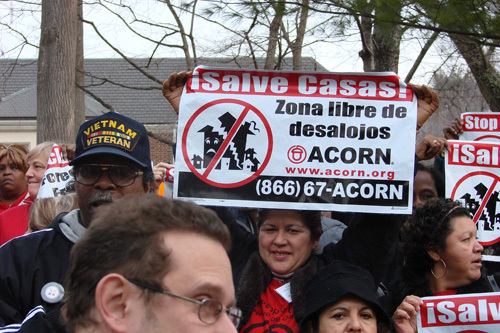 Today's actions are the continuation of actions that ACORN members have been taking for weeks to keep families in their homes, including a coordinated Day of Action on January 15th, when members in over 25 cities blocked foreclosure actions.
As part of the campaign, ACORN members are in DC today for our annual Legislative and Political Conference talking with their Congressional representatives about the need for immediate action to get Americans back to work and save the homes of working families.
Next week we ratchet up the pressure. On February 19th, ACORN is launching the Home Defenders, a program that links members of local communities with families who have taken the courageous step of refusing to cooperate with the foreclosure process. It responds to the desperate calls for help made by one family every 13 seconds.

It echoes the sentiments of leaders like Toledo, Ohio-area Congresswoman Marcy Kaptur who recently said, "stay in your homes. If the American people, anybody out there is being foreclosed, don't leave[.]"
Together we can get America back on her feet again.

Calling all HuffPost superfans!
Sign up for membership to become a founding member and help shape HuffPost's next chapter