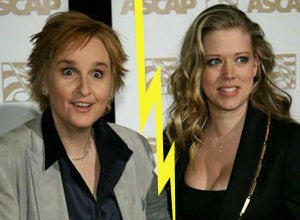 A day after Melissa Etheridge filed legal papers to end their domestic partnership Friday, Tammy Lynn Michaels has taken to her blog twice in one day to say she was not only blindsided by the filing, but has been left basically broke with their kids, borrowing money to pay for gas.
In court papers Etheridge requested joint custody and asked that she not have to pay Michaels any support.
But according to Michaels the pair had agreed not to do anything until the fall:
SMACK!!!!!!!!!!!!
FILE FOR DIVORCE!!!!!!
even though we both promised
agreed
handshook
pinkyswore

no filing until after tour
in the fall

her broken promises
told to me by
headlines
Etheridge has two older children in addition to twins that Michaels gave birth to in 2006. In her first posting on Saturday, Michaels writes that in 2001 she put an indefinite hold on her successful acting career to help care for Etheridge's older children while she was on tour.
i gave up my managers, agents, contacts, all that good stuff, because i stepped directly into potty training a small boy, and carrying around a small girl on my hip. both excellent souls. and i was a very huge part in raising them for many many years while She with the Guitar focused on her Guitar.
the other week i had to borrow money from a friend. two weeks ago i had to scrape together $1.25 to pay for gas. i know she doesn't want to give me money. trust. i'm borrowing cash left and right from people to get through this summer, and feed my kids, with a stomach full of ulcers, thank you. no stress here. :-)

how's that spiritual tour coming along?

so now.... to open the lap top.... and read the headlines.... when i just spoke to the fame crawler yesterday.... she could have mentioned it..... and hmmm.... wants some custody of kids.... interesting.... but no $ support for me... interesting as well.... so so so interesting, there, melissa. practicing what we preach is always hard for americans, i think. (is that why you and rick warren got along so well? ) oh, the nights of promises.... "tammy, if i ever leave you, it's because i'm crazy, and you have to come find me and get me and save me!!! we have to be together forever!" (remember that one, lucky?)
Etheridge went on Oprah in April to promote her new album, and claimed at the time the split was "as mutual as those things can be" and "sad."

Calling all HuffPost superfans!
Sign up for membership to become a founding member and help shape HuffPost's next chapter