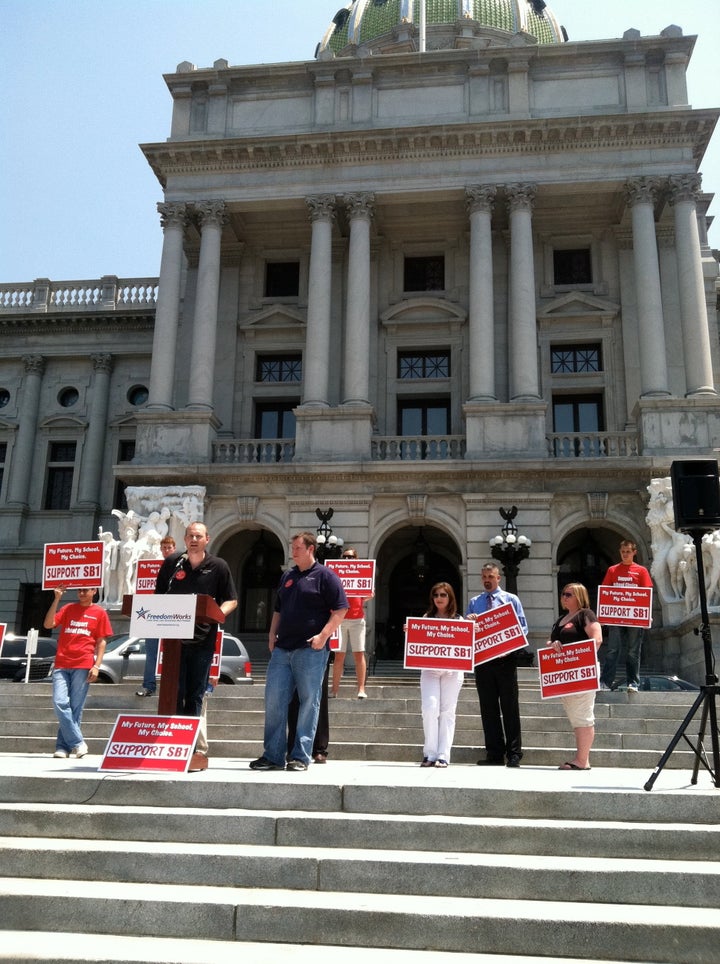 HARRISBURG, Pa. -– The fight over school vouchers in Pennsylvania is a test of whether the Tea Party can transition from a protest movement into sustained political activism. They might yet make the grade, but they're hitting plenty of bumps along the way.
A forum in Shippensburg, Pa., on June 6 showed how the voucher issue has raised serious questions among the Tea Party rank and file.
Tim Hughes, a local furniture store owner, told a panel of policy experts and national campaign coordinators from the Washington-based group FreedomWorks that he didn't think the voucher bill was necessarily a good use of his taxpayer money.
"We're coming to a point where… if I'm going to survive to eat the fish tomorrow, I've got to think about today," Hughes said. "I can't think about, 'Well I've got to think about helping all these other people get a fish for tomorrow.' And I know that sounds selfish, but yet at the same time that's just a reality of where the economy is, for the most part."
The crowd was small: 11 people showed up to hear four panelists talk about the details of the voucher bill. Many of the questions were skeptical, especially as the session wore on and it became clear that the vouchers would only go to low-income students for the first few years of the program. The audience was also dubious that the program would ever be expanded beyond poor students, now that it is being whittled down in the state legislature's budget negotiations.
The stakes of the fight have much to do with 2012. FreedomWorks, a national conservative group, is trying to both keep local Tea Party activists engaged and build a grassroots network.
"A lot of what we're going to be talking about in the next year before the next election in 2012 is, how do we win battles?" said Brendan Steinhauser, who oversees political campaigns for FreedomWorks, to the attendees in Shippensburg. "And how can we build our organizations at the local level, the local community level, so that we have a real machine going in 2012? So that we can make some real changes at the ballot box like we did in 2010."
"I want you all to think about this battle [for school vouchers] in particular in that context -- in terms of how we get there from here," he added.
Amanda Shell, a young FreedomWorks staffer who sat on the panel with Steinhauser, tried to persuade Hughes to think broader, but her exhortation ended up being more of a lecture.
"Education reform should be a statewide concern, not just limited to which counties or districts we live in. As a Pennsylvanian, you should want your entire state to be better educated," she told Hughes. "I would hope that more people would see it as a broader issue."
A woman in the audience responded to Shell.
"Everybody is sick of taxes. And now we're coming up with another program which is going to involve more money and it's going to start on the lower-income side," the woman said. "People are tired of having to pay and pay and pay and see no results."
"People aren't looking at the state. They're looking at themselves," she explained. "They're looking at, 'I'm working two, three jobs just to get my family settled and now we're going to do this other thing for the poor... and I'm getting poor.'"
Nathan Benefield, a policy analyst at the conservative Commonwealth Foundation who sat on the panel, tried to describe how -- after an initial bump in costs -- the voucher program would save money in the long run. Students who took the $5,000 voucher payments toward a school of their choice would end up costing taxpayers less than the $14,000 a year the state currently spends on each of its students, he said.
But in the short term, the concerns about spending are real. The initial cost to launch the program has been estimated at around $250 million over the first two years. That's no small sum for a state that is trying to dig out of a $4.5 billion budget deficit.
The attendees' complaints reflected the difficult economic realities that transcend political ideology and have driven much of the Tea Party agitation.
After the meeting, Ben Rice, an employee at a local 911 emergency call center and a member of the Franklin County Tea Party, was frustrated with the questions.
"You could tell the Libertarians, the pure Tea Party, believes it's welfare. We need to educate them," he said. "There's a disconnect there between the Tea Party and a conservative push on this. We have to bridge that gap."
There is a simple explanation for why some in a movement that focused so narrowly on pocketbook issues in the fall elections have shifted away from purely budgetary matters. Gov. Tom Corbett (R-Pa.) is cutting spending, so there is little reason for local conservatives to be upset. In other words, it's easier to be against something than it is to be for something.
FreedomWorks is collaborating with local activists to push the governor to act more forcefully on voucher legislation. It was introduced into the GOP-controlled Senate as the first bill this year, but the schools legislation has now stalled. The conservative group is frustrated that Corbett -– who talked about school choice in his inauguration speech -– is not cracking skulls to pass controversial bills like Govs. Scott Walker (R-Wis.) and John Kasich (R-Ohio) have done in their states.
"There is definitely a lack of courage and leadership," Steinhauser said at the forum, referring to Corbett, the state's former attorney general.
"He's no Scott Walker," he said later in an interview with HuffPost. "I keep hearing, 'it's not his personality to really call someone up and go LBJ on them.' So I get that. But we would like to see him be more -- making the calls, calling the meetings. Like, he should be having a press conference with House and Senate saying, 'We're going to get this done.'"
Steinhauser and others said that if Corbett had pushed hard for the voucher bill early in the year, he could have built political momentum going into the budget battle. Now, they say, the school issue is mixed in with the budget talks making it inevitable that, if anything passes at all, it will be a watered down version.
Another Republican involved in Pennsylvania politics put it more bluntly: "The understanding is that Corbett has just fucked it up."
Corbett's office did not return phone calls, but Stephen Miskin, a spokesman for the state's House Majority Leader Mike Turzai, took the comparison to Wisconsin as a favorable one. He cited news reports this past week that said Wisconsin's GOP-controlled Senate is rushing to pass bills because Republican legislators fear that they may lose their majority due to a series of recalls. Those voter initiatives were sparked by the passage of a bill to roll back the collective bargaining rights of state government employee unions.
"We're not going to be losing our majority. We are planning to govern for a number of years. And governing means building a consensus and getting things done," Miskin said. "I know some people are disappointed but Pennsylvania truly is not a dictatorship."
Current polling supports the idea that the Pennsylvania GOP's more cautious approach is a smarter electoral strategy than the actions of Republicans in Wisconsin and Ohio. Corbett's numbers are not great, but they are better than those for Walker and Kasich.
Of course, the Tea Party was largely created in response to outrage over politicians making every decision with an eye to protecting their own political futures. So while Pennsylvania's GOP may be limiting their negatives, they may also be putting a ceiling on the support they'll receive from their base.
FreedomWorks is trying to change the GOP's political calculus.
Some 36 hours after the Shippensburg forum, Shell and Steinhauser and other FreedomWorks personnel, along with locals like Rice, stood on the steps in front of the state Capitol building. Their purpose? To send a thinly veiled threat to Republican lawmakers on the fence about the voucher bill.
David Spielman, the group's campaigns coordinator, said that if Senate Bill 1 is not passed by the time that budget negotiations are finished at the end of June, FreedomWorks will send out a list to Republican voters of which GOP lawmakers voted against it -- and how much money they took in campaign contributions from the teachers union.
"We are here to make it quite clear," Spielman said. "We want this bill passed."
Steinhauser said the group was willing "to do whatever it takes to get this done, to spend the money we need to spend to get this done -- whether it's with grassroots efforts lobbying now or looking at the elections next year."
However, there were only five Pennsylvanians at the press conference, less than the seven staffers and interns from FreedomWorks' Washington office. A statehouse reporter from the Allentown, Pa., Morning Call gleefully mocked the event.
Ana Puig, a mother of four from the Philadelphia suburbs who attended the rally, has become a key Tea Party organizer in the state. She and another former stay-at-home mom, Anastasia Przybylski, led get out the vote efforts last year and are now lobbying the governor and state lawmakers with two- and three-day trips to the Capitol every week.
Puig voiced some exasperation that many who rallied for the Tea Party in last year's elections are not involved in the legislative process during a non-election year.
"I don't think they get it," she said of the majority of Tea Party voters. "They think this is the off-season. We have five new Republicans in Congress, so -- woo hoo -- we can sit back and relax? That's not the case at all."
"We need to move beyond just elections. Elections are not enough anymore," Puig added. The school voucher issue "is just as important, if not more important."
Despite the problems mobilizing support for the voucher bill, Commonwealth's Benefield said it's still a great opportunity for conservatives. The policy analyst predicted that a stripped down version of Senate Bill 1 would be passed as part of the budget by the end of the month.
"This is the first time the Tea Party movement -– and the first in a long time for conservatives and Republicans in Pennsylvania -– has been able to go on offense, trying to achieve a policy victory rather than simple beating back a bad agenda," he said.
Steinhauser said there is an opportunity -– by working with black Democrats in the state legislature like Sen. Anthony Wiliams, who represents southwest Philadelphia –- to undo some of the negative associations the Tea Party has accumulated.
"Everybody always attacks the Tea Party guys as, 'They're a bunch of racists,'" Steinhauser said. "We're working with Tony Williams and his constituents on school choice for low-income students in failing schools: inner-city Philadelphia, Harrisburg, Pittsburgh."
And, he said, activists like Puig and Przybylski will be key to getting out the vote when the Republican presidential nominee tries to defeat President Barack Obama.
"We're building these little networks and getting to know people that we didn't even know before," Steinhauser said. "So if I can just keep them involved -- especially the leadership -- then when it gets real exciting, and everybody comes out of the woodwork, it's like, 'These guys are trained.'"
CORRECTION: An earlier version of this story identified the governor of Pennsylvania as Jack Corbett. He is Tom Corbett.
Popular in the Community