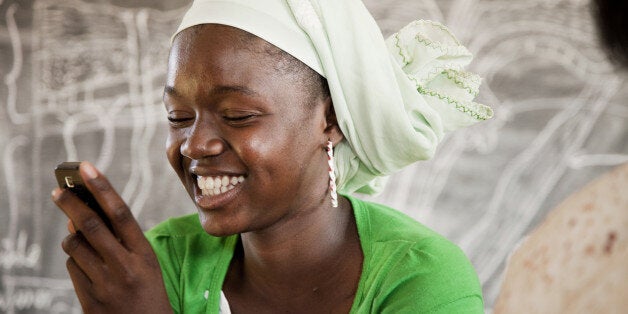 International aid is often criticized for being slow and inefficient. Countries and organizations pour their money into development projects that are often difficult to scale. They succeed in one community or country and then require massive investment to replicate their success in new places -- almost like starting from scratch.
Technology is increasingly being used to push back against the status quo to create newer, faster and better ways of doing things. Technology has the potential to radically transform aid by putting access to information and tools directly in the hands of the poor and giving them the power to improve their own lives. It's not about new technology as much as it is about using innovative approaches to get the solutions we already have to where they're needed most -- to the poorest, most vulnerable communities in the world.
Access to mobile technology is transforming our ability to reach the poorest of the poor. In 2013, nearly two-thirds of households in 23 sub-Saharan Africa nations had at least one mobile phone, and these figures are growing rapidly.
Last year, Courtenay Cabot Venton, Director of International Programs at One Hen Inc, and Elie and Nathaniel Calhoun, technology for development specialists at Code Innovation, teamed up to develop an app that would help to scale a development approach that is transforming poverty in Ethiopia.
Courtenay had been asked to evaluate a "Self Help Group" model in Ethiopia, implemented by Tearfund, a UK based relief and development agency. What she saw firsthand topped any development approach she'd ever researched. Her analysis showed that the Self Help Groups yield benefits worth over $100 to the community for every $1 spent on running the program. SHG members begin by using their savings to start small business activities. As their businesses grow, and they grow in strength as a group, they begin to transform their communities, advocating against childhood marriage, getting tested for HIV/AIDS, and protecting the environment. They start sending their children to school, and accessing better healthcare.
What are SHGs? Self Help Groups of 15-20 people come together to pool small savings and create their own microcredit group. The groups have no outside assistance, except for a facilitator who keeps the group focused and free of hierarchy of any kind. The collaborative approach grounds the group in participatory decision-making structures that allow for strong and lasting social ties. Once created, the groups last for years and even decades, creating a growing pool of wealth that sparks small businesses, mutual assistance and community projects. The groups even self-replicate, as older groups mentor newer ones.
One Hen, Code Innovation and Tearfund joined forces in order to digitize this program so that it can scale globally. We designed an app with experienced facilitators and tested it with six pilot groups in Ethiopia. This quick pilot program was promising so we are adding fifty additional groups, a new country and a new language in the coming months.
Adapting effective development programs for the mobile space takes advantage of a platform that enables rapid, global scale-up at negligible cost. Given the near ubiquity of mobile phones in developing countries, we're creating a tool that can be used anywhere, by anyone who wants to create a self-help group. Unlike microfinance projects, no bank lending or financial infrastructure is required.
By taking a successful aid program and putting it onto a digital platform, we're democratizing tools for community empowerment that have been shown to lift families out of poverty. We're taking what works and putting it directly into the hands of people who can use it, seeding community self-empowerment on an exponential scale. And, unlike traditional aid delivery models, we are able to interact with our users in real time, collecting data on what is working and what is not, and giving them the ability to upload stories and share content around how they are engaging in small business activities to transform their communities.
If all goes well, the Self Help Group app will exemplify a new paradigm in international aid: a free and easy-to-access tool that seeds financially self-sufficient collectives of people all around the world, cutting financial predation and dependence out of the picture and empowering young people with the tools and process to take their future into their own hands.
Related