Sen. Ted Cruz (R-Texas) on Wednesday accused one of President Joe Biden's judicial nominees of being a Marxist and read aloud some bad poetry he wrote 30 years ago as proof that he is "far out of the mainstream."
During a Senate Judiciary Committee hearing, Cruz told Oregon district court nominee Mustafa Kasubhai that he was "intrigued" that Kasubhai had denied to another Republican committee member, Sen. Marsha Blackburn (Tenn.), that he is a Marxist.
"You said, and I wrote it down, 'I have not praised Marxist ideas,'" Cruz said, obviously preparing to tee up something to the contrary. "As you know in law, there is the fact of evidence."
And then, straight out of an English lit major's nightmare, he began reading aloud a poem that Kasubhai wrote decades ago, when he was a student in law school, called "Sensualized Property Theory."
"Intimate knowing, the lovers kissed, familiar and ever-exciting, passionate transcendence beyond the physical exhilaration lies a burning light and our limbs are hearts. Floating, flying, falling in every direction, amorphous and wonderful, time-stretching, space-curving, exquisitely explosive eros, and yet, I timidly tremble every time," Cruz read to the room.
He paused briefly to note, "Now, somehow this is about property, which is not immediately evident as to why."
Then, the Texas Republican carried on reading as Kasubhai sat there, almost certainly mortified to hear his old poetry being critiqued in a Senate confirmation hearing.
"Property is not simply a relationship between an owner and an object of ownership," Cruz continued, reading aloud Kasubhai's comparisons of philosophers John Locke, Jeremy Bentham and Karl Marx. "The process towards integrating all three may provide a framework for relationships that enhances each unique self. The aspiration towards intimate knowing — the intimate knowing of one's self and others — is a creative struggle towards redefining property."
"What the hell does that mean?" Cruz demanded to know.
Kasubhai, who has been magistrate judge on the U.S. District Court for the District of Oregon since 2018 and was a country judge from 2007 to 2018, was clearly embarrassed.
"Senator," he said, "when I was preparing and reviewing my materials for this hearing and for the process, I also have to admit that that writing was far from clear or articulate."
"The poetry was definitely not good," Kasubhai said.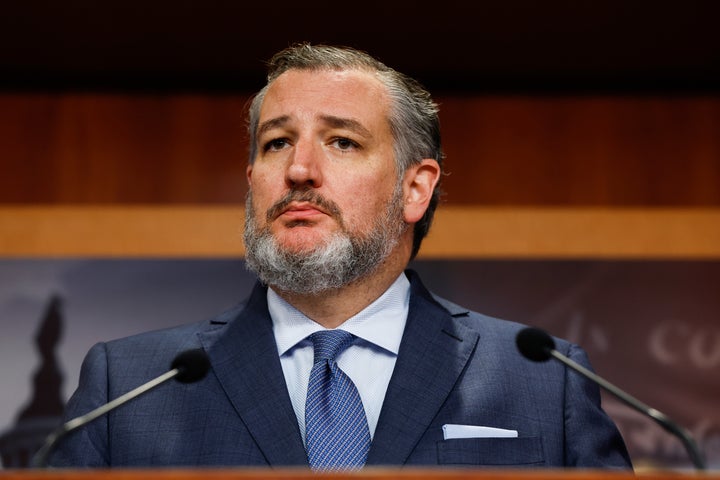 But Cruz pressed Kasubhai to explain the meaning of his poem.
"Do you believe we need to have a creative struggle towards redefining property?" he asked.
"That was something that I wrote 30 years ago, senator, and in the course of just exploring law school and the ideas that came with being in law school—" began Kasubhai.
"OK, so your flirtations with Marxism were 30 years ago," Cruz interrupted.
The Texas senator then began reading aloud from a speech that Kasubhai gave in 2020 about equity and privilege.
"Privilege derives its power from the belief in scarcity," Cruz read. "Scarcity of money, natural resources, food and power itself. The desire to control it all drives privilege. I want to suggest to you that equity, the idea of equity, rejects this model of scarcity."
"Now, that's Marxism in 2020," said the Texas senator. "What did that mean?"
Kasubhai said Cruz's conclusion made no sense.
"I've never considered that to be Marxist, senator," he said. "It's the idea that equal access, and in the context of the work that I do here—"
"So there is no scarcity, there are no property rights, equity gives everyone an entitlement to each other's property," Cruz interjected. "Is that right?"
"Not at all," replied Kasubhai. "In the context of the work that I do on the bench, senator, when you look at my record for all of these 16 years, you'll find that I have upheld the Constitution and case precedent."
Jake Faleschini of Alliance for Justice, a progressive judicial advocacy group, condemned Republicans' ridiculous treatment of Kasubhai.
"Those who have been nominated to serve on our federal courts deserve so much better than the blatant disrespect that played out in today's Senate Judiciary Committee hearing," Faleschini said in a statement. "Judge Kasubhai is a consummate professional who deftly deflected the attacks, defended his courtroom practices, and demonstrated exactly why he will make a fantastic judge. All that the Republican senators did today is broadcast their own disdain for diversity and any effort to ensure all people have equal access to justice."
As the hearing wound down, committee chairman Dick Durbin (D) noted that Republicans didn't spend much time asking Kasubhai about any of the hundreds of opinions he's issued as a judge amid their efforts to try to frame him as a Marxist ― and attack his poem.
"Your poetry has been fed back to you today," Durbin told Kasubhai. "Don't be discouraged. Poetry is still very important."
Support HuffPost
The Stakes Have Never Been Higher
Popular in the Community