A 4-year-old in Tennessee died after being shot point-blank in the chest Sunday by a woman who said she was teaching the girl "firearm safety," according to authorities.
Breanna Gayle Devall Runions, 25, was charged with first-degree murder and aggravated child abuse in the death of Evangaline Gunter.
The child's parents, Adam and Josie Gunter, told ABC affiliate WATE that Evangaline had been in temporary custody at a home in Rockwood, which Runions shared with girlfriend Christina Daniels and another child, a 7-year-old girl.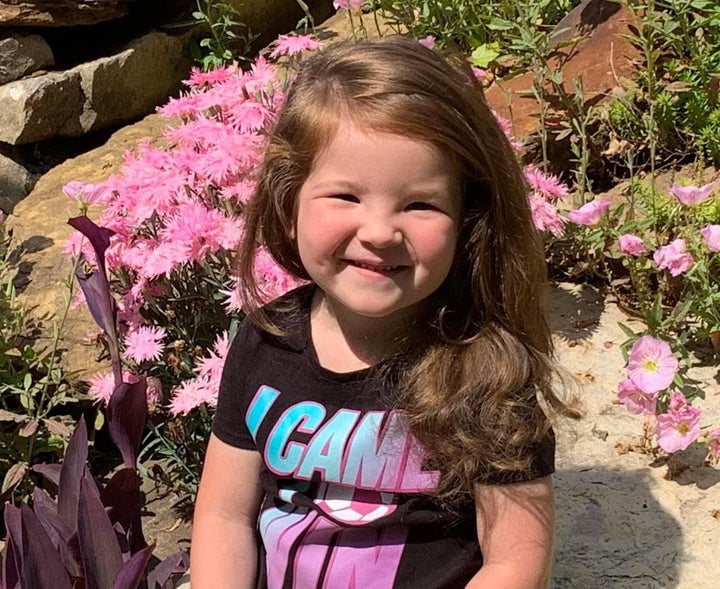 According to a Tennessee Bureau of Investigation arrest warrant obtained by HuffPost, Runions told police that she had taken a 9 mm handgun out of its case, removed the magazine and called Evangaline over to "show her firearm safety."
Runions pressed the barrel of the gun against the child's chest and pulled the trigger, police said she told them.
Daniels told police that she saw Runions take out the gun, remove its magazine and put it to Evangaline's chest, but she turned away and didn't see her pull the trigger, according to the warrant.
The 7-year-old girl told authorities that she saw Runions shoot Evangaline and said the bullet struck a glass bottle, sending shards her way, according to the warrant.
Before the shooting, Evangaline and the older girl were being punished that morning by Runions for not waking up the women and for eating Daniels' food without permission, according to the warrant and a statement from Russell Johnson, district attorney general for Tennessee's 9th Judicial District. Runions struck both girls with a sandal before forcing them to stand in different corners of the women's bedroom, authorities said the older girl told them.
After the shooting, the women drove Evangaline to a nearby Walmart location to meet an ambulance, Roane County Medical Examiner Dr. Thomas Boduch told the Roane County News, and the vehicle transported the girl to a hospital where she was pronounced dead. Boduch could not immediately be reached by HuffPost.
Evangaline's mother told WATE that she was experiencing a mixture of "anger, rage, guilt" following her daughter's death and was blaming herself for Evangaline being in someone else's care. She said that this was the result of a "court decision" but that she'd expected to regain custody soon.
"I feel like it's my fault that I let her be there," Josie Gunter said. "I should have been more attentive."
The Gunters said Evangaline was joyful and always smiling.
"You look at her and she'd brighten your day," Adam Gunter told WATE.
"Her hugs were so full of life, and love," Josie Gunter said. "That's the one thing I'm going to miss the most, is her hugs and her smile."
"She wanted to be a cheerleader so bad," she added. "That little girl was cheerleading before she could even walk."
The Tennessee Department of Children's Services confirmed to HuffPost that it had launched an investigation in the case, and officials are also working with law enforcement in the criminal probe.
The Gunters said on Facebook that a funeral for Evangaline is planned for Tuesday, Sept. 5. Following the services, the family will host a birthday party — Evangaline was just about to turn 5 when she was killed — at Riverfront Park in Harriman.
"All that has known her, that loved her, knew her in some small way you are all more than welcome to come show your condolences," Josie Gunter wrote. "Please let her love spread."
Runions on Tuesday waived her right to a bond hearing, and a status hearing is scheduled for Sept. 19. Her appointed public defender did not respond to a request for comment from HuffPost.
She is being held at Roane County Jail on a bond of $1.5 million.
Support HuffPost
The Stakes Have Never Been Higher
Popular in the Community