The Republican-controlled Texas state Senate gave preliminary approval on Monday to a set of new restrictions on minors seeking abortions without a parent or legal guardian's consent.
The legislation, which originated in the state House, amends the "judicial bypass" process, or the legal mechanism that allows minors to get court approval for an abortion if obtaining consent from a parent would endanger their safety. About 200 to 300 minors in Texas use this process each year in instances where asking a parent or guardian for consent could lead to sexual, physical or emotional abuse.
Republicans who supported the Texas Right to Life-backed bill said it is meant to fix loopholes in the current judicial bypass system and provide judges with more clarity. But they also suggested the bill was aimed at reducing the number of abortions performed in the state.
"Protecting the life of the unborn is one of the most important acts we can take as elected officials," Lt. Gov. Dan Patrick (R) said in a statement after the Senate vote.
The bill's opponents say it would endanger vulnerable minors who experience familial abuse, as well as those whose parents have died, been deported, are incarcerated or have substance abuse issues. Reproductive rights advocates protested the bill on social media platforms with the hashtag #HereForJaneTX, since pregnant minors seeking judicial bypasses are referred to as "Janes" -- as in "Jane Doe" -- for the purpose of court records.
Currently, minors can seek the bypass in any of the state's counties. The legislation would require minors to file for a bypass in their home county, unless it has a population of less than 10,000 people. In those instances, the minor would be permitted to file in the county where the procedure would be performed or in a neighboring county. Currently, a bypass is automatically granted if a court does not rule within two days; if the bill is signed, the court would have five days to make its decision. The bill would also increase the standard of proof imposed on minors from a "preponderance of the evidence" to the higher threshold of the "clear and convincing" standard.
The legislation would also require judges to report any abuse alleged by a minor seeking a judicial bypass to local law enforcement. Since law enforcement would then be required to investigate the claims, abusers could become aware of their child or ward's pregnancy, potentially putting the pregnant minors in danger of further abuse, as RH Reality Check pointed out.
Jane's Due Process, a nonprofit that helps minors obtain judicial bypasses, said the legislation invites a lawsuit, since the U.S. Supreme Court has ruled that a judicial bypass must be confidential and expeditious.
"For many teens, this would make judicial bypass entirely unattainable," Tina Hester, the executive director of Jane's Due Process, said in a statement. "The judicial bypass is in place to protect abused and neglected pregnant teens who cannot safely turn to a parent or cannot find a parent. When a minor is forced to go to her local courthouse in rural communities her confidentiality is near impossible to protect."
The state Senate didn't approve every one of the House bill's provisions: Republican Sen. Charles Perry modified a controversial section that would have asked abortion providers to assume a patient was a minor unless the patient could provide government-issued identification indicating otherwise. The provision had led to charges that lower-income and minority Texans who lack a valid form of identification would be blocked from having the procedure.
Under the new law, clinics would instead have to use "due diligence" to determine a patient's age and report to the state's health department how many abortions it had provided without obtaining identification. Perry, who sponsored the legislation in the upper chamber, said the revised language about identification "gives physician more latitude" to determine a patient's age.
The legislation must now be approved by the House before Friday. The lower chamber must either agree to the Senate's amendments to its measure or meet in a joint House-Senate conference to resolve their difference, which must be adopted by June 1.
Before You Go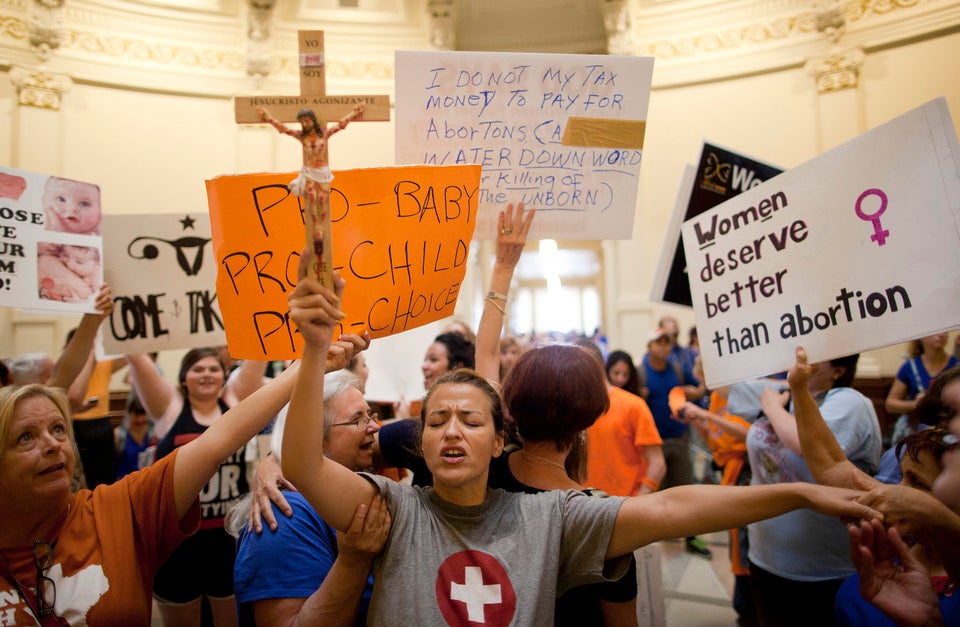 Abortion Protests Around The Nation
Popular in the Community