The U.S. Supreme Court voted 5-4 on Monday to stay a recent lower court ruling that would have shuttered all but nine abortion clinics in Texas.
The high court will allow the clinics to remain open while it decides whether to hear an appeal over a Texas law that requires all abortions to take place in ambulatory surgical centers -- essentially, mini-hospitals. Justice Anthony Kennedy joined with his four liberal colleagues -- Ruth Bader Ginsburg, Stephen Breyer, Sonia Sotomayor and Elena Kagan -- to keep the clinics afloat. Chief Justice John Roberts and fellow conservatives Antonin Scalia, Clarence Thomas and Samuel Alito opposed the stay.
A wave of new abortion restrictions in Texas has already forced roughly half of the state's 41 clinics to shut down over the past four years. If the new law regulating clinics is allowed to go into effect, the number of abortion providers will dwindle to just nine, concentrated in four urban, higher-income areas of the state. The Huffington Post reported in 2014 that low-income women in Texas who cannot access abortion providers are already resorting to illegal, medically unsafe methods to end their pregnancies.
The Center for Reproductive Rights, which is challenging the latest restriction on behalf of Texas abortion providers, celebrated the temporary victory on Monday.
"Our Constitution rightly protects women from laws that would create barriers to safe and legal abortion care, but Texas politicians have tried to sneak around the Constitution with sham regulations designed to close clinics' doors," said Nancy Northup, president of the Center for Reproductive Rights. "The Supreme Court has affirmed time and again that a woman has a constitutionally protected right to decide whether to continue or end a pregnancy, and we are confident the justices will make clear once again that the constitutional protections for safe and legal abortion are real."
Before You Go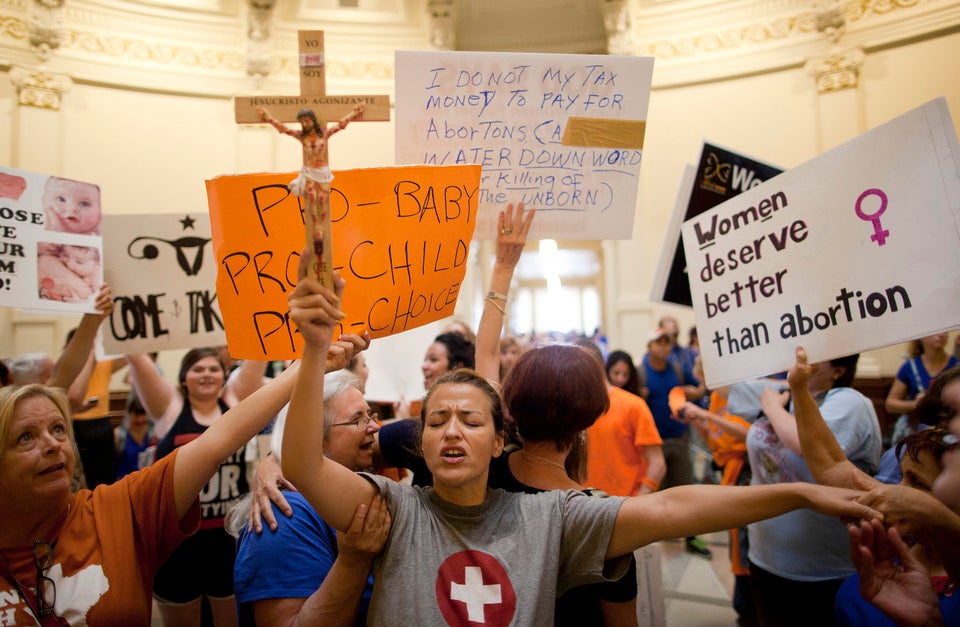 Abortion Protests Around The Nation
Popular in the Community