WASHINGTON -- When Texas Gov. Rick Perry (R) took friends, fellow legislators or campaign donors to his hunting camp, they passed the word "Niggerhead" painted on a rock. As the Washington Post reported Saturday, "Niggerhead" stood for the long-ago name of the Perry family's hunting camp.
Perry told the Post that the name had been blotted out with paint as soon as his father leased the property, the rock turned over to hide the traces of it. But the newspaper found multiple sources and some photographic evidence to contradict that claim:
The name of this particular parcel did not change for years after it became associated with Rick Perry, first as a private citizen, then as a state official and finally as Texas governor. Some locals still call it that. As recently as this summer, the slablike rock -- lying flat, the name still faintly visible beneath a coat of white paint -- remained by the gated entrance to the camp.
The Post story did not suggest Perry was an outright racist. Indeed, in the wake of the piece, several politicians -- including Democrats -- defended the governor against charges of racism. And Perry only has so much control over what other area residents call the property. But the story brought renewed attention to what many claim is the governor's pattern of indifference -- or at least tone deafness -- on the subject of racism.
Critics charge that while Perry has appointed minorities to the upper reaches of government, he has used language with historically racialized undertones in speaking to Tea Party concerns over states-rights issues. The governor has also largely ignored allegations of racism on the part of at least one subordinate, foes say, and on one occasion was accused of racial insensitivity himself.
Perry's trouble with the subject of race has flared up from time to time since he first won statewide office as Texas' agriculture commissioner in 1990. The following year, according to news accounts at the time, a businessman and his son accused an assistant commissioner of telling them in a meeting: "We already have one nigger [who submitted a loan application]. We don't need another."
The assistant commissioner, Dick Waterfield, denied the charge, telling the Forth Worth Star-Telegram, "I don't know whether or not I've used that word, but I didn't say it. You know I have people on my staff that are black."
The businessman and his son signed a sworn statement affirming their recollections and offered to take a polygraph test. Another businessman who was at the meeting told the Star-Telegram that Waterfield indeed used the racial slur.
The incident gave Perry an opportunity to come out firmly against the assistant commissioner's language. Instead, he sided with Waterfield and accused the businessmen and his son of fabricating the incident to secure a loan. "I consider what this guy's trying to do for the sake of a loan is absolutely repulsive," Perry said told the Star-Telegram. "We don't use that kind of language over here at the Department of Agriculture. ... We don't condone that, period."
Eventually, Waterfield resigned over the affair, yet Perry continued to defend him. "Dick is an honest man of incredible integrity," he said, according to reports. "I share in his disgust at these allegations."
Two years later, Perry came under fire for his own use of racially insensitive rhetoric. At a news conference, he complained about lawsuits in the Rio Grande Valley, saying, "Every Jose in town wants to come along and sue you for something." Perry expressed surprise that people took offense at the remark, delivering the following non-apology: "If anyone took that as a racial slam, they were certainly misreading it."
As Texas' lieutenant governor in 1999, Perry helped derail a hate-crime bill. Later, as governor, he fought to scuttle the hate-crimes bill named for James Byrd Jr., though he ultimately signed the measure into law. He also vetoed a proposal that would have required Texas judges to take sensitivity training.
Meanwhile, Perry has shown what critics deem an undue amount of sensitivity toward groups like the Sons of Confederate Veterans. "I want you to know that I oppose efforts to remove Confederate monuments, plaques and memorials from public property," Perry wrote in a March 2000 letter to the SCV.
In 2009, Perry offered his support to a bill in the Texas legislature that affirmed states' rights, a hot-button topic in the South given the historical invocation of such rights to defend segregation and other Jim Crow laws.
State Democratic Rep. Garnet Coleman has repeatedly spoken out against Perry's Tea Party rhetoric on similar grounds. In an August 2010 press release, Coleman condemned the governor for "using African-Americans as a wedge." "Rick Perry wants racial division," he said flatly in an interview with HuffPost. "Rick Perry is a divider. It's true."
More of the governor's opponents have denounced his tilt toward the Tea Party as political opportunism and suggested that race was a factor. "Why was this not an issue until we had a black president?" asked Democrat Jim Dunnam, a former state representative and current fellow at the Texas First Foundation, told HuffPost. "I don't know why we didn't do this under Bush when we really had an attack on individual liberties. I think it was politics."
CORRECTION: An earlier version of this story mistakenly reported that Governor Perry's father had purchased the hunting camp. Perry told the Washington Post that his father leased it.
More details on Rick Perry in the slideshow below: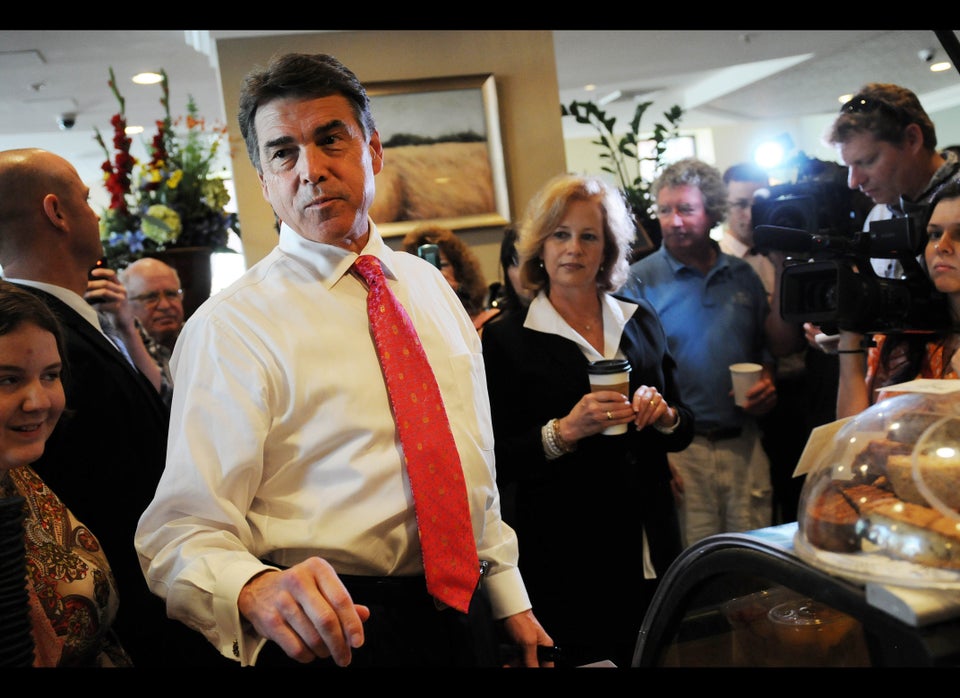 Rick Perry 2012
Popular in the Community