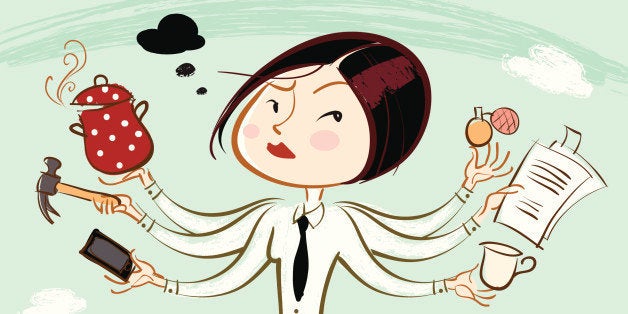 Busy is a drug, and I'm addicted. My gait is brisk at 8:10 on a Monday morning, another precious summer weekend crumbling in the rearview mirror. Sweat bleeds through the cotton oxford dress shirt of the man in front of me as he swings his briefcase in one hand and palms his caseless iPhone in the other, swiping his fingers across the screen. The blinking red light at the crosswalk ceases and I come to a halt on the littered pavement. Another minute added to my morning commute, I groan, forgetting my friends who take two subways and a bus to work every day. I pull my phone from my bag and compulsively begin skimming emails and texts in tandem with the crowd, an unspoken agreement amongst us impatient sidewalk dwellers. I look up every few seconds to make sure the light hasn't turned white as I zip through a few more emails, desperate to fill every vacant moment with something productive--I don't have time to waste time.
Like many others, I've glorified the idea of being busy. I find great pleasure in tackling items on my to-do list and maximizing every minute of the day. Spending my Saturday on the couch watching eight back-to-back episodes of True Detective has never sounded appealing; I'm lucky if I can get through one episode without checking my phone three times, pondering dozens of more productive ways I could be spending my day. Similar to Mindy Kaling, the industrious moral was imprinted on me at a young age; in fact, I distinctly remember sitting at my dining room table in awe after receiving a C in math on my fifth grade report card. From that day on, I attempted to exert control over my life and its unpredictable nature by trying to do too much.
In her recent feature in Glamour, Mindy Kaling says, "I work a lot. Like, a lot a lot. I feel like I must have been watching TV as a kid and that cartoon parable about the industrious ants and the lazy grasshopper came on at a vital moment when my soft little brain was hardening, and the moral of it was imprinted on me. The result of which is that I'm usually hyper-prepared for whatever I set my mind to do, which makes me feel deserving of attention and professional success when that's what I'm seeking." Sure, luck is often a factor in one's success, however, like Mindy, I've always believed I could increase my chances of winning by working my ass off (overachieving, if you will), from the classroom to the basketball court to the office. I want to work the hardest, as doing so is associated with money, fame, and an ultimately rewarding life. The problem, though, is the pressure to achieve an unrealistic goal--that is, for all the puzzle pieces to fall into place simultaneously. I've witnessed the draining, deteriorating effects of stress on the mind and body and I'm convinced it's the root cause of more illness than we think. To combat the busy addiction and instinctual tendency to do (and care) too much, I've come to terms with the reality that perhaps we can have it all, but not all at once.
We find true happiness as soon as we erase the vision of what a perfect life should look like and disregard expectations society has set for what we should have accomplished by now. As we strive to have it all--C-suite jobs, close-knit families, active social lives, and healthy bodies--we inevitably find ourselves coming up short. In our 20s we might fall in love with our future spouse yet we struggle to find a job that we feel passionate about every day. We feel guilty after a long, productive day at work because we're unable to stick to our exercise regimen or our goal to cook dinner every night falls by the wayside. Instead, we can transform our guilt into acceptance: accept that our priorities will continue to change in five days, five months, and five years from now. The best we can do is act with intention and purpose, focusing our energy on what is most important right now, and everything else will undoubtedly fall into place.