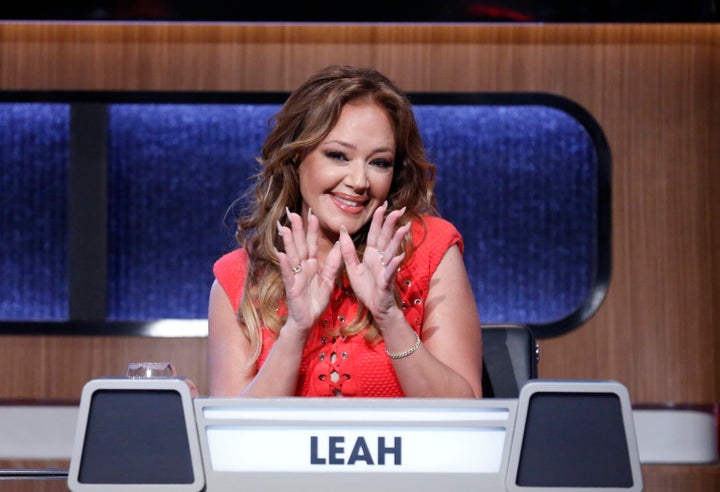 /www.huffingtonpost.com/news/leah-remini/"}}">Leah Remini apparently poked the Scientology bear one too many times, because it is officially poking back with a website created to discredit the actress' new docuseries about the controversial organization. 
After the premiere of A&E series "/www.aetv.com/shows/leah-remini-scientology-and-the-aftermath"}}">Leah Remini: Scientology and the Aftermath" on Tuesday night, a website apparently operated by the Church of Scientology titled Leah Remini: Aftermath — After Money (the shaaaaade) appeared online to respond to the actress' allegations about the organization's rampant abuse and harassment.
Remini, who was raised as a Scientologist from an early age, is one of its most famous detractors. After /people.com/archive/the-king-of-queens-star-leah-remini-leaving-scientology-vol-80-no-5/"}}">spending more than three decades in the church, she made a public exit at the age of 43 and has since made it her mission to expose the organization's wrongdoings. 
"Leah Remini has repeatedly disparaged and exploited her former faith for profit and attention through a series of failed publicity stunts, culminating in her reality TV show featuring a cast of admitted liars who to make a buck have been telling differing versions of the same false tales of abuse for years," the statement from the group reads.
"Many of their allegations have been reviewed and discredited in courts of law. A&E's promotion of their agenda smacks of bigotry. It also is sad that Leah Remini attacks and exploits those who tirelessly worked to help her when no one else was willing to tolerate her behavior."
In the premiere episode, Remini addressed the ways the organization has tried to undermine her in the past, like calling her a "has-been actress now a decade removed from the peak of her career" who's only out to make money. 
"When you stop f**king with people's lives and families, I'll stop too," she says in a clip from the premiere. "How does it feel?"
REAL LIFE. REAL NEWS. REAL VOICES.
Help us tell more of the stories that matter from voices that too often remain unheard.
BEFORE YOU GO
PHOTO GALLERY
Leah Remini