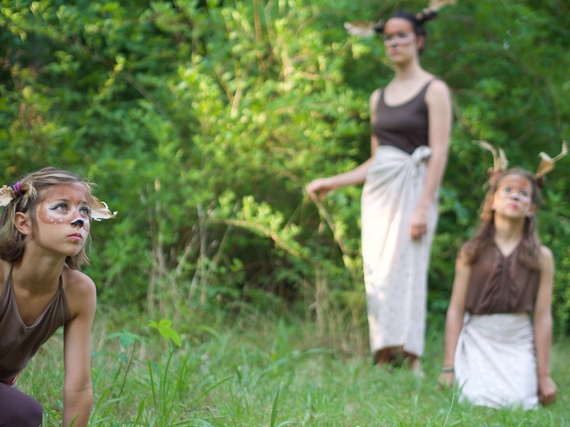 (Photo: Sue Johnson)
It's a rare tragedy these days that fails to elicit a tidal wave of tweets, frown emoticons, "my heart is breaking" comments, and cyberhugs with their curly parentheses like little embracing arms. The way that Facebook and other social media platforms have spawned these digital mourning rituals seems the fodder for contemporary essays or even fiction. But it might not seem the most obvious subject for theater, a form known for its live, immediate, and generally non-digitized format.
Halliday, one of seven cast members as well as the playwright, spoke with me about the inspiration for Fawnbook and the challenges and thrills of putting on this daring, droll, dark, and prescient new play.
What was the inspiration for Fawnbook?
My improv group (which includes Fawnbook cast members Nick Balaban and Marjorie Duffield) gave ourselves the assignment of bringing interesting social media posts to rehearsal, just to see where they would lead. One guy brought in something about a woman finding a newborn fawn in her suburban backyard. The outpouring of over-the-top love and support she received in response was really quite something, despite the occasional sour comment on order of "Good work, now that you've touched it, the mother will reject it." We put it on its feet and immediately found ourselves committing to this weird, agrarian settlement where we were constantly hoeing and washing clothes by hand in a river. I was smitten.
I do think fawns carry a lot of baggage for us humans - it's the Bambi effect. They are vulnerable and beautiful and despite hundreds of Facebook posts by people who've discovered one in their yards or compost bins, a somewhat rare sight.
Could you say more about tragedy and mourning on social media and how these issues shaped the play?
Facebook has developed its own mourning rituals, some less savory than others. Grandparents, pets, aging parents, teenagers and children taken too soon - it is proper to respond, but you can't say "my heart is breaking for you" if five minutes later you're merrily posting photos of breakfast and your cat, bragging about your kid and sharing links to celebrity wardrobe malfunctions. It seems someone on the outer reaches of acquaintance is always one of the first to hop onto the wall of the recently deceased and start lavishly beating his or her breast - "I never met him, but my heart is breaking" is a common phrase.
It seems like there would be as much aggravation as comfort on the receiving end. Having yet to be publicly bereaved in the age of social media, I can't say for sure. Working on Fawnbook, I have come to appreciate the helplessness combined with a desire to be helpful that might lead someone to type "Hugs".
Do you think people are deadened or emotionally distanced by social media and the digital age? Is that something you're considering in the play?
Definitely, though I don't deny there are others who may experience social media as a more comfortable forum for emotional expression than real life is. It does lend itself to florid sentiment and over-the-top declarations. If we could take those expressions of love and support that are so abundant on social media, and try to truly embody them in daily life, the world would be a more supportive, heartfelt place.
The sort of numbness I experience is the numbness that makes it extremely difficult to tear my eyes off the screen, fingers off the keyboard and close that laptop lid. I think I'm participating in real life, when actually, I'm just sitting on the couch, turning into a sort of mushroom.
The characters of Fawnbook aren't numb at all. They have no digital distractions, and are dependent on each other for their survival. Their only means of communication with people outside their community are signal flags and a one-way phone made from string and an empty tomato can.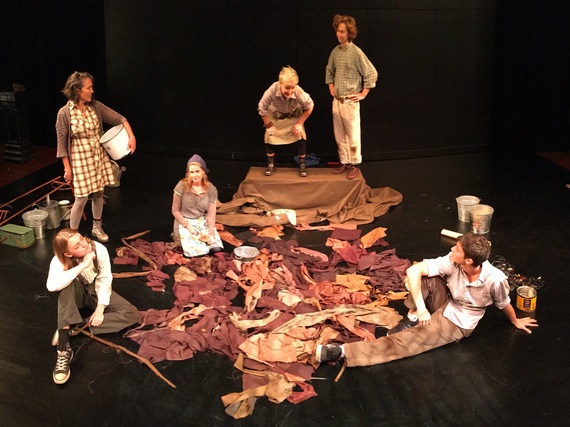 (Photo: Diana Yanez)
Why did you want to explore these issues on stage rather than in writing? What does theater offer?
Collaboration. Audience. Immediate gratification (and its terrifying opposite, the dead audience that just ain't buying it). I love writing books, but one does so in isolation...then there's the interminable wait for them to come out. Theater is a lot more work, but it's something I have loved since childhood, something my entire family does. Being on the sidelines of my husband's shows [Halliday is married to Greg Kotis, co-creator of Urinetown the Musical] and watching my 18-year-old daughter grow into an amazing actor and playwright, really set me hankering to get back into it, on my own terms.
Teenage boys and middle-aged women - an unusual demographic for a cast of characters struggling at the end of the world. (I thought it was only Will Smith or Matt Damon who could survive in apocalyptic times!) Why did you make this choice?
I really love working with teenagers. Last year, I directed ten of them in The Mermaid's Legs an original piece I wrote specifically for that cast. We used the traumas of Hans Christian Andersen's The Little Mermaid as a metaphor for the oft fraught experience of making that transition from child to adult. It was one of the most satisfying things I've ever done theatrically, partly because those teens were so rough and ready - everything was new to them.
As to why middle-aged women, I wanted to act in it. I was thrilled that Marjorie Duffield, who had had such a hand in the early improv-based development, agreed to be in it. And I'd known from the get go that I wanted to work with Chris Lindsay-Abaire, a dear friend and hilarious, intuitive actor, who like me, has spent more than a decade doing some heavy lifting in the child rearing department as a playwright's bride.
In terms of the script, the age difference between the two groups gave me a lot to work with. The settlement in Fawnbook is matrilineal by default, but the boys are not treated like children, just younger, and thus less experienced workers. It becomes clear that the oldest boy, Max, is being groomed by the women for a leadership position. I kept thinking about Laura Ingalls Wilder's Farmer Boy and several boys I knew growing up, who knew everything about boats and tools, dutifully taking on a heavy chore load while I was off picking wildflowers and dreaming about becoming an actress. The middle boy, John, is more like I was, a loafer and creative spirit, which of course, creates tension with his ersatz brother, the hard working Max. But then there are a couple of scenes where we see how their youth unites them - there are things that they both crave that the women cannot give them. They're young, in other words, and we're not.
What's unusual about this production and how you're putting it together (versus other productions you have been involved with)?
Actually, it's of a piece with a lot of my prior work, both with teenagers and the Neo-Futurists. What would be unusual for me is to receive the sort of big bucks production that doesn't involve schlepping a granny cart full of props and costumes on the subway to a borrowed rehearsal space. I know a big time producer who has a bad case of nostalgie de la boue. Lucky me, I never left la boue! Maybe it keeps me young?
Who are the Neo-Futurists? How has your work with them effected and shaped Fawnbook?
The Neo-Futurists are a downtown-style, Chicago-based theater company best known for Too Much Light Makes the Baby Go Blind, an ongoing, ever-changing attempt to perform 30 original plays in 60 minutes. I joined on the first year anniversary in 1989. I met my husband Greg Kotis when he auditioned for us a couple of years later. Between us, we wrote and acted in close to a thousand short plays, almost always playing some version of ourselves. We learned to write quickly, and to turn things around with equal swiftness, from page to stage. There was no choice but to take the plunge, and see what developed, though it was always important to me that the show as a whole be worthy of a paying audience.
My fellow Neo-Futurists' preferences and plays exposed me to new ideas and styles. That's when my interest in devised performance really took off, though my first exposure was via a review of The Danube by Maria Irene Fornés. I was completely captivated by the idea that you could make a whole play out of old language instruction records stumbled across in a thrift store.
I did some solo work at the Neo-Futurarium too. It was a great exercise in saying, "I want to do this thing", and then having to follow through because I'd been given a mainstage slot. That's definitely the anvil on which Fawnbook was forged.
Popular in the Community