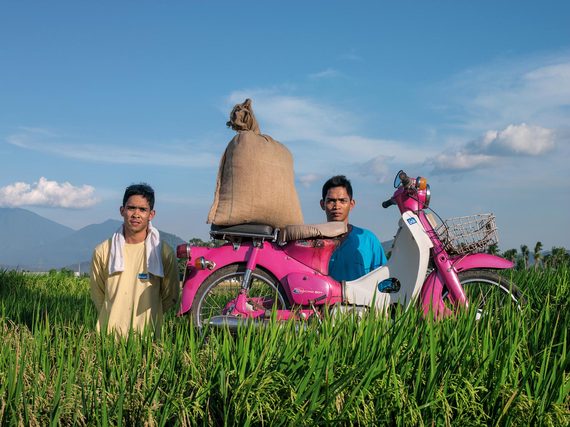 Photo credit: National Geographic
We are now 7.2 billion people in the world.
We are expected to increase by 1 billion over the next 12 years and we will reach 9.1 billion by 2050, 34 percent higher than today. Nearly all this population increase will occur in developing countries.
In order to feed this larger, world food production must increase by 60 percent and food production in the developing world will need to double. Annual cereal production will need to rise to about 3 billion tons from 2.1 billion today and annual meat production will need to rise by over 200 million tons to reach 470 million tons.
Data from the Food and Agriculture Organization (FAO) estimates that doubling food production in the developing world will require an average annual net investment of $83 billion dollars, including technical and economic advice to governments on policies and legislation that influence public and private investments and capacity development to design strategies aligned with national priorities.
Agricultural production will need to increase, and along with it, the greenhouse gas emissions from crop and livestock, as well as from forestry, fisheries and land use will increase their impact on the environment and on climate change.
In parallel, and according to the State of Food Insecurity in the World 2014 report, the total number of hungry people in the world is of 805 million people. One in every nine people on Earth go to bed hungry every night. Obesity is the other flip side of the coin. Both hunger and obesity are symptoms of poverty. The scarcity of healthy options in low-income neighborhoods in developed countries and the decreased purchasing power make people opt for a unhealthy and cheap processed foods rather than seasonal and local fruit and vegetables.
The challenge here is -- according to José Graziano da Silva, FAO's Director-General, is "to feed the world population using less land, water and energy, supporting a widespread, globe-spanning transition to sustainable farming systems and land management practices." He also stresses the importance of achieving greater efficiencies in the use of natural resources, in particular water, energy and land-including food waste, to protect biodiversity and the ecosystem.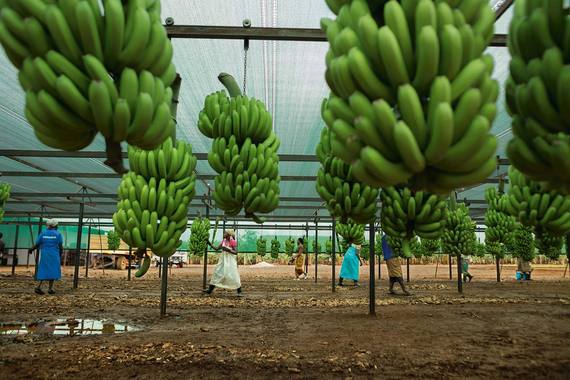 Photo credit: National Geographic
Palazzo delle Esposizioni in Rome is hosting a National Geographic exhibition on the Future of Food, an informative, thought-provoking and in depth coverage in photography, maps and infographics to understand how the food has made us who we are today and how it shapes our future, looking at different world regions and exploring our complex relationship with what we eat and where our food comes from.
Walking through the different exhibition sections, the viewer is taken to discover the challenges of food production and of food supply chains; the use of natural resources and the tools to prevent food waste; the shape of the green and the blue revolution; the power of people to produce and their right to use their lands; the new face of hunger in the industrialized world and the need for a food-eco print awareness and healthier diets. The audience is put in front of major global questions on the future of our planet and how we all can make an impact by being informed and by making the right choices for humanity.
On this point, the Milan protocol for food and nutrition advances a proposal aimed at bridging the gap between three main paradoxes: 1. the imbalance of malnutrition and obesity; 2. The sustainable use of crop production directed to animal feed and the one directed to human consumption; 3. Food waste (every year, 1.3 billion tons of edible food is wasted) and the need to feed the 805 million malnourished people across the planet.
In this context, Italy has a main role to play: the Universal Exposition on food, sustainable practices and nutrition, Milan Expo 2015,will gather 140 countries to share their best practices in the fields of technology, biodiversity and traditional foods, showing the best tools and processes used to protect populations and increase local production.
A global knowledge platform for research, cooperation and innovation will gather universities and 130 international research centers around a table to discuss the challenges and the breakthroughs that can enable us to produce the right amount of food for everyone, without wasting it and ensuring it is produced sustainably and for the next generations to come.
Sharing and cooperating towards hunger eradication and sustainable lifestyles is the key to living better lives and opening doors and opportunities for research and development improvements. Finding solutions is the responsibility of every actor in society, and for this reason, we must all share a culture of knowledge-sharing and commitment to humanity.
Ideas and actions that can give to everyone the right to food, to safe and nutritious food and to be free from all types of hunger, is our goal.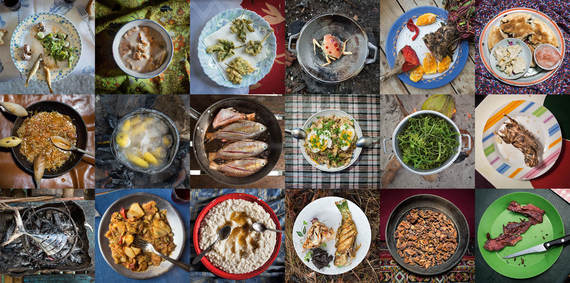 Photo credit: National Geographic
Calling all HuffPost superfans!
Sign up for membership to become a founding member and help shape HuffPost's next chapter