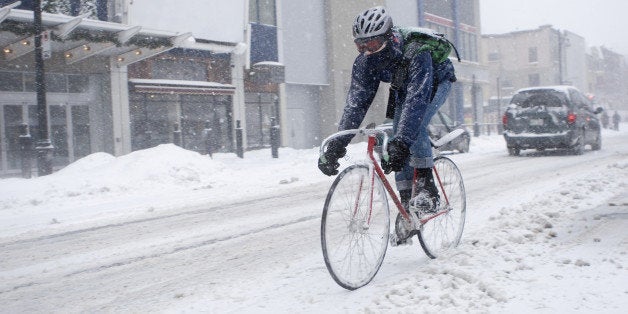 What? A wind chill of nine degrees in New York on November 18th? And six feet of snow in Buffalo? Give me a break!
Did you ever think about the major shift that happens to us as winter attacks and settles in for what seems an eternity? Not just the coats and mufflers and where are my gloves thing but the changes in mood and most of all, in behavior, that gets forced upon us. Upon us who spend much more of the year expecting those choices warmer weather affords us as commonplace -- our right.
But when the windows close and the heat comes on and the weather report starts sending out bleak, threatening noises, we as a species are compelled to change what we usually expect to do with our time. Now the focus is indoors, not out, and that creates a new kind of forced proximity with those who share our living space.
Ever stop to think about how little time we connect with them during the warmer weather? How out and about everyone is with just glancing hits of "hi," "see ya," "have a good day?," "gotta go now." The freedom to go and do automatically makes that happen so the amount of time we spend with each other in a confined space is minimal.
But here comes that annual mercury drop which forces us to confront very different -- and much fewer -- activity choices. Makes us end up sharing a much smaller place in our world, and a much closer, more visible one, indoors, with our co-tenants. And what does that do?
Unlike the big-muscled outdoor choices like walking, jogging, golfing, working in the garden or field, we need to sharpen up much smaller skills. Like talking. Sitting. Noticing. Joining in. Even smiling and touching.
But what about those other small motor skills that we're all so proficient at? The ones we exercise all the time? Those texting, gaming, self-focusing and clicking the remote ones? They need some diluting -- even deferring -- as those we live with are all together and visible, which requires eye contact and actual attention. So the winter downshifting makes us need to move over a little and more consciously share our space, let alone sharpen up our slowly atrophying oral skills enough to talk, to ask and to listen.
And then there's the totally unfamiliar act of voluntarily turning off the electronics. The solo amusers. What? What do we do now?
I actually like this enforced confinement since I know some great things to do which we've almost forgotten. Things that make us see our close folks in such another light. Like the creativity, competitiveness and camaraderie that games with friends and family reveal. Not just Monopoly, Trivial Pursuit, Scrabble, Scattergories and Bananagrams (try this one, it's great!) but also physical ones like charades or even hide and seek with people or things. What about card games and chess and checkers? What a different way to get to know your friends and loved ones! One of the best things is discovering -- and laughing at -- your own incompetencies since we spend most of our lives arranging to never let people see those when we're at work!
And let's not forget the pleasures of creative joint ventures in the kitchen, pursuing some new recipe with everyone sharing in the preparation and sitting down to glory in their efforts.
Live alone? The winter gear shift makes a great time to invite friends over for a pot luck, eating and talking, or a night of nostalgia, enjoying those games together.

So let it snow, let it blow, let it brrr me into another evening of forgotten or newly discovered fun to help exercise and resurrect the pleasure of using some oft forgotten human skills.
Related