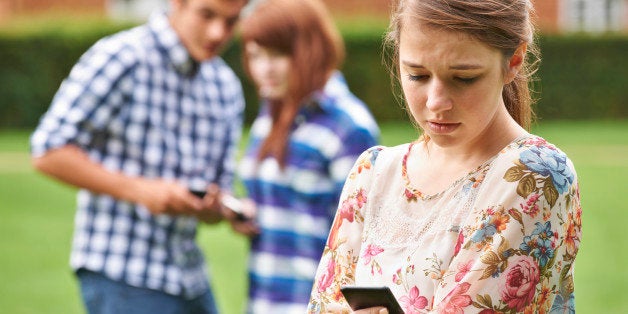 Back in the day, kids used to race each other across the park, play with marbles and tire themselves out pushing and tugging at each other. Today, kids compete with each other on the number of "likes" and social approvals they can garner. Candy Crush has replaced the simple joys of the social games of yore. And social-shaming is the latest way to scold, insult and name-call. As social media turns into the modern playground, parents are increasingly faced with uncomfortable questions on their children's online activities. A study conducted by SheKnows.com last year, revealed that teens are exposed to a lot of stress and anxiety while on social media. The "fear of missing out" and a fixation with "likes" leads children to spend more and more time on social networks. As the virtual world takes over real-world-time, kids' mental health is increasingly determined by events on social media. Compare this with the findings of the National College Health Assessment carried out by the ACHA (American College Health Association) and the writing on the wall is scarily loud and clear. Of the 79,266 college students surveyed, a staggering 54 percent felt overwhelming anxiety and an even larger 62 percent felt very sad sometime in the last 12 months. In case one thinks a year is too long a period, over 30 percent of students felt both anxious and very sad in the past one month, and over 20 percent felt so in the two weeks preceding the survey. There seems to be a strong correlation between rising levels of depression and increasing dependence on social media to fulfill the pangs of social acceptance!
This social media frenzy is greatly facilitated by mobile access. A recent Pew Research Center Study found that nearly 75 percent of teens have or have access to smart-phones! Of these so-called "mobile-teens" nearly 94 percent go online daily or more often. And there's more than one social playground for kids to hang out at; as close to 71 percent of the surveyed teens are present in more than one social network. Facebook, Instagram, Snapchat, Twitter, Google+, Vine and Tumblr are just a few that figure in children's social media menu today.
Behind all this frantic and feverish social media craze is a fundamental change in the way children and adults alike, today, see and experience the world. Patience, nowadays, is best determined by network speeds when answers lie just a click away. Children therefore grow up in an atmosphere that conditions them to expect immediate response, instant gratification and constant notification. Time seems to run faster than ever, leaving kids with little time to swim along constantly changing tides. This constant flux and the never-relenting urge to "keep up with the crowd" puts everyone, especially kids, in a distressing situation. Social networks have opened new doors to communication and relationships, and have inadvertently made our lives all the more vulnerable. "Social technology provides a platform where things can run wild. Imagine the stress of high school -- the competition for popularity, the pressure to fit in, the judgmental nature of social activities -- at an accelerated pace," observes Sreedhar Potarazu recently on CNN. Childhood in the era of social media has shed all its feathers of innocence and is forced to fly when it can still barely walk.
So should we write off childhood as we know it with a beautiful epitaph?
Not at all! Social media is not all black and ominous. It has its fair share of white too. Parents and even educators have a huge responsibility in defining the role social technology plays in their children's lives. Grown-ups need to talk with teens about social media, and talking doesn't meaning prohibiting. What is required is a sincere conversation that serves as an exchange of thoughts. Educators could emphasize on digital literacy and citizenship while parents could try to understand why kids behave in a particular way online. These conversations (it's not one but many small ones that will show results) must start very early while children are initiated into the realm of social media. "Take an interest in what your children are doing online and have them show you why they like it" says Diana Graber co-founder of CyberWise.org, a digital literacy site for parents, educators, and tweens and teens.
Counseling and education are powerful means to help children from a mental health point of view. Children are in dire need of guidance as they are sometimes unaware of the pitfalls social media could lead to. Kids must be taught to "Think before they post"; otherwise they run the risk of leaving behind an embarrassing digital trail that could potentially push them into depression or even suicide. If schools could incorporate lessons on social media, kids might learn to be more careful on social media and take wiser decisions.
A structured access to social media could also serve as a means to cushion the plunge into social media. Smart parental controls apps such as Mobicip, among others, could help foster a sense of accountability in kids and help parents regulate access without being intrusive. Such a graduated mechanism will make kids "socially responsible" and prevent anxiety-causing abuses from going unnoticed.
Above all, perhaps, parents need to stop pushing their children to compete and outperform others. Life is not all about being the best or the most popular. Children are taught the paradigms of achievement and success, and their minds are constantly burdened by the need to live up to their parents' expectations. Relationships should be helpful and collaborative rather than dictatorial. Social media along with its host of issues, most of all, underlines the importance of parenting and parents need to make their own opportunities to take responsibility for their children's future.
Writing credit: Co-authored by Prithiv, a Mobicip blogger and social media guru with a deep understanding of the risks that social networks pose for children, tweens, and teens.
REAL LIFE. REAL NEWS. REAL VOICES.
Help us tell more of the stories that matter from voices that too often remain unheard.