A recent article in the New York Times referred to a thirteenth-century gilt bronze statue of a Buddhist deity that was, according to city court papers, stolen from Kathmandu in 1983. Prosecutors based in Manhattan have accused a New York-based art dealer for selling two other sculptures that were stolen from Nepal and India.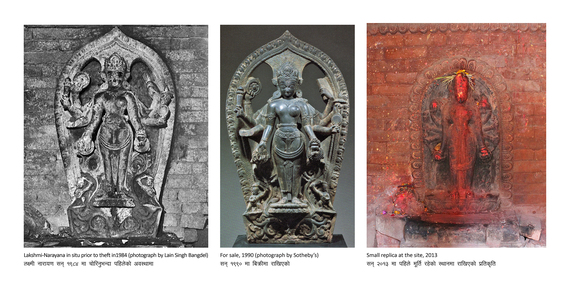 That article was widely shared on my Facebook newsfeed during the days preceding an exhibition, Remembering the Lost Sculptures of Kathmandu, that opened at Nepal Art Council (NAC) on April 10, 2015.
Co-curated and managed by photo.circle, the exhibition offers several vantage points to a visitor. A variety of well-plotted maps of the Kathmandu Valley provide information about the original sites of theft and details about the lost sculptures. Accompanying the maps are paintings by Joy Lynn Davis, the artist behind the exhibition who has depicted these sacred sites realistically. Using 23 karat gold, Davis has "visually repatriated" the lost sculptures back to its original site. In other words, visitors get to imagine how the temples or courtyards looked like in the past before the sculptures were stolen. This technique is particularly moving.
As a native Nepali, I couldn't help feeling a sense of loss and injustice as I walked through the galleries. For example, I didn't even know about Chaturmukha Shiva-Linga, an important statue from the fifth century that stood in the middle of a path in the Pashupatinath temple complex. I used to jog down this path frequently as a teenager, and have often accompanied relatives to this site. When this beautifully-crafted statue was stolen, it was replaced by a stone replica, which is often the case for other sculptures as well. But these days, even the stone replica is missing. In its place, there is just an inconspicuous and nondescript blob of rock.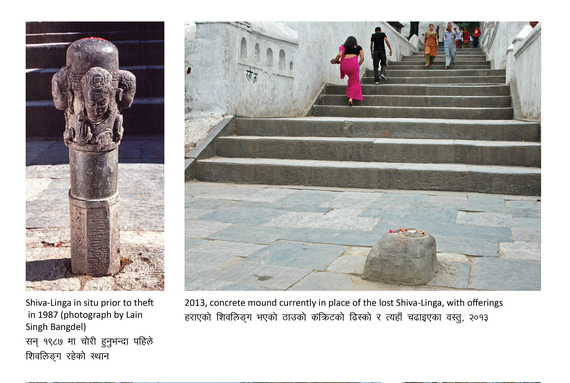 Apart from the geographic information and aesthetic pleasure offered by this exhibition, one can't help taking a socio-political stance. In her vision statement, Davis states that "the project contributes to dialogue about the international art trade, increases public awareness about the significance of Nepal's sculptures, and provides a forum for acknowledging losses of Nepal's deities and exchanges ideas on preserving what remains." I first met Joy when she was involved in Yantra 3.0, an art/science/tech festival, where she collaborated with engineers and techies at Karkhana for an exhibit that was, in a way, a prelude to Remembering the Lost Sculptures of Kathmandu. Titled Revisiting Kathmandu, Davis' Yantra exhibit also focused on these lost sculptures, albeit using entirely different media.
Joy Lynn Davis started her research in 2010. She referred to Lain Singh Bangdel's book, Stolen Images of Nepal and Jürgen Schick's The Gods Are Leaving Nepal, among other sources. The two books are major sources of information that has been used as evidence for art theft. Some collectors and museums in the West have already returned certain sculptures after being referred to these books. Photos of these returned artwork are also featured at the ongoing NAC exhibition, along with photos of other sculptures which are still in museums in Denver and New York, among other places.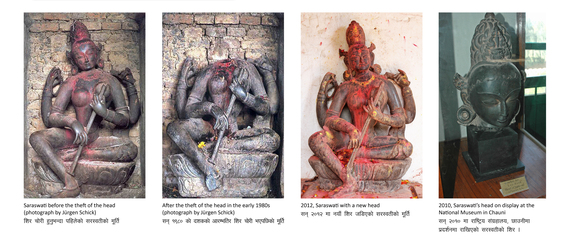 How did this happen? Who are the thieves? Writer Thomas Bell has devoted an admirable section in his 2014 multidisciplinary gem Kathmandu to this topic. Based on interviews with retired government officials and foreigners who have lived in Nepal for decades, Bell gives us a rough idea about the culprits who were responsible for this idol-trading. He has written:
The art trade got started after the road to India opened. I heard about a Swiss woman and (separately) an American aid official who simply drove truck loads of art-works to the border during the fifties, before anyone in Nepal understood the cash value.
Nepali art was rare in the West until the 1950s. According to Dr. Pratapaditya Pal, whom Bell quotes, "Soon thereafter, America rushed in with aid, and Nepali art began to flow out of the country."
So what next? How does one go about reclaiming lost national treasures? It is a task that is as massive as it is elusive. An official gives a disheartening response to Bell; he says it is almost impossible to trace the culprits. An editorial from the Kathmandu Post titled "Stolen Gods," which also mentions the fifties as that unfortunate decade when all this started, points fingers at "local thugs and the mafia and... elites, development workers and even some unscrupulous diplomats."
Thankfully, steps are being taken. The NAC exhibition is a part of a belated momentum taking place in Kathmandu where there is a burgeoning art scene. The Post editorial brings up the issue of preservation and cataloguing that is direly needed in the Nepali art and archaeological scene. The editor nudges the Department of Archaeology and the Ministry of Culture and National Archives "to initiate proper legal procedures to repatriate these cultural heritages." Meanwhile, the UNESCO representative in Nepal is encouraging Davis to work with Interpol to list the stolen art-works in their database.
Davis' research and paintings are self-funded; the exhibition has been sponsored by the Embassy of Switzerland in Nepal and UNESCO. "Remembering the Lost Sculptures of Kathmandu" will run in Nepal Art Council, Kathmandu, until May 22, 2015.
Related
Popular in the Community