In animal rescue, we're always praying for miracles. Sometimes we get them, and when we do, we rejoice. All too often, we don't. And then we grieve.
But I'm beginning to think that even when we don't get the miracles we hope for, we sometimes still receive reasons to rejoice... although we may not realize it at the time. Take the case of Asha.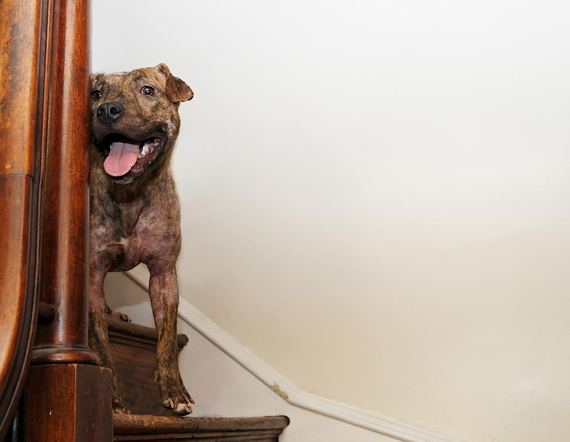 This petite pit bull terrier mix was rescued in 2011. She was found tied up in the basement of a row house in Baltimore, thin and covered with blood and open sores crawling with maggots. Her rescuers believe she was used as a bait dog. For those of you unfamiliar with the term (lucky you), that's a dog -- usually of a more submissive temperament -- used as a canine "punching bag" by other dogs being trained to fight.
When Asha arrived at the Baltimore Animal Rescue and Care Shelter (BARCS), she was so severely wounded that she needed emergency treatment before she could even be transported to a Baltimore area veterinary clinic, where she underwent additional surgery involving more than 100 stitches. Then, because of her bite wounds and unknown vaccination status, she was placed in quarantine at the veterinary hospital for 6 months.
And that's where Asha's legacy took root. One caring individual created a Facebook page for her in order to solicit financial support for her care and quarantine costs, and local news media covered her story. Donations and messages of concern began pouring in, and by the time Asha went to a foster home, she had more than 800 Facebook "friends"... far more than most people I know.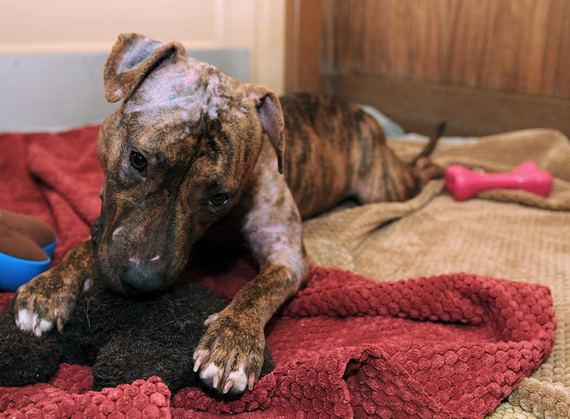 But the caring and involvement didn't stop there. Throughout Asha's quarantine, a dozen or so people -- known as "Asha's Angels" -- visited her at the veterinary hospital regularly. Others shared their love and support by hand delivering or sending her beds, treats, toys, sweaters, holistic lotions... and her favorite snack, French fries.
I was fortunate enough to be invited to meet -- and photograph -- Asha during her stay at the veterinary hospital. While still obvious, her wounds were healing and she seemed delighted with her toys and treats. I ended up including a photo of Asha in my dog photo book, Brindled Beauties.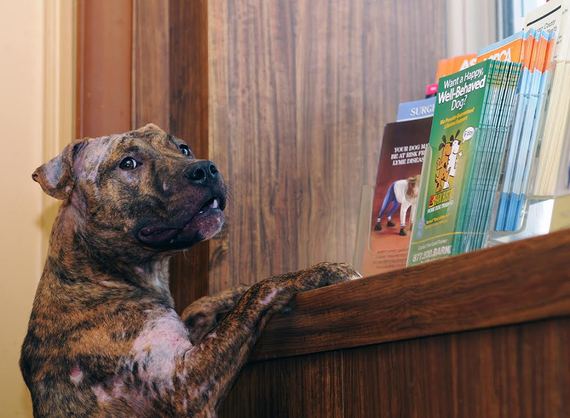 It seemed Asha was adored by the world... at least the part of it encompassing the Baltimore, MD, region. People were celebrating her rescue and recovery, and wishing a happy ending for her story.
On January 9, 2014, the rescue organization that had taken Asha into their care, posted the following message on Facebook:
It is with our sincerest regrets that we, Baltimore Bully Crew, need to address that we were forced to humanely euthanize a long-time Bully Crew dog, Asha. She began her journey with us over two years ago after being rescued. She went to a foster and eventual adopter and found herself back with us after dynamics in that home did not work out. We knew she had some issues with other dogs when she came back to us. She was placed into a foster home with experienced crew members who continued to evaluate her needs and work on her rehabilitation. In the seven months that she had been back, it became abundantly clear that there were some major behavioral issues that were going to need to be addressed. She clearly demonstrated that living with other animals was never going to be an option. Secondly, she, on multiple occasions, demonstrated human aggressive tendencies with the intent of biting. While we do have dogs in our rescue that sometimes have to be "only dog" dogs, we cannot responsibly and in good conscience place a dog that shows unpredictable signs of human aggression back into society. So, we made what we believed to be the responsible decision to do right by Asha and society. The vets who cared for her for the last two years supported our decision. We are all very distraught at this ending, but feel it is important to be honest with the public, as this is a reality of rescue.
Those of us who had followed Asha's story and celebrated her milestones were devastated. But as the dozens of follow-up Facebook messages revealed, nobody had anything but respect, support, compassion, and appreciation for members of the rescue organization and the incredibly difficult decision they had been forced to make. In fact, many of these posters shared messages of commiseration, recalling similar difficult decisions.
But while we all grieve for Asha's failure to get the "happily ever after" we all wanted so desperately for her, there is still reason to rejoice. Like a pebble tossed in a pond, creating ripples that spread ever outward, the life -- and death -- of this one young, damaged dog has had a lasting positive impact.
People came together for Asha. People rescued her, treated her wounds, cared for her while she recovered, tried to help her overcome her emotional scars, and showed her what love was. People read her story and were inspired to battle the evils of dog fighting through education and political action. People helped pay for her medical and boarding bills or were inspired to donate to shelters and animal welfare organizations. And people connected and became friends with other animal lovers both in person and in cyberspace.
Given this groundswell of support, I can only believe that many of these people will renew their ongoing efforts to help animals in need, and others -- who may have stood on the sidelines -- will now enter the fray. And this means there's hope for the thousands of other Ashas still waiting for their second chance.
Not a bad legacy for one small dog.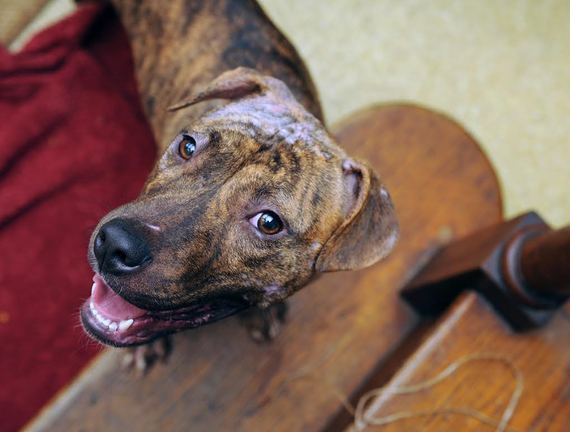 REAL LIFE. REAL NEWS. REAL VOICES.
Help us tell more of the stories that matter from voices that too often remain unheard.