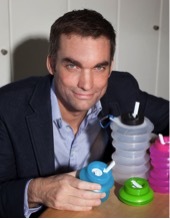 Ohyo was born out of necessity. I found myself at St Pancras station with no water fountain in sight, no bottle in my pocket, and no option but to buy a bottle of water. From my background as an environmental consultant I knew the wasted resources that made that bottle of water. It takes a quarter litre of oil and up to 7 litres of water to make 1 litre of bottled water. There are enough plastic bottles discarded every year to stretch round the world 1000 times!
I concluded that people are reluctant to carry re-usable bottles because they are too bulky. I invented Ohyo as a handy, collapsible water bottle that's easy to take anywhere. An extended Ohyo holds 500ml, or 1000ml for the larger version. When empty, an Ohyo will compress down to fit in a pocket. Using (and re-using) an Ohyo avoids the need to buy environmentally-damaging bottled water.
In Summer 2009, we cycled round London looking for fountains and established Find a Fountain with a free app for users to find drinking water sources near them.
Making viable prototype products is not cheap, but there are ways to minimise general start-up costs. I went to Yorkshire Forward for a grant and friends and family for initial funding. But rather than just asking for money, I swapped equity for expertise. This bought engineering, graphic design, programming, strategy, legal and PR skills for no initial capital outlay.
Armed with a prototype bottle, a great story and a handful of initial sales, I ventured into BBC Dragon's Den. My pitch was really quite good and in the two-second pause before the Dragons attacked, I thought everything was going well!

"A LUDICROUS invention" Duncan Bannatyne as he hurled an Ohyo at me.
"I'd rather stick pins in my eyes" Theo Paphitis.
I left with no cash, some great PR but no regrets. With almost 700,000 bottles sold to date and the team's equity intact, why would I?
From my initial idea (in 2008) to prototype took me two years before launching to great acclaim in 2010 at Prince Charles' "Garden Party to Make a Difference" at Clarence House. In 2012, I struck a major deal to stock the bottles in Marks & Spencer as part of their Plan A Sustainability Campaign; a great example of how sustainable credentials can help to promote a product. The bottles are "carbon neutral" after just two to three uses. They are now stocked in Boots, and we recently opened Ohyo Inc. in the United States.
We design and manufacture in my hometown of Sheffield, thus reducing the carbon footprint. It's not the cheapest option, but without local expertise we simply could not have overcome the design challenges to make it work so well. In addition, if something goes wrong in the manufacturing process any faulty product could travel months on a container ship before anyone notices. With a local manufacturer any problems can be identified and rectified in hours and days, not weeks and months.
The Ohyo has been a hit in airports, where green travellers can now collapse their bottle as they pass security, then refill at an airside fountain rather than being stung for a £2 bottle of water.
In 2014, two of Noble Caledonia's cruise ships replaced complimentary bottled water with Ohyo Collapsible bottles. This small but significant change saved the ship operator £68,000. It also cut the company's waste and CO2 emissions and increased its storage space.
In 2009, we created the Find a Fountain campaign and compiled a database of the UK's public drinking fountains. With support from The Prince of Wales' Start initiative, we launched our app to show users where to find their nearest drinking fountains and encourage users to crowd-source the map with new finds. The Find-a-Fountain website now resides within the 1859 Drinking Fountain Association
In these austere times, I don't expect the public sector to foot the bill for installation and maintenance of the fountains. But neither do I expect them to stand in our way. Like our Victorian predecessors, there are philanthropists willing to fund memorial or corporately sponsored fountains. However, if you'd like to leave a fountain rather than a park bench, get started now as it will take years to gain planning approval and negotiate the minefield of the Water Regulations Advisory Scheme. These barriers led the Mayor's Office to abandon Boris Johnson's 2008 pledge for a new era of water fountains.
Isn't it time for a fresh approach? Rather than regulate against fountains, perhaps Local Government should plan for fountains by publishing a list of pre-approved locations and fountain specifications. Benefactors could then bid for a location via a Fund-a-Fountain website. A sponsored fountain in Leicester Square could, for example, attract in excess of £75,000, with enough surplus to finance the scheme and potentially fund a few fountains in less glamorous locations?
About Guy
Guy Jeremiah is an environmental entrepreneur. He co-founded JP Envirosystems in 1999 as a new visual approach to company Environmental Management Systems. He sold the business to The Waterman Group in 2005 and his system now thrives as Greenspace. The environmental damage caused by the bottled water industry had always been a bugbear to him. This led him to establish Ohyo and Find-a-Fountain to make drinking tap water easier.
Acknowledgement
Sections of article based on an interview by Jane Barrett.
Calling all HuffPost superfans!
Sign up for membership to become a founding member and help shape HuffPost's next chapter