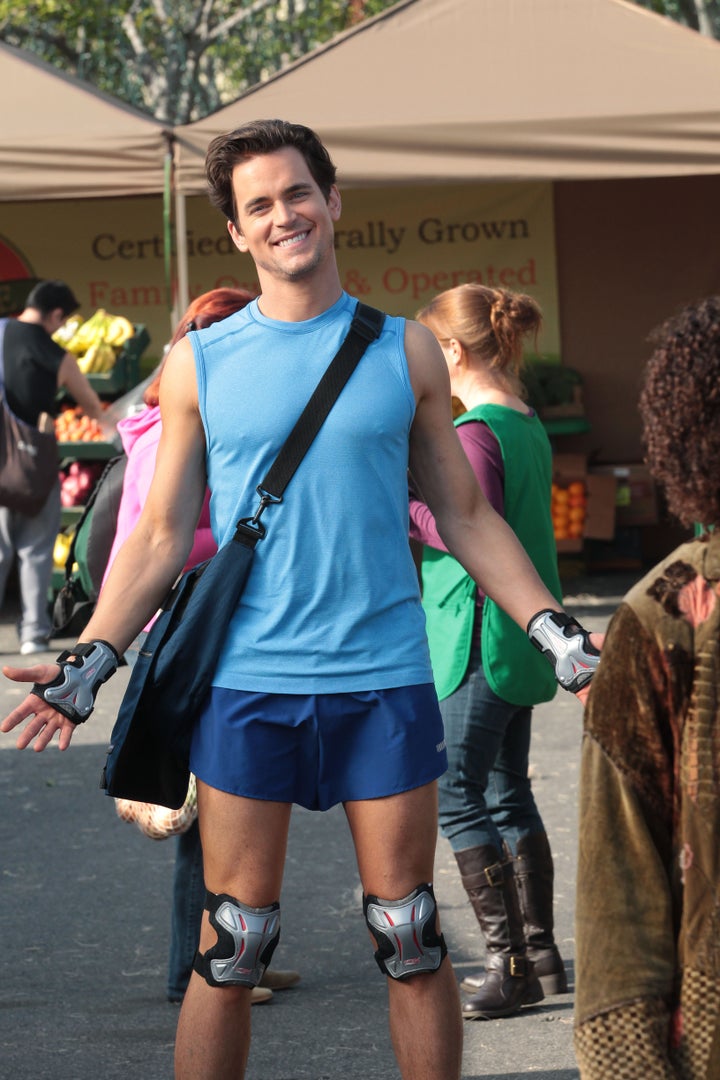 "The New Normal" is back (Tuesday, January 8 at 9:30 p.m. EST on NBC), and the Ryan Murphy comedy is certainly starting 2013 the right way with guest appearances from "White Collar" star Matt Bomer and comedian Michael Hitchcock.
HuffPost TV was on set for the filming of the episode, titled "The Goldie Rush," where Bomer and stars Andrew Rannells, Justin Bartha, Georgia King, NeNe Leakes and Bebe Wood previewed what viewers can expect, how they feel about the One Million Moms boycott, and which reality series helped one of them prepare for a scene.
In "The Goldie Rush," Bomer plays Monty, one of Bryan's (Andrew Rannells') former exes. "He used to be a party guy, very much didn't want to settle down, didn't want to have kids, and now he's starting a new chapter in his life where he does want to settle down," Bomer previewed. "He runs back into Bryan and David [Justin Bartha] and they have the life that he wants, so he sort of latches on to them and tries to enlist their help to try and find someone to be with and investigate the whole surrogacy process. Then he meets Goldie (Georgia King) and is really besotted with her and tries to infiltrate that ground and tries to enlist her to be his surrogate, and the guys aren't really having that."
"It's a very funny episode," Rannells promised. "Michael Hitchcock [Gary, the head of Bryan and David's surrogacy firm], who is hilarious, he's also in the episode this week, which is always a treat when he comes and joins us, and great to have Matt. Matt and I have known each other for a very long time from New York, so it's nice to have him here."
As for whether David might feel threatened by Monty's reappearance, Bartha admitted, "David feels the only way you can when someone like Matt Bomer is the ex, so I think there might be a little tinge of jealousy, a teeny bit. But he's a pretty confident guy and they do try to fix Monty up with someone who's in their life, so he's still trying to stay cordial and be nice."
However, all bets are off when Monty makes a move on Goldie. "David will not have that. So we get to see him a little angry. We get down and dirty, almost some fisticuffs thrown, possibly some pointing and some raising of the voice," Bartha teased.
King admitted that filming her scene with Bomer was probably her favorite in the episode, as you might expect. "He's just so pretty," she laughed. "Or should I say 'ruggedly handsome'? This episode's great for Goldie. She kind of gets propositioned for the wrong reasons by three men, i.e. Bryan, David and Monty, and she kind of puts her foot down and reminds them that she's not just a baby-maker and she's actually a human being who has dreams. You see a little fight in her and a little flame of hope at the idea of maybe fulfilling a dream, which is making baby clothes and children's clothes and it's something she really throws herself into and she loves it."
Elsewhere in the episode, we discover that Goldie's daughter Shania (Bebe Wood) is being bullied at school, so she turns -- perhaps unwisely -- to her Nana, Jane (Ellen Barkin) and Bryan's assistant Rocky (NeNe Leakes) for advice.
"She feels a little rejected and then Rocky gives her some advice, and so does Jane, Shania's Nana. None of them are quite good ideas, but Shania turns them into good ideas," Wood said.
Leakes elaborated a little on Rocky and Jane's plans, which aren't entirely appropriate for a nine-year-old ... "Shania thinks that she should just go to a different school, and myself and her Nana, we have a plan for her to go to school and face her bullies. So Nana tells her, 'All you have to do is wear this red suit. All the First Ladies wore red suits' and of course, that doesn't work for elementary school kids," she said. "So Rocky, being the 'hood Rocky that she is, she teaches Shania how to 'read,' which means you go in there, and you cut somebody up with your words. You tell them, 'You are not going to bully me, and look at you,' so I teach her all of these things."
Although "reading" is more of a fixture in gay culture, Woods apparently knew all about the skill before she got the script. "I watch 'RuPaul's Drag Race,' so I know how to read," she admitted. "So it was pretty easy, yes. I met with a few drag queens about it and they gave me some good advice."
According to Leakes, the episode will feature two drag queens, one to play Jane and the other to play Rocky, "and they read each other and give Shania a demonstration on how to read."
In its first season, "The New Normal" has been an often poignant exploration of a truly modern family. Sadly, that honest focus on relationships that some still consider "alternative" has attracted attention from anti-gay groups like One Million Moms, who try to boycott any projects that dare to feature gay relationships as anything other than abnormal.
"I think calling attention to a show that's trying to actually say some things and touch on real issues is always good, and everyone's entitled to their opinion ... even if those opinions are completely insane," he joked. "And it's entertaining, so I actually look forward to hearing everyone's point of view."
But Ryan Murphy is no stranger to tackling controversial subjects and ensuring that gay characters are well-represented in his work, as evidenced by his other ongoing projects, "Glee" and "American Horror Story."
"The New Normal" airs Tuesdays at 9:30 p.m. EST on NBC.
Check out photos of Bomer's "New Normal" appearance below, then hit the comments and let us know if you're planning to tune in!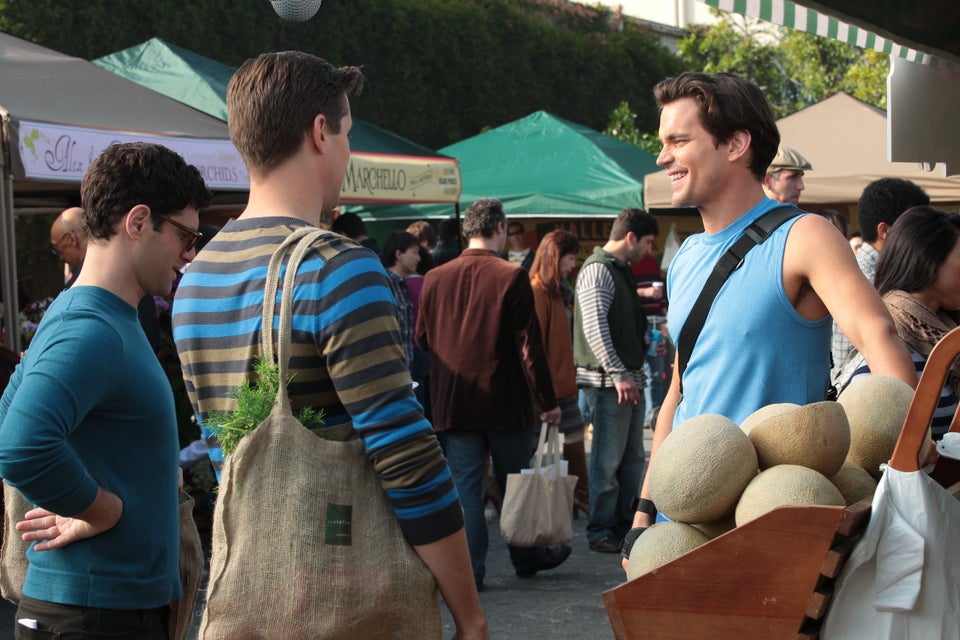 Matt Bomer On 'The New Normal'
Related
Popular in the Community