This past Labor day weekend in Spanish Harlem saw a neighborhood celebrating the last weekend in summer in style: Barbecues, basketball, soccer and huge speakers blasting old school hip hop turned Jefferson Park into a public space that brought out smiles from all ages.
The police, for the most part, kept their distance and let the festivities go on throughout the weekend. That, however, may have been because cops were busy patrolling East 125th street. While groups of molly-fueled white kids in neon-colored fishnet shirts marched through Harlem's streets on their way to Electric Zoo, the annual electronic music festival held on nearby Randall's Island, the 25th precinct had four cops posted up under the Metro North train station to keep away the homeless.
The NYPD is targeting 80 places round the city where homeless people take shelter
On most other days homeless people find shelter under the tracks but recently, under an edict apparently coming from the Mayor's office, the homeless have been cleared out. 125th and Lexington is another area that's being targeted by the NYPD. Last year there cops were confronted by dozens of angry people from the block after the police roughed up a young woman. More recently, video emerged of a man who manages the bottle recycling machines on the block being gang-tackled and arrested by cops for not providing identification fast enough.
While homeless New Yorkers, some with addiction issues, have been harassed by cops on a two to three block strip there for years, some say that the intensity of the policing turned up after Extell, the mega developer of 'poor door' fame, bought property on that corner, now housing a Pathmark supermarket, for $39 Million last year. Real estate development in Harlem has really picked up steam in the last few years with a flurry of market-rate housing and pricey chain stores like Banana Republic and Whole Foods Market.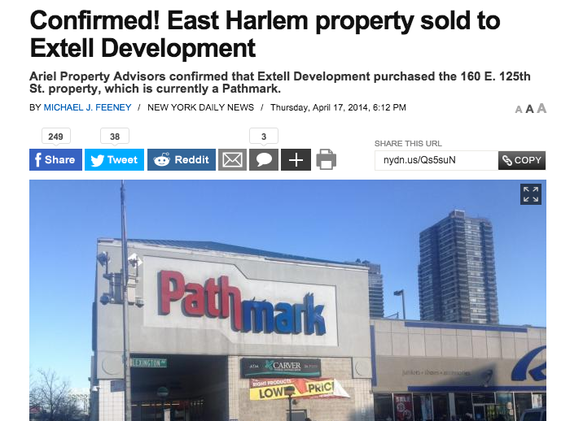 Major developer Extell bought property last year on the street where cops are targeting the homeless
NYPD commissioner Bill Bratton, perhaps unrivaled in his contributions to criminalizing the homeless here and in Los Angeles, confirmed last week that the cops had already been busy breaking up at least 50 homeless encampments. His enabler, mayor Bill de Blasio, then toured a so-called homeless encampment in the Bronx a few days later after a media-fueled bonanza tried putting the homeless issue on his lap -- and not that of former mayor Michael Bloomberg, who presided over record-setting homeless spikes. The "crackdowns" on the encampments were now reportedly a 5-borough operation taking aim at 80 locations, up from the 50 Bratton just announced.
It's obvious that 125th street is one of the "crackdown" targets.
While de Blasio's campaign masterfully framed him as some sort of progressive reformer, a second round of Giulani Time seems to be growing. With squeegee men gone, a symbolic 'victory' of Bratton's first disorder-busting regime in the 90's, topless female performers in Times Square had become the fascination of the media before the homeless fear-mongering began. Led by the New York Post and Daily News (and it's publishers and owners), it seems that a small but powerful (and loud) corner of the city is salivating for another bout of aggressive Broken Windows 'cleansing' of the city.
De Blasio, for his part, has responded by saying that he didn't "believe a homeless encampment is an acceptable reality in New York City in 2015." Of course he's right: having people struggle through extreme poverty while luxury high rises and $100 dollar-a-class yoga studios sprout up all around them isn't acceptable at all. And although de Blasio might publicly squabble with critics on his right and offer some throw-in promises of human services, the reality is that he, like Rudy Giuliani, will lean heavily on a pitbull of a Bratton to 'clean up' the problem -- and the politics.
But those politics go back at least two decades and are worth unpacking today. It was in the 90's that Giulani and Bratton redefined public order to mean criminalizing 'disorder' and certain behaviors -- Broken Windows policing. George Kelling, intellectual architect of the policing theory, cited broadway theatre owners in Times Square as early advocates of policing that would focus on 'disorder' and undesirables. According to Kelling, it was a liberal sociologist and public thinker named Nathan Glazer who had clamored for a strong response to "one world of uncontrollable predators", like "graffitists", that finally became a reality under Bratton and de Blasio (Glazer's daughter, Liz, is now the head of de Blasio's criminal justice office):
Giuliani and Bratton also gave the force's members a clear vision of the 'business' of the NYPD and how their activities contributed to it. In short, a theory previously advocated largely by elites filtered down to -- and inspired -- line police officers.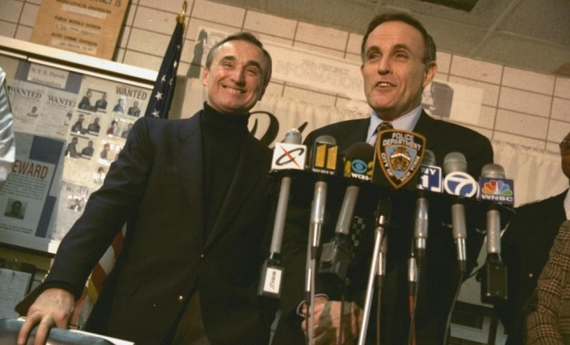 Giuliani and a younger Bratton all smiles. They made life miserable for poor and homeless New Yorkers
Cities across America took their cue from New York as a desire for sanitized, and eventually gentrified, neighborhoods relied heavily on expanded police powers. In Los Angeles it was Bratton himself, after leaving New York, who implemented a particularly intense version of Broken Windows called the "Safer Cities Initiative" in a high-homeless area called Skid Row.
There it was people like Pete White, co-founder of Los Angeles Community Action Network, one of the most respected grassroots homeless advocacy organizations in the country, who took on Bratton, chief of the LAPD from 2002-2009. Skid Row, a stretch of Los Angeles where homelessness and gentrification meet head on, made national news this year when an unarmed homeless man, Charly Keunang, was fatally shot by police. The Row is remarkable for the heightened level of policing and anti-homeless ordinances that amount to what can be described as militarized gentrification. In 2008 the ACLU fought the City of Los Angeles and the LAPD to a compromise on the wanton hyper-policing of area residents for offenses like jaywalking or standing on the grass.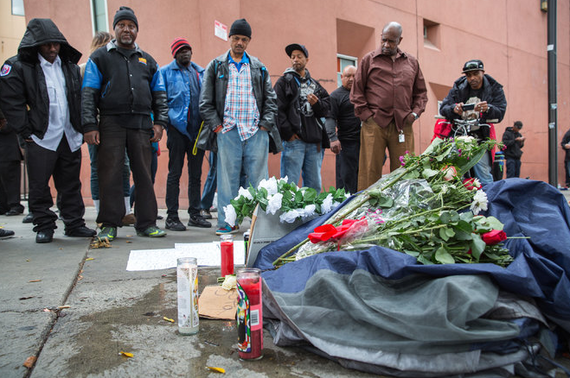 A shrine for Charly Keunang, a homeless man killed by cops in Skid Row
White remarked about the "culture shifts" that Bratton brought with him when he took over the LAPD:
One such shift included the use of Business Improvement District (BID) security officers as an auxiliary component of his 'broken windows' policing strategy. Prior to Bratton's tour as leader of the LAPD the role of security guards were almost frowned upon by LAPD brass and rank and file... This all changed with Chief Bratton. Under Bratton coordination was paramount and BIDs were encouraged to make citizen's arrest which the LAPD would willingly accept. This is important to note because private citizens (which security guards are) don't operate under the same legal standards as peace officers. So, where a peace officer is barred from acting, say because 'reasonable suspicion' does not exist, a security guard can simply make up a reason and with a great working partnership with the LAPD, make arrests and have charges brought on just about anyone. This tactic flourished under Bratton and the Safer Cities Initiative.
White also knows his history and offers up Broken Windows policing as a throwback to the Black Codes, 19th century vagrancy laws put into place in Southern states after the Civil War. Writing in 2008, White gave historical context to the phenomenon of order-maintenance policing:
Vagrancy laws -- which happen to be the original name for today's quality-of-life policing strategy -- have roots that extend as far back as 14th century England. The original purpose was to create a substitute form of serfdom (slavery) by legislatively tying workers to the master's land. But by the middle of the 17th century, and up until the 19th century, the number of 'masterless' men and families that crowded the streets led to a change of emphasis in vagrancy laws. The new thrust was to create methods of control and ways to banish those that were undesirable, financial burdens, nuisances, and potential criminals. Sound familiar?

Leaving England and making our way to the post-Civil War United States, we find other shining examples of vagrancy ordinances directed at the United State's favorite target, Black people. The utilization of Black Codes -- vagrancy ordinances that were created by Southern legislators to retain control of their recently freed property -- were used to discourage former slaves from leaving the master's plantation.
Today in Los Angeles it's another self-style 'progressive', Mayor Eric Garcetti, who (like de Blasio) had a sought to make tackling homelessness a platform of his campaign, that has been accused of criminalizing the homeless. The feds have even begun to wag their fingers at Los Angeles' anti-homeless efforts:
The federal task force discouraged cities from breaking up camps, saying such actions made it harder to get homeless people into permanent housing. In an Idaho case with potentially broader ramifications, the Department of Justice said banning people from sleeping in the street is unconstitutional.

By ignoring federal guidance, the city is undermining its position in court battles and jeopardizing future funding for homeless housing and services, experts said.
So while Bratton and de Blasio pick up the mantle of 90's policing by clearing out the homeless, they could find themselves at odds with the Department of Justice.
Still, I wouldn't hold my breath waiting for the feds to help out. Instead I encourage people around the city to hit the streets and stand with the homeless and push for solutions, like permanent housing, instead of more Broken Windows crackdowns. Picture the Homeless is hosting a rally this Wednesday at 11am on 125th street and Park Avenue. Make sure to come out.
Calling all HuffPost superfans!
Sign up for membership to become a founding member and help shape HuffPost's next chapter