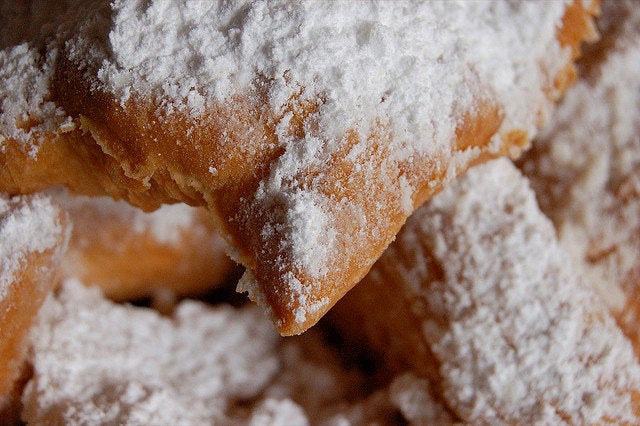 A few years ago, Jarrid Masse and Robyn Wilson were down to their last $300 in Los Angeles, not a great place to be broke. But they possessed two major assets that many people lack: Love and a vision. They'd reached that moment in their lives, as so many of us do, where they realized that things hadn't worked out quite as they'd planned. So they had a choice: either plod forward unhappily or do something bold and follow their dreams, no matter how ephemeral.
"The big jump for me," Masse says, "was going back home with my tail between my legs, looking my mother in the eye, and saying 'I'm broke, but I'm going to build a booth out of junk and sell fried dough off it.' But I had Robyn to jump with me, a person who believed in me enough to work with me and not just cheer me on from the sidelines."
The "building a booth out of junk" part of the equation was just as important as the food. Masse and Wilson were, and still are, living weekend to weekend, but they truly seem to love the lifestyle. One blog post on their website chronicles the transformation of their refrigerator from a dated-looking but functioning appliance into an inspirational object coated with chalkboard paint. A more recent one, titled "Holy Motherload," reads, with an accompanying photo, "50's 15-piece camp cooking set, vintage picnic basket and a camp blanket. A badass picture of a deer, a book about Navajo crafting from '68, 70's timberlands and a rusty man wearing suspenders and a bow tie. There's nothing like a good treasure hunt."
The Poor Porker beignet cart reflects that thrifter's sensibility. It's a curated trove of weird found objects and quirky personal passions, so genuinely strange that it's hard for people not to fall in love with Masse and Wilson's vision of the world. It also helps that their beignets are pillowy, delicious and perfect, and that they've chosen Lakeland as their home. In Los Angeles, The Poor Porker would have gotten lost in the crowd, and it could also have even been buried in a place more rife with quirky do-it-yourself food culture, like Portland or Austin. In Lakeland, The Poor Porker not only provides great food but also a portable town center.
"We have a very diverse community, from kids to the elderly, all meeting together in a free and relaxed space where ideas, interactions and introductions are made with ease," Masse says. "We were simply a catalyst for a community that was ready to grow."
The Poor Porker's modest but very real success shows that when something's done sincerely, people will rally behind it, especially if it involves fried dough. "Seriously, those Field of Dreams writers were geniuses," Wilson says. "If you build it, they will come."
This video from Dark Rye was produced by Keith Ehrlich and Caitlin Riley and edited by Nathan Downing.
Related