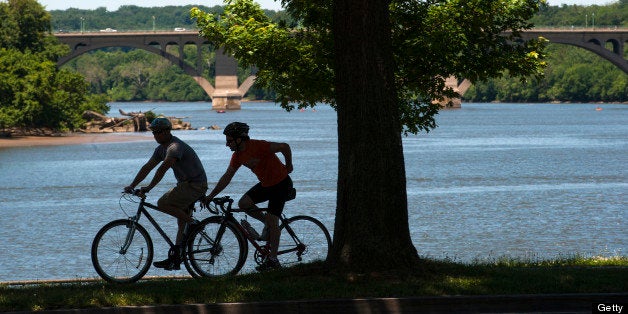 Growing up in the Petworth section of the District of Columbia, I was 10 years old before I saw my first real park. I didn't realize at the time that it would be my salvation from the drugs and violence that were ravaging my community. It would have been preposterous then to think that within 16 years I would be running youth programs in parks throughout the metropolitan area -- and offering the same extraordinary opportunities that I had to countless others.
The defining moment for me came in the form of a neighbor who regularly walked her dog and who one day asked if I and several friends wanted to walk with her to Rock Creek Park. We knew her well, because of her dog, and, while it was not a short walk, we readily accepted. When she saw how much we enjoyed the park, she began researching programs that would enable us to spend time there.
She discovered the Student Conservation Association (SCA), an organization with which I have been associated ever since -- and the organization that made it possible for me to be the first person in my family to go to college. Headquartered in Arlington, Va., SCAbuilds new generations of conservation leaders and in the midst of Petworth saw in me a conservationist.
Through SCA, I became a Junior Ranger in the National Park Service and then a volunteer at the Rock Creek Park Nature Center doing puppet shows. At 15 years old, I was an SCA crew member in Rock Creek Park -- volunteering to work on erosion control, sandbagging creek beds, and maintaining trails. I stayed involved with SCA while at Theodore Roosevelt Senior High School. I participated in one paid local summer crew and volunteered on one three-week national crew at Salmon Challis National Forest in Idaho. I also spent time volunteering in the SCA's school-year Conservation Leadership Corps Program, and I interned in the office for a summer.
When it came time to apply for college, I had 750 volunteer service hours with SCA and a glowing recommendation -- more than enough to make up for the disadvantages of growing up in an underserved community. Mary Baldwin College trusted SCA and saw a conservationist in Petworth, too.
In college, I led more crews at Dumbarton Oaks Park and served in three internships with the Environmental Protection Agency in North Carolina, before serving in the Peace Corps in the Philippines as a Coastal Resource Management Volunteer. Today, I run environmental education and service programs for more than 100 SCA youth members and more than 1200 students and community members throughout the District of Columbia, suburban Maryland and northern Virginia.
In all settings -- intensely urban, suburban, and even somewhat rural -- I see the power that open public spaces have on residents of all ages: letting children enter into their own magical worlds of play, helping adults find reflection and inspiration, and enabling older adults to avoid isolation from the broader community.
For children in urban settings, it's perhaps most important of all. For many inner-city children, a park provides -- as it did for me -- the first opportunity to leave a community of concrete, to get away from a sometimes oppressive environment, and to develop a sustainable relationship with a green space. That opportunity can open up all sorts of interests, ambitions, and aspirations that never before seemed possible.
The development of more green space in urban areas is important -- not just to address immediate needs but also to ensure an ongoing commitment to environmental sustainability. How are inner-city children meant to share in that crucial commitment if they have no experience with it?
Green space is vital, but there should be an appropriate mix of active and passive green space. That's what makes legendary parks so vital. That's what makes them safe and inviting. That's what makes them so beloved -- and us so much more connected to nature and to ourselves.
In addition to Rock Creek Park, I spent a lot of time as a child in Anacostia Park, where tremendous improvements have taken place. In the past, the green space was extensive but not enticing enough for family-friendly activities. There wasn't enough shade in summer; there weren't enough benches for people to sit and spend time, and there weren't enough amenities for it to be a destination. But there have been multiple improvements to the park in the last few years. Safe bike paths now cross the park and connect it to other communities in the area, more benches and shaded structures have been introduced, and dozens of trees and other plants have been added. As a result, more and more Ward 7 and Ward 8 residents visit the park.
One of the highlights of my still-young career was being asked several years ago to plant trees at Kenilworth Park and Aquatic Gardens with President Barack Obama, First Lady Michelle Obama, former President Bill Clinton, Vice President Joe Biden, and Dr. Jill Biden. I joined 11 other SCA volunteers for the occasion and was magically paired with Michelle Obama. Some may have considered the event a publicity stunt, but for me it was a chance to highlight the importance of urban park spaces; it was an opportunity to underscore the need for stewardship of national parks; it was a chance for cameras to record the magical world that I always knew existed in our nation's parks.
Calling all HuffPost superfans!
Sign up for membership to become a founding member and help shape HuffPost's next chapter