The Producers' Work is an experiment created for the sole purposes of this blog. It couldn't come to life in a simpler manner. For a long time I have been intrigued by the film producers and their work. Mainly because I want to become one of them. I started to ask questions that could only be answered by those who had already produced some films. With this idea I began to think, why not ask them? When I introduced the idea to my friend Przemyslaw Dobrzynski, who is a respected film journalist publishing articles and interviews in the biggest and most influential Polish media outlets, we decided to go for it!
We want to take a closer look at the producers working in different areas of the art and entertainment industry. Why? Mainly because we are curious! These powerful and yet mysterious personalities are strongly mythologized by the society. We would like to know more.
What responsibilities do they have?
We do know that the producers are a group of outstanding, creative and charismatic personalities. That is why we would like to introduce to you The Producer's Work!
We would like to welcome Philippa Boyens, an Oscar-winning screenwriter and co-producer of The Hobbit, King Kong and District 9. The third and the last part of The Hobbit called The Battle of the Five Armies will premiere this month all over the world.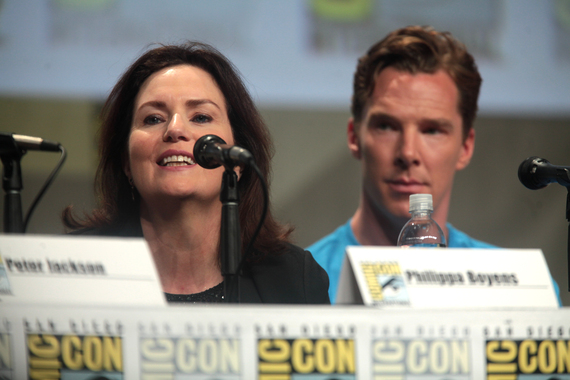 Philippa Boyens and Benedict Cumberbatch speaking at the 2014 San Diego Comic Con International for The Hobbit: The Battle of Five Armies. © Gage Skidmore
Przemyslaw Dobrzynski: When have you and Peter Jackson decided to develop the film adaptation of J.R.R Tolkien's The Hobbit?
Philippa Boyens: It was the moment when we realized that the studio is actually willing to do that. Then the idea was accepted by the executive producer and it just happened. I think it was in 2008. I sat down and began to consider the possibility of producing The Hobbit.

Marcin J. Sobczak: You have produced a trilogy out of one novel. Was it planned from the very beginning?

P.B.: No, not really. The decision has been made in 2012, not so long before a premiere of the first Hobbit. We started to look at all the material we had shot. We had to figure out if that was a kind of story we wanted to tell. Pretty soon it turned out that we need to make this choice. Both with Peter, we've thoroughly studied the material before and we've been honestly asking ourselves the same question again and again: "Do we have enough story to fit it within the trilogy?"
At that point we knew, one could ask: "How do you plan to make three films out of this one small book?" Except that it is not just "one little book." It is indeed a part of a much larger whole.
P.D.: Was the production of The Hobbit more challenging than it was on The Lord of the Rings?

P.B.: Hmm ...I think it is a really interesting question. In terms of computer graphics, a lot of things have changed since The Lord of the Rings. We are moving forward all the time and it seems to me that we have entered a completely new dimension of doing things. For example, Gollum's character looks simply fantastic!
However, our team was aware of all the work and effort we had to make to create The Hobbit. We wanted to achieve the same level of richness and momentum as one could feel watching The Lord of the Rings. We wanted to provide the audience with a satisfying travel experience to an entirely different world that is reliable, friendly and familiar. I hope that we were able to achieve that.
P.D.: When the work on all of the parts was finalized?

P.B.: We finished everything in March 2014.

M.J.S.: Have you planned shooting The Hobbit somewhere in Eastern Europe or was it just a rumor?

P.B.: Yes, we had. It was just one of our options though. We have thought about it quite seriously for some time.
M.J.S.: I understand. Have you thought of any particular countries or set locations?

P.B.: When we began the financing stage of the production, we found the matter of budgeting quite challenging. When it came to discussion about arrangement of film logistics, we were trying to figure out a place where we could shoot this huge production for less money. We wanted to maintain its great scale and find beautiful locations. I created a list of countries we considered. Eventually, as you probably know already, the film had been made in New Zealand, same as The Lord of the Rings.
P.D.: As far as I remember, at the beginning of the production, Guillermo del Toro had been hired as the director of The Hobbit. Why did he resign?

P.B.: At that time, we had not finalized all the issues related to the rights to adapt the book. Guillermo worked on the screenplay almost 18 months. This is a huge long-term project, so he had to make the decision to move for a few years to New Zealand. The project had not been "green-lighted" by the studio yet. He decided to step down. Of course, I cannot fully speak for him, but I absolutely understand his decision. Guillermo del Toro is a brilliant and outstanding artist with a great sense of storytelling. He has millions of great ideas in his mind. Some of them came to life... He produced a really great horror movie, Mama with Jessica Chastain, directed Pacific Rim and created the TV show The Strain.
M.J.S.: Was it difficult to convince the actors acting in The Lord of the Rings to continue their work in The Hobbit?

P.B.: Not at all. They were all willing to work with us and they were fully prepared to act again! It was really great to have such a talented group of people working together. We were almost like a big family on the set.
P.D.: Why have you decided that Martin Freeman will be the right choice to get the part of young Bilbo?

P.B.: Well, I think that you can see it for yourself. Basically he has just become Bilbo Baggins on many different levels. Besides that, he has brought a lot to this character. Bilbo is quite a difficult character, completely different from Frodo Baggins. In the case of Frodo, if you liked him it was easy to be on his side and sympathize with him, because of this terrible fate he must confront. At the same time he is willing to sacrifice a lot.
Bilbo has a different story to tell. If you ask the audience to spend some time to understand his story, you need an actor of extraordinary grace and charm to make our character more likeable. This is exactly what Martin does. Even when he is grumpy or grouchy, he still makes you smile. When I saw him for the first time, I instantly knew that this is our Bilbo Baggins. And of course, he is a very talented actor, so we did not find it risky to trust Martin with this role.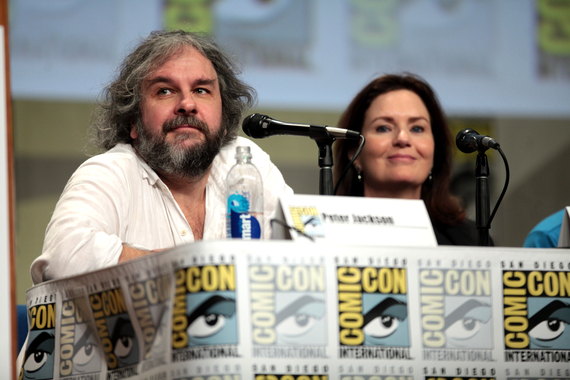 Philippa Boyens and Peter Jackson speaking at the 2014 San Diego Comic Con International for The Hobbit: The Battle of Five Armies. © Gage Skidmore
P.D.: What was the biggest challenge of this particular production?

P.B.: The script is always a great challenge. You need to adapt a story in a right way and make it understandable for the audience in the cinema. For instance, in The Hobbit: An Unexpected Journey, we had to introduce viewers to 13 dwarves, which was not so simple as it seems. People get bored pretty quickly if you do not approach this matter properly. It was necessary to introduce them in the plot in a way that they were not indifferent to anyone. At the same time we had to make everyone interested in their history. It was one of the most difficult tasks for Peter during the shooting period, but it seems to me that we managed to do it right.
M.J.S.: You have worked with Peter Jackson, as a co-producer and screenwriter, since the first part of The Lord of the Rings. Together you have done some pretty high-budgeted productions like King Kong and right now you have finished The Hobbit trilogy. Its budget, according to Forbes, ended up over $700 million. What is more difficult for you - being a screenwriter or a co-producer?

P.B.: Definitely working as a producer. It is extremely stressful. I'm not finished with my work until the movie is released. Sometimes it takes even longer. It's a real rollercoaster. I have great respect for filmmakers because it's really hard work, and very often thankless. But I was lucky to work with good people, from whom I could learn a lot. Real producers really love cinema. If not, they shouldn't do it.
This interview was made and written by Przemyslaw Dobrzynski and Marcin J. Sobczak.
REAL LIFE. REAL NEWS. REAL VOICES.
Help us tell more of the stories that matter from voices that too often remain unheard.