Explain a bit about the PwC Charitable Foundation and its focus.
Although the firm and the Charitable Foundation are separate entities, both have a similar interest in humanitarianism and education. Within the Charitable Foundation, we chose to focus on humanitarianism, education for children, and veterans. These satisfy our charter and feel like the right areas.
Let's talk about your decision to make veterans a focal point. Why veterans?
First off, it's important to note that the focus is on both veterans and their children. This dual focus comes from a recognition that you have a group of people who serve all of us, and they do so in an admirable way, supported by their families who make sacrifices along the way, without looking for thanks. In addition, veterans in particular develop some pretty unique skills that allow for exceptional contributions when they leave the military, and this ought to be recognized in non-military environments.
Where do you see the Foundation playing a role with veterans and their children?
We narrowed it down to four concentrations. First, we offer scholarships to military children. Second is looking at job placement for veterans with a college degree. Third is training and credentialing for those who are seeking more hands-on, vocational positions. Finally, we look at how we can service soon-to-be veterans before they leave the military.
Frank Gaudio (below center) participated in the Philanthropy Joining Forces Impact Pledge Convening on behalf of the PwC Charitable Foundation.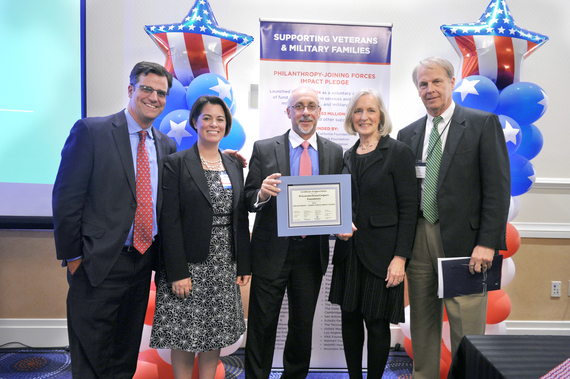 The Foundation has chosen a collaborative path to achieve its goals. What's behind the decision to pool resources instead of heading it up yourself?
The challenge with going it yourself is how much impact you'll have. There are over 40,000 philanthropic organizations explicitly focused on veterans and the military community, so we looked for a few nonprofits whose vision matched up with ours. Then we do extensive due diligence to ensure that the organization is equipped to make a significant impact.
Let's take our decision to collaborate with Easterseals Dixon Center. We held four meetings with them before we said, "This is the right thing to do." One thing that Easterseals Dixon Center focuses on that is particularly important is connecting with vets before they end their term of service. We learned that if they transition and leave the installation without a plan, their success becomes infinitely more difficult. We thought this could be an interesting space to explore.
Talk to us more about your work in the veteran's space.
We work with Easter Seals Dixon Center on training for those seeking careers that require a credential rather than a college degree. The organization allows access to a wide network that includes the Teamsters Military Assistance Program, which enables us to reach into installations. It shares a similar drive and passion with us, and its affiliate structure allows scalability and direct services to meet long-term needs at home.
Another partner is the Marine Corps Scholarship Foundation, a disciplined organization with a long history. We're able to reach up to 3,000 military children a year who have developed resilience and unique skills because they've experienced things like deployments, family injury and even death that other kids haven't.
The Four Block Foundation and Hire Heroes run programs and trainings for people who are getting their degree. Four Block works with veterans and families on how to write resumes and conduct job interviews; Hire Heroes aids in job placement.
You're part of the PwC Veterans Council. How does that align with the PwC Charitable Foundation?
Within our Veteran's Affinity Network at PwC we have over 1,100 people who complement the Foundation's work. One of them, Chris Crace, leads our firm's entire veterans recruiting function. For the firm, this network support the recruitment and retention of veterans, service members, military reservists and members of the National Guard - as well as others, such as military spouses, children, caregivers of service-disabled veterans, and other allies. We enlist their help with the Foundation to help teach skills like financial literacy, mentoring, and resume tutorials.
We've had a lot of success conducting networking courses and panels for children and teens from the Marine Corps Scholarship Foundation. The level of interest from these kids, the amount of notes they take during the panels - it is phenomenal. They know that this was something that they wouldn't otherwise have a chance at and they don't take it for granted. I still have a couple of kids who send me notes on what they're doing, and I love that.
How will you know that you've made a difference?
We have a very defined focus as a Foundation and a mission to drive our veterans' work forward over the next 3-5 years. Over this period, which started at the end of 2014, we want to impact 100,000 veterans or military family members.
There are also intangibles. When you look into the eyes of a military child, you realize they're so appreciative of what you do. It has to do with their background and the sacrifices they've made. They develop grit and look at life a little differently. The same is true of veterans. They have the grit and the skills, and if we can work with them to add credentials and job placement, it makes a world of difference.
It's an approach that is not only sustainable but also impactful.
Calling all HuffPost superfans!
Sign up for membership to become a founding member and help shape HuffPost's next chapter