Oxfam staff first met Josephine* in Juba in April 2013, in a UN base where she had fled to seek protection and medical help. She was pregnant and had left her home in the countryside with one of her five children. However her plans to return were overtaken by war and her entire life turned upside down. Since then, she hasn't seen or spoken to her husband and has been separated from the three children she left behind. Josephine is one of the two million people now displaced by war in South Sudan.
This week, she wanted us to help her relay a message, and this is what she said:
In many wars, women and children are left behind. This is happening in South Sudan and I'm sure it is happening in other parts of the world too. I want to tell women in a situation similar to mine to have courage. Take heart and be strong because your family needs you. Take good care of your children because sooner or later, you will go home and continue protecting their future. Sooner or later, we will need all families to come together.
The theme for this year's International Women's Day is "Make It Happen". Josephine is an inspiring example of the challenges that many women in South Sudan are stoically facing and overcoming, against all odds. But they need so much more help.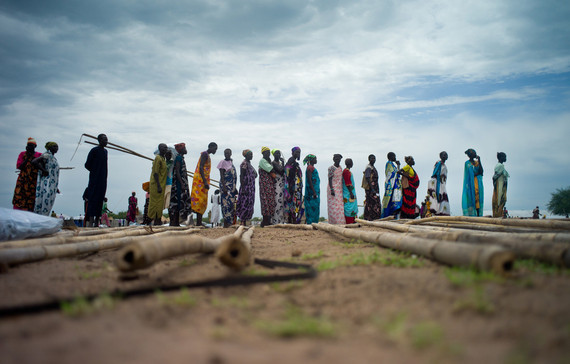 Women in South Sudan are resilient, empowered change-makers: they are farmers, journalists, youth leaders, teachers, poets. They support each other, their families and their communities. In a country at war, women have become the backbone of their communities because so many men have been killed or are away fighting. The women have been left to take care of homes and families, the sick and wounded, to tend the crops and livestock, and make all the decisions. Women are the unsung heroines in South Sudan's turbulent history.
However, despite their resilience and strength, the levels of sexual and gender-based violence they are facing are severe, shocking, debilitating -- and getting worse by the day.
Rape, sexual assault, harassment, domestic violence, forced marriage, and survival sex were persistent problems in South Sudan even before the war, exacerbated by high levels of gender inequality and a lack of justice for survivors. Since December 2013, when this phase of the conflict blew up, the violence against women has worsened because of mass displacement, and the presence of more men with guns and the impunity under which they are left free to act.
UN Human Rights reports say that all sides to this conflict -- soldiers, police and security forces -- have committed acts of sexual violence against women of different ethnic groups. Rape has been used as weapon of war. Sexual violence has been committed as a form of collective punishment. Zainab Bangura, UN Special Envoy on Sexual Violence said in her visit to South Sudan in October that the levels of rape in South Sudan were the worst she had ever seen, reporting horrific accounts of women, children and the elderly being repeatedly raped. The UN's Human Rights Chief recently highlighted that fighters engaged in a "month of rape" against women.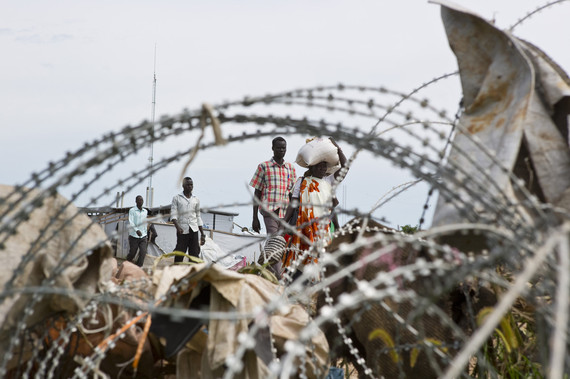 While war underpins this terror of sexual violence, so does an on-going food crisis in South Sudan. The country remains the world's worst food crisis, and the world's largest recipient of aid. Around 2.5 million people are "severely food insecure". Women are now having to take dangerous risks to feed their families just to supplement the aid they are receiving. They are forced to leave UN protection sites to collect firewood, fuel, water, food and shelter. Often they have to walk a long way to seek food, often having to cross frontlines where they can be stopped, harassed, raped, abducted, and even killed. In parts of South Sudan, Oxfam is distributing charcoal vouchers, fuel-efficient stoves and grinding mills in an attempt to lessen these dangers. But in light of just how severe this sexual violence is, a systematic response is needed. Above all, the South Sudan government and opposition must take immediate command and control of their troops and show zero tolerance for rape and other acts of gender based violence. The international community must give more to programs aimed at protecting women and girls and promoting gender equality because what they are giving now is nowhere near enough, given the scale of the problem.
Protection of women is consistently under-funded compared to other needs. The UN is seeking USD $1.81 billion to fund the response to the crisis in South Sudan, yet just $70 million of that is allocated to specialist protection programs, and only $15 million for addressing gender based violence. Despite prioritising protection of civilians, the international community must do more to urgently fund the response to these risks. Specifically, more attention must be given to specialized health, psychosocial, safety, and economic and transformative leadership programmes catering for survivors and vulnerable women. When it comes to tackling sexual and gender based violence, as well as gender equality, it's time for leaders in South Sudan and the international community to follow the leadership displayed by Josephine and the inspiring women of South Sudan.

*Name has been changed
Calling all HuffPost superfans!
Sign up for membership to become a founding member and help shape HuffPost's next chapter