In his recent Op-Ed piece for The New York Times, A.O. Scott explained why "Everybody's a Critic. And That's How It Should Be." Unfortunately, not all analyses of critical thinking as an art form and means of public engagement are as elegantly constructed as Scott's essay. For many people, the bottom line is that "Opinions are like assholes -- everybody's got one." Plenty of assholes, however, have no filter for their opinions.
Some are politicians.
Others may be thugs.
Some, like the Koch Brothers, Sheldon Adelson, and the Walton family are extremely rich and remarkably adept at creating and using tax loopholes and other forms of corporate welfare to increase their political power.
Some, like Donald Trump, are narcissistic buffoons.
For many, 2016 will be remembered as the year that public resentment over wealth disparity reached the boiling point. As the clock ticked down toward Super Bowl 50, two videos (each attacking the nation's income inequality from a different angle) began to go viral.
Like clueless American Islamophobes who ask "Why do they hate us?" wealth often clouds the vision of the greediest among us. Ironically, February's revival of a 70-year-old hit comedy and the screening of a timely new film at the 2016 San Francisco Indie Film Festival prove that when it comes to greed, corruption, and misogyny, "the more things change, the more they stay the same."
Written and directed by Brendan Gibbons, Preoccupied was obviously inspired by the Occupy Wall Street protests that took place in Lower Manhattan's Zuccotti Park beginning on September 17, 2011. Its protagonists, Jon (Jason Selvig) and Robert (Davram Stiefler), are two insufferably self-centered investment bankers who, as they walk through the crowd of protesters, realize that not only are they a part of the 1% that is the focus of the Occupy movement's rage, but that that 1% is the true minority in this battle. Pompous assholes to the core, they decide to start a movement of their own entitled Bankers Unite.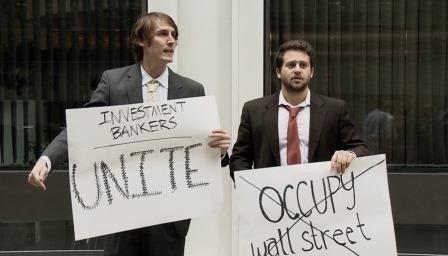 Jon (Jason Selvig) and Robert (Davram Stiefler)
are two investment banker bros in Preoccupied
Protected by their privilege and primarily motivated by their lizard brains, Jon and Robert are a curious pair who embody the worst of bro culture.
Jon is, by far, the more aggressive member of the team. Quick to concoct a scheme that will draw attention to himself and his fellow bankers, Jon's ego blinds him to the optics of what he's doing. Although Jon is delighted to be interviewed by a local television reporter (and see himself written up in the newspaper), his antics are not met with the approval of his father, his boss, or any of the investment bankers who have no desire to rock the boat. Although Jon's wife, Melissa (Molly Montgomery), is eager for their toddler to see Europe at an impressionable age, Jon's rare moments at home with his wife and child are mostly spent wishing he were back where the action is: at work, in a bar, or flirting with a hooker.
By contrast, Robert has a bit of a conscience. Whereas Jon is quick to antagonize and humiliate a minority protester named Phoenix (Alex Malaos), Robert strikes up an unlikely conversation with a black kid (an adolescent numbers whiz) he observes shooting baskets in a city playground. When Robert's wife, Julia (Julia Collier), denounces him as an asshole and dumps him, he is genuinely torn by the separation and her contempt.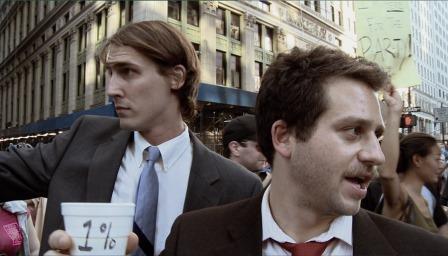 Jon (Jason Selvig) and Robert (Davram Stiefler)
are two investment banker bros in Preoccupied
Gibbons was inspired to create Preoccupied when he witnessed and filmed his two actor friends (Selvig and Stiefler) improvising during the Zuccotti Park protests and realized the potential for broadening the material by weaving their antics into news coverage of the Occupy Wall Street demonstrations. While the two bankers (especially Jon) start off as cocky assholes, by the film's end they've been humbled in ways they never imagined possible.
The lesson they learn? There are always bigger fish in the pond, especially in a ruthlessly competitive (and manipulative) environment like Wall Street. With Bernie Sanders having increasing success in communicating his message about income inequality, Preoccupied takes on a surprising relevance to 2016's election. Here's the trailer:
One of the most frequently heard warnings about an actor's life is that "Dying is easy, comedy is hard!" If someone told you that they planned to revive a post-war comedy to celebrate the 70th anniversary of its world premiere, you'd probably wonder how well the script would hold up in front of today's audiences.
Therefore, I tip my hat to CenterRep's artistic director, Michael Butler, for having the foresight to schedule a production of Garson Kanin's hilarious Born Yesterday -- and to Timothy Near, who directed the show with a comedic zeal and political timelessness that handsomely framed a bravura performance from one of the Bay area's most versatile actors.
Kanin's play premiered on February 4, 1946 at the Lyceum Theatre with Judy Holliday in the role originally cast with Jean Arthur. The character of Billie Dawn (an illiterate showgirl being kept by a corrupt businessman specializing in junk metal) showcased Holliday's talents, which can still be seen in the 1950 film adaptation.
Like George Bernard Shaw's 1913 classic (Pygmalion), Born Yesterday found its inspiration in Ovid's tale of a sculptor who fell in love with the statue he created. Whereas Henry Higgins finds Eliza Doolittle selling flowers in Covent Garden, Paul Verall (Jason Kuykendall) is a political writer who falls for a stereotypically dumb blonde bombshell.
Although Billie Dawn (Sharon Rietkerk) may look like a classic sculpture (and have a voice that could shatter glass), she does not like to be taken for granted. Uneducated, and raised by a single father who insisted that everyone should have a hot meal for lunch, she's nobody's fool. This woman knows how to manipulate men who only see her as a mindless sex object.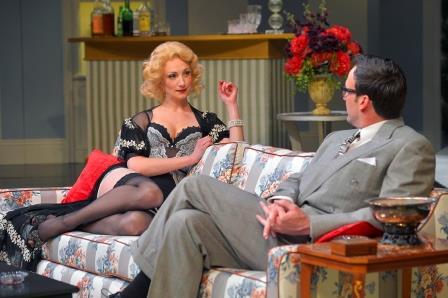 Billie Dawn (Sharon Rietkerk) meets Paul Verall (Jason Kuykendall)
in a scene from Born Yesterday (Photo by: Kevin Berne)
When Billie and her boyfriend, Harry Brock (William Springhorn), arrive in Washington, D.C. for some intense lobbying, Verall's attempt to interview Brock is quickly sabotaged by Harry's arrogance and short temper. Brock's lawyer, Ed Devery (Jackson Davis), suggests that Billie might benefit from some cultural tutoring in order to make her seem more refined while socializing in political circles. After a visit from Senator Norval Hedges (Jesse Caldwell) and his wife (Monica Cappuccini), Harry begins to understand how Billie's refreshing bluntness could turn into a social liability.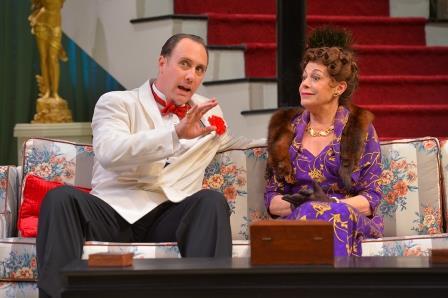 Harry Brock (William Springhorn) explains his business to
Mrs. Hedges (Monica Cappuccini) in a scene from
Born Yesterday (Photo by: Kevin Berne)
With the kind of financial bullying that is frequently displayed by Donald Trump, Harry decides to hire Verall to help with Billie's transformation. Although Paul initially declines the offer (based on a sense of journalistic ethics), he quickly caves when Brock offers him an impressive salary.
As Billie's education proceeds, her vocabulary begins to expand (along with a new determination to be her own woman). Not only is she getting all kinds of rebellious ideas from the books Verall has recommended, Billie is also starting to understand the power she has accumulated thanks to Ed's meticulous planning (which has resulted in her gaining legal control over Harry's junkyard businesses).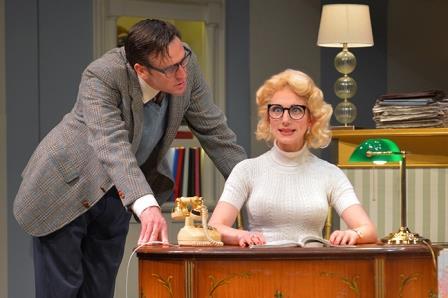 Paul Verall (Jason Kuykendall) tutors sexpot Billie Dawn
(Sharon Rietkerk) in Born Yesterday (Photo by: Kevin Berne)
Thanks to Lynne Soffer's excellent work as a dialect coach, Springhorn and Rietkerk sound marvelously unsuited to the pretentiousness which runs rampant in the nation's capital. Not only does Rietkerk wear Victoria Livingston-Hall's costumes with the comic flair of a burlesque queen, the mere sight of her walking up a flight of stairs in a tight white ensemble could make a man's knees buckle with lust.
Working on Erik Flatmo's elegant unit set for a luxurious two-story hotel suite with a view of the United States Capitol, Timothy Near's ensemble is obviously having themselves a blast. Monica Cappuccini drew big laughs from her tiny role as a greedy Senator's wife. Colin Thomson provided the evening's nervous muscle as Harry's younger and obviously more stupid brother, Eddie Brock.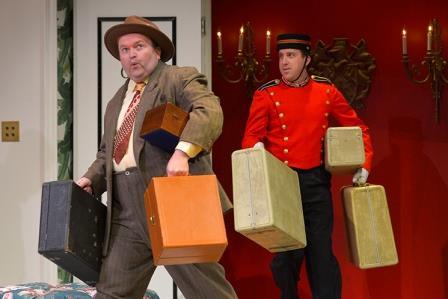 Colin Thomson (Eddie Brock) and Michael Abts in a
scene from Born Yesterday (Photo by: Kevin Berne)
It's fascinating to see how Kanin's 70-year-old script captures the brutal misogyny that still exists in business and political circles, the easy corruption of elected officials, and the stunning ease with which an informed woman can exert her will over an abusive boyfriend who turns out to be all bark and little bite. Topping it all off is Rietkerk's hilariously sexy and not-to-be-missed performance as Billie Dawn. Listening to her play the equivalent of a gangster's dumb broad, it's difficult to reconcile her Billie with Rietkerk's ingratiating portrayal of Maria von Trapp in The Sound of Music.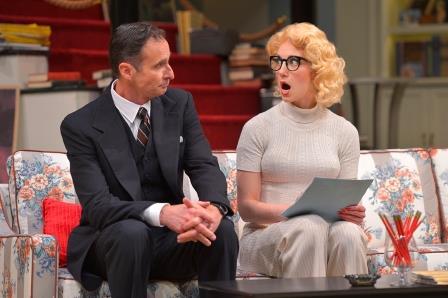 Brock's attorney, Ed Devery (Jackson Davis), is impressed by Billie's
progress in a scene from Born Yesterday (Photo by: Kevin Berne)
REAL LIFE. REAL NEWS. REAL VOICES.
Help us tell more of the stories that matter from voices that too often remain unheard.