If you have used the Tube in London, you are likely familiar with the voice from above reminding you to "mind the gap." Alert to the danger of not paying attention, you heed this warning for your personal safety. There is another gap that threatens the safety of millions of children in the world's poorest countries: the disparity among children regarding their access to lifesaving vaccines.
One in five children lacks access to critical vaccines needed to protect them against preventable diseases. This inequality is the focal point of the World Health Organization (WHO) World Immunization Week, which will focus global attention on a critical objective: closing the immunization gap to reach every child.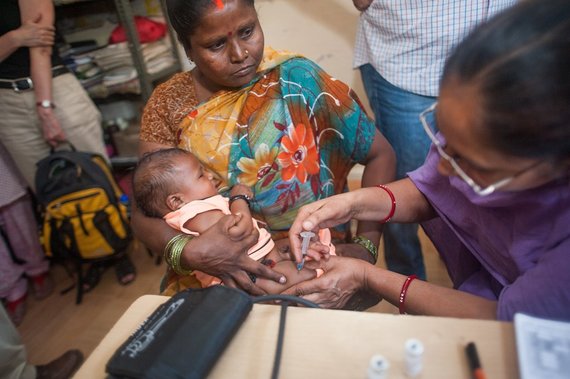 Photo: ©Bill & Melinda Gates Foundation/Ryan Lobo
We are midway through the Decade of Vaccines, an ambitious effort launched in 2010 with the goal of preventing close to 25 million of deaths by 2020. Today, we are on track to meet some of those goals. Ninety low- and middle-income countries have introduced at least one under-utilized vaccine, and we have never been closer to ridding the world of polio. That's great news.
Yet, key immunization targets still remain out of reach. Targets for protecting children from other diseases, like measles, rubella, diphtheria, tetanus and pertussis, and protecting mothers against tetanus, have not been met. These missed targets may feel abstract, but together they contribute to the unacceptable reality that children are at risk for diseases that have no business in our global community.
The global health community must work together in three major ways to reach our immunization targets. We must ensure that vaccine supplies are affordable and sustainable. We must continue to develop more efficient ways of storing and distributing vaccines. And we must encourage governments to make funding vaccines a top priority. Everyone has a part to play in making sure vaccines reach every child.
First, in order to reach all children, vaccine markets need to function optimally so that manufacturers can control risk and forecast demand, donors can achieve the most bang for the buck with their aid investments and countries can buy vaccines at prices they can afford. A proactive effort to make vaccine markets work better for developing countries is essential to closing the immunization gap.
Second, we need to develop more robust systems to deliver vaccines. This could range from investments in innovative technology to transport vaccines at stable temperatures to policies that take advantage of an often-overlooked opportunity: offering child vaccinations to families who visit local clinics with other health concerns.
While it may seem obvious, a strong health system can mean thousands more lives saved. A recent study projects that due to the interruption of regular vaccine services caused by the 2014 Ebola outbreak, up to 350,000 additional children in West Africa may be at risk of measles. If a measles outbreak were to occur, as many as 16,000 additional children could die. Strengthening health systems and ingraining immunization into routine health services is essential to protecting public health in the aftermath of an outbreak.
Finally, we need to encourage countries to invest in their health systems and prioritize vaccination. This could include funding "low-tech" elements like streamlined vaccine cards or "higher-tech" solutions like overhauling national systems for collecting and reporting immunization data to better estimate coverage. Each step a country takes to giving a child access to the vaccines he or she needs brings its health system closer to a point where all communities get the comprehensive care they deserve.
Vaccines are one of the best investments we can make to give every child a healthy start at life. The world must come together to get more vaccines to all children who need them. By focusing together on clear steps forward, we can begin to reduce the gap between who gets vaccines and who does not. During World Immunization Week, I encourage you to "mind the gap" to raise awareness about the remarkable power of vaccines. The gap will only get smaller if we remind people it exists.
Calling all HuffPost superfans!
Sign up for membership to become a founding member and help shape HuffPost's next chapter