Two exhibits of my work, Oil and Water and Re/Viewing the American Landscape are currently on view at Blue Water Fine Arts in Port Clyde, Maine. I've been spending summers painting in Maine for close to forty years and exhibiting there for over thirty. Last summer Down East Magazine selected me, along with artists Alex Katz and William Wegman as cover artists for their 60th Anniversary issue. I continue to be amazed at the work which goes into putting together an exhibit.
As many of the works are watercolors, much thought goes into how to mat the artwork and how best it should be framed -- what type/color of frame, type of mat (I am very fortunate to have an excellent craftsperson who makes my mats, and am in close proximity to a Frame Shop, owned by a delightful and knowledgeable Englishman whose family has a frame shop in England). I personally like to place the mat on the painting and secure it because, for me, even the smallest centimeter changes the entire intended design of the painting. One might think a gold frame is a gold frame but there are different types of gold frames -- red gold, yellow gold, antique, water gilded- and one gold might not support the painting as well as another. When I hang an exhibit such as my current Reviewing the American Landscape I think of the exhibit as a whole and the framing more as a backdrop so as not to distract from the art.
I learned from working with National Gallery of Art Curator Sarah Cash who curated my Paris Exhibit Barbara Ernst Prey: An American View at the Mona Bismarck Foundation in Paris the importance of a good installation and thoughtful dialogue of the artwork. Before the exhibit goes up I work with the curator and think about which paintings compliment each other. In this current exhibit the gallery is the former Village Inn once owned by Architectural Digest Editor Paige Rense and artist Kenneth Noland. It's charm is in the connection to the authenticity of the area and a reflection of what I have been documenting for many years.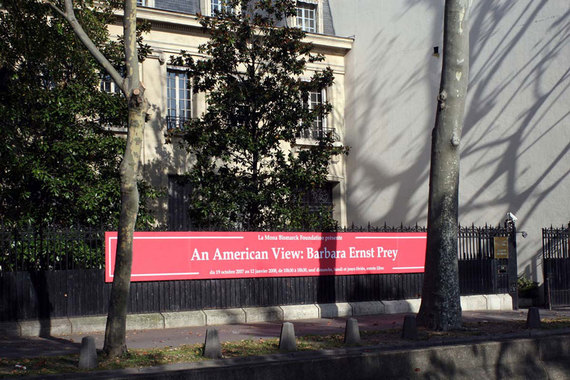 An American View: Barbara Ernst Prey on exhibit at the Mona Bismarck Foundation, Paris

As I am a native New Yorker (my mother was the Head of the Design Department at Pratt Art Institute and a great artist herself) people often ask me who comes to this exhibit. People come from all over the country to see the exhibit and it has become a sort of destination. Just this year the Chairman of the Board of a major museum flew in private for two hours, purchased some of the new paintings and then left. Another well known collector came up on their yacht and spent the night in the harbor. Some well known American Curators as well as Directors and collectors have walked though the exhibit.
My paintings are in the collections of The White House, the Brooklyn Museum and the Smithsonian American Art Museum but also the Farnsworth Museum, which has an early painting of mine, here in Maine. My paintings from Maine are in collections worldwide, one currently on view at the U.S. Embassy Residence in Hong Kong. In between exhibition installation, I was able to accompany the Chairman of the National Endowment for the Arts (I was appointed by the President of the United States to the National Council on the Arts, the advisory Board to The National Endowment for the Arts) on a part of her visit to Maine and then returned to finish the installation.
Something new for this year is an exhibit of a series of never before seen oil paintings. I've been secretly painting the area in oils and for the first time have exhibited them. I haven't painted in oils since I was 17 and Governor Hugh Carey of New York purchased my first oil painting so it is a return with a more intimate series. This, of course, poses a whole new conundrum of how to hang an exhibit.
Hope you'll stop in if you're in Maine at Blue Water Fine Arts in Port Clyde, Maine.
www.bluewaterfinearts.com www.barbaraprey.com
Facebook Barbara Ernst Prey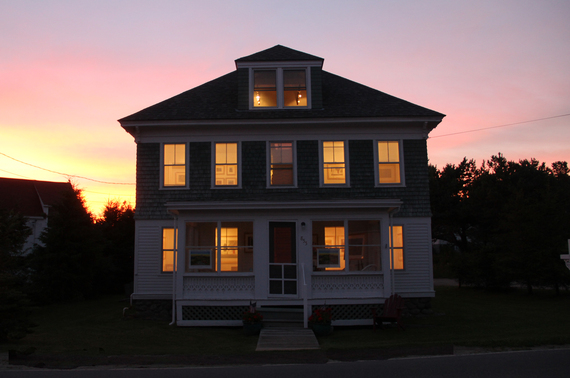 Blue Water Fine Arts Gallery
Calling all HuffPost superfans!
Sign up for membership to become a founding member and help shape HuffPost's next chapter