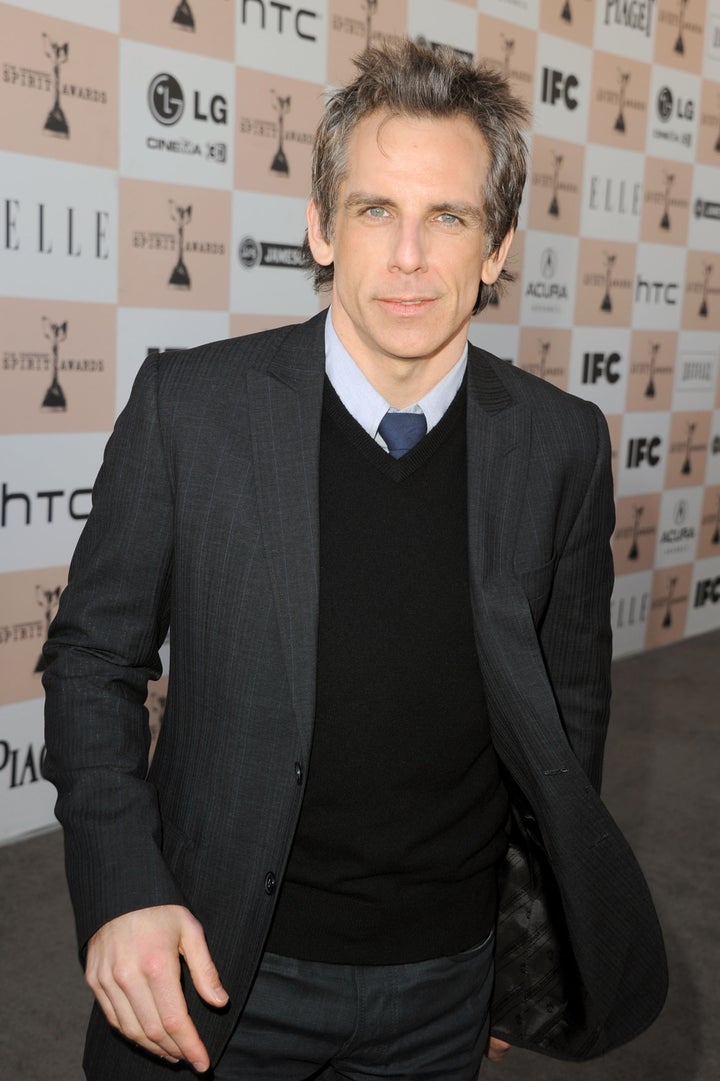 History is repeating itself on Broadway. Ben Stiller made an auspicious Broadway debut in a revival of The House Of Blue Leaves 15 years ago. Almost to the day, he stars in a new mounting of John Guare's blackly comic play. And Christopher Abbott, the young actor playing Ronnie (the same role Stiller first essayed) holds the audience spellbound with his second act monologue.
It's a vivid, wonderful moment that stands out all the more in this hapless, muddled production that is notably lacking in good news for fans of Stiller or Guare. The story is absurdist, with Stiller starring as a miserable married man and would-be songsmith saddled with a nutty wife called Bananas (Edie Falco) and a girlfriend (Jennifer Jason Leigh) pushing him to get out of Dodge (or in this case, New York) and head for LA where his gifts as a composer will be appreciated. Meanwhile, the Pope is in town for a visit and everyone wants a glimpse, including Stiller's son Ronnie (AWOL from the military and with plans to assassinate the pontiff) and a gaggle of nuns who stumble into their apartment after getting stranded on the roof of his building.
A certain energy builds very briefly in the second act with all the nuns creating a little chaos, aided immeasurably by the presence of Mary Beth Hurt (as the lead nun) in a tiny part not worthy of her talent. By and large no one seems to know what show they're in. My guest thought Edie Falco was the one who captured the wounded but hilarious tone of the play right and indeed she scored a Tony nomination for her work. I felt she was just as adrift as Stiller and Leigh. I blame the director David Cromer, who did such a marvelous job with the recent revival of Our Town. That show featured a genuine theatrical coup with its production design.
Here Cromer hopes for the same effect with a set that slowly pulls apart. Unfortunately, the effect is so drawn out and mild that all you really remember is the creaking and groaning of the set that overshadows the dialogue for the last 10 or so minutes of the show. It doesn't help that the set by Scott Pask is especially ungainly, with a bathroom sink shoved into one tiny corner for no apparent purpose and two apartment doors stacked on top of each other at the other end of the stage apparently to fill up space.
The stage itself juts crudely out into the audience for no reason other than to contain a very unnecessary second piano that pops up out of the ground for the opening scene and is then swallowed back up again for the rest of the show. Why not just use the piano already on the stage?
I was looking forward eagerly to this production since I missed the legendary 1986 version. But what looked good on paper looks merely flat on stage. Still, if Abbott proves the find he appears to be in that one riveting scene, the show will be able to hold its head high and say, "You saw him here first." Just like they did with Ben Stiller so many years ago.
Note: Michael Giltz was provided with tickets to this show with the understanding that he would be writing a review.
REAL LIFE. REAL NEWS. REAL VOICES.
Help us tell more of the stories that matter from voices that too often remain unheard.