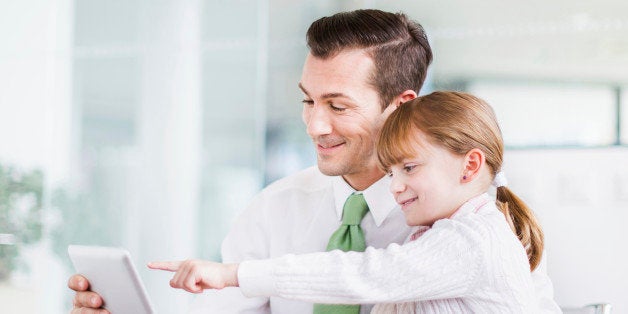 I've been lucky to have many incredible experiences in my life -- not least of them, having the privilege of being elected to serve Oregon in the United States Senate.

But of all those incredible experiences, one stands apart: Becoming a father.

Becoming a parent is like nothing else. It changes your outlook forever. It makes you live for something greater than yourself. And it instills a powerful desire to be by your kids' sides as much as possible -- to watch them grow up and protect them as best you can.

Too many Americans today, however, are forced to choose between spending time with their children and earning the money that's needed to keep a roof over their heads and food on the table. It's bad for our economy. It's bad for our families. And it's just plain wrong.

Forcing parents to choose between their families and their jobs is a huge problem at any time, but it's especially harmful when it comes in the first few weeks or months after the birth of a baby.

Having a new baby is a huge adjustment, and studies have shown it's a critical time for family bonding for mothers, fathers and babies alike. But today in the United States, 87 percent of workers have no access to paid family leave for the birth of a child. The fact that nearly 9 in 10 American workers lack this basic protection should be a huge wake-up call for all of us.

In fact, the U.S. is the only industrialized nation in the world that doesn't provide any form of paid time off for new parents.

It's been rightly noted that this is a huge roadblock for American women in the workplace. But paid parental leave isn't just needed for women. It's essential for fathers, children, and our entire economy too.

As bad as paid leave policies are for working mothers, they're even worse for fathers. Just nine percent of private sector workers are employed by companies that offer paternity leave to all male employees. This shifts an even greater childcare burden onto women, robs men of valuable time with their newborn children, and hurts morale and productivity for employers. It's a lose-lose-lose proposition.

Embracing family values should be more than just a talking point. It should mean truly valuing strong families and fighting for the economic building blocks that will help all our families thrive.

That's why it's long past time to pass the Family And Medical Insurance Leave (FAMILY) Act to make sure that every new parent in the U.S. has the opportunity to take paid time off of work when a new child is born.

This would help give millions more workers a fair shot at economic success - and it would ensure that all parents, men and women, can share in both the tough work of child care and the amazing rewards of watching a baby grow up day-by-day.

Spending time with your children when they're young is a precious opportunity that only comes around once -- and no one, mother or father, should be forced to choose between their job and their family.

I'm proud to be a Senator, but I'm even prouder to be a dad. This Father's Day, let's embrace true family values and push for fair, inclusive family leave that will make our economy work better for everyone.