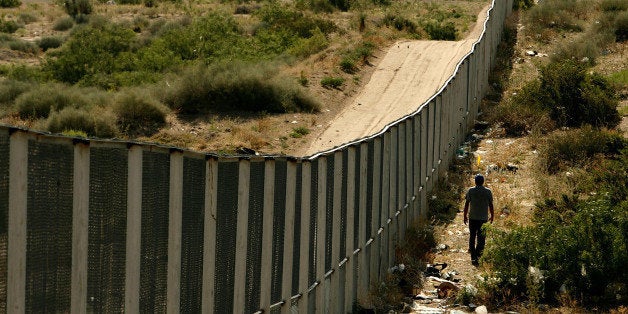 So I've been following the advice of the Freakonomics guys, who advise us to think like a child and ask seemingly naive questions in the pursuit of higher truths.
At first, my childlike wonder led to such inquiries as "Why do men have nipples?" and "Can you hit a baseball thrown at the speed of light?" and of course, "If zombies aren't alive, why do they need to devour the brains of the living?"
But let's face it, some questions are just unanswerable.
So I turned my attention to one of America's big issues, and a subject that I have written about at length: immigration.
I asked myself, "Would something like the Homestead Act for undocumented immigrants be a good idea?"
For those of you who skipped U.S. history class to go smoke in the parking lot, here is a quick refresher: The Homestead Act was passed in 1862. It encouraged Western migration by giving settlers 160 acres of land. In exchange, homesteaders paid a filing fee and completed five years of residence before receiving ownership of the land.
So how does that relate to undocumented immigrants?
Well, right now, undocumented immigrants are either caught in an expensive, inefficient loop of deportation/return/deportation, or they live in constant fear of la migra. The system doesn't work very well, which is something that both conservatives and liberals can agree upon.
And don't fall for the classic mistake of saying undocumented immigrants should just wait in line to get their papers. It is well-established that for many people, there is no line and never will be.
So here's my proposal: We say to undocumented immigrants, "Well, we can't just hand you citizenship. But you can stay in the country if you agree to move someplace where your insane work ethic and tireless pursuit of the American Dream can benefit the nation."
And then we give them the option of claiming an abandoned house in Detroit's inner city, or moving to a small town that's dying, or going to some other location where they can help reestablish a troubled community and work off their debt. If they live in the location for a certain number of years without getting into legal trouble, and pay a filing fee, they get citizenship.
Yes, that's crazy. Because we can't solve a societal issue by giving away vacant homes... except that we can. And an influx of newcomers won't revive rural America or fading cities... except that it can. And the cultural clashes that would erupt over such a policy are insurmountable... except that they're not.
In essence, there is a precedent for each element of this idea. It would be a massive undertaking loaded with political landmines, but hey, what isn't these days?
Also, this would not be the only way for undocumented immigrants to obtain citizenship. It would be one of several potential pathways available to them.
Now, I'm not saying this a great idea. I'm just asking the question and looking for feedback. So what do you say? Is a new Homestead Act for undocumented immigrants worth pursuing?
Calling all HuffPost superfans!
Sign up for membership to become a founding member and help shape HuffPost's next chapter