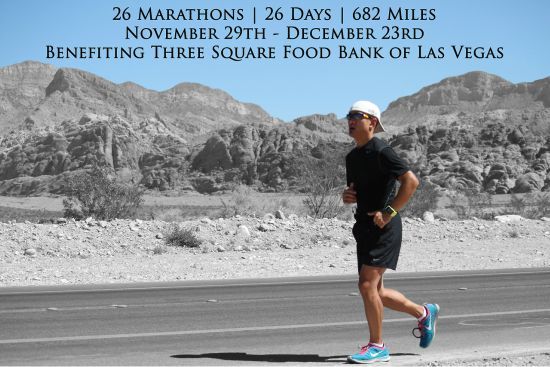 We at Charity Miles have so many incredibly inspiring users, it's hard to choose just one to profile each week here at HuffPo. I think we've chosen a particularly timely one today:
We'd like to introduce you to Jayson Black, a running enthusiast from Las Vegas. He says: "I've really taken to the ultra endurance side of the sport, running 30, 40, 50+ miles at a time. With that being said, November 29th, I'm taking my love for running ultra-endurance distances to a whole other level, when I'll start my 26x26 Mission, and run the first marathon of 26 consecutive days, ending December 23rd."
What is your greatest accomplishment as of late?
Over the summer, I ran ultra-distances to bring inspiration and motivation to those affected by cancer. I dedicate all my runs to the Livestrong Foundation, those who are fighting, have won or lost their battle to cancer. Pushing my body both mentally and physically and battling 100+ degree temperatures has helped me find a way to live my life to help others. My upcoming 26x26 mission however is benefiting Three Square Food Bank of Las Vegas. I've teamed up with multiple sponsors from around the Las Vegas Valley to hold a 26 day food drive. On December 23rd, my last day of 26 marathons, we'll be presenting the collection of food and monetary donations to Three Square.
Every time I set out on long treks, whether it's across the desert or over a mountain pass, I tell myself that, "someone, somewhere around the world today, will walk into a doctor's office or a hospital, not knowing if they're going to walk out." Having known people who have been affected by the disease, I know how much it takes out of a person hearing the word "cancer." I think about those people the entire time I'm out trekking across whatever terrain it is that I'm tackling that day. While I motivate and inspire others by pounding the pavement, I too need inspiration and motivation. Mine comes from knowing that I'm helping others.
What motivates you to make the world a better place?
Just knowing that I have the ability to make someone smile or feel better keeps me going. I get to do what I love and at the same time, I get to help others. Whether it's someone I know personally, or someone who follows me via social media, knowing that I've been a positive influence to someone else is what it's all about.
What do you do to stay healthy and fit?
Running ultra-distances isn't as easy as a walk in the park. I stay fit by eating right and staying active. I'm primarily vegetarian, although every so often, I do add meat into my diet, in small quantities. I think overall my body performs better and recovers faster by using more plant based nutrition. It's also important to let my body rest. So when I'm not out running, I keep by body moving by golfing, walking, cycling, and anything else that lets me be active while reducing the stress of running from my body.
What's the best piece of advice you've ever received?
We've all heard the expression, "Reach for the stars.." I live my life by that motto. I think all of us, no matter what our race, economic or education status is, is capable of whatever we put our minds too.
What's your favorite aspect of using Charity Miles?
My favorite thing about Charity Miles is that you don't have to be a professional athlete to get involved. You don't have to have multimillion dollar sponsors behind you in order to make a difference.
Who do you exercise for, and why?
I run for all those who need a little help staying motivated or inspired. Whether you're fighting cancer, trying to drop a drug habit, have been a victim of sexual or physical abuse, or just need help getting/keeping your life on track, I hope that my treks and ventures help others realize that nothing is impossible.
To hear more stories from the Charity Miles community read our Spotlight On series.

Aneya Fernando is the Social Media Editor for Charity Miles. She is also a writer and producer.
REAL LIFE. REAL NEWS. REAL VOICES.
Help us tell more of the stories that matter from voices that too often remain unheard.