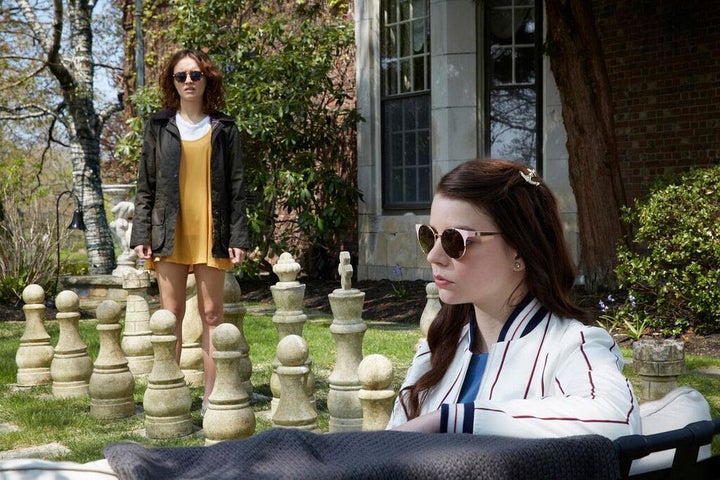 The female psychodrama is one of cinema's great traditions.
Societal sanctions burden these films' protagonists, so much so that each reaches a breaking point, even if she struggles to externalize it.
The new movie "Thoroughbreds," opening in theaters Friday, transposes the psychodrama's hallmarks onto two teen girls choked by the open air of suburbia, where the rumor mill is a villain and the houses are so grand they envelop anyone who dares to enter.
Cory Finley's humorous directorial debut, adapted from a play he wrote, looks at suburbia the way David Lynch did in 1986′s "Blue Velvet" ― enigmatic, maddening ― but he sprinkles in enough of the popular-girl pastiche seen in 1988′s "Heathers" to create a monument that treats cold-blooded calculations as a savory antidote to the world's ills.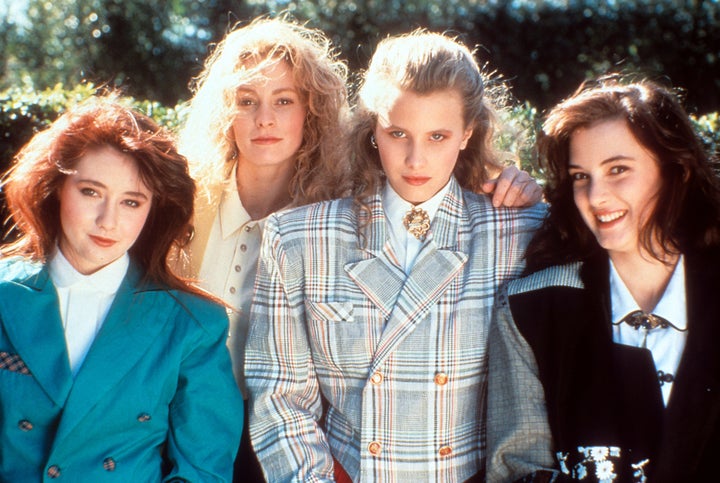 Anya Taylor-Joy, the magnetic actress best known for "The Witch" and "Split," plays Lily, a Connecticut queen bee who's been recruited to spend time with her estranged classmate Amanda, portrayed by Olivia Cooke of "Bates Motel" and "Me and Earl and the Dying Girl" fame. Awaiting trial for killing her family's horse, Amanda is a card-carrying social pariah and possible sociopath who delivers expert tutorials on fake-crying.
Lily is determined to maintain a polished facade, and Amanda is determined to shatter it, especially after Lily reveals how much she loathes her stepfather (Paul Sparks), a surly prick who flaunts his wealth so as to remind Lily and her mother (Kaili Vernoff) that they are beholden to his patriarchy.
When Amanda and Lily reunite at the start of "Thoroughbreds," they are positioned as foils. The score's soft booms and ominous rattles graft onto them an unspoken conflict, as if their stratified social standings make them enemies maintaining face. But the girls were friends circa sixth grade, so there's a kinship buried in Lily's plastic smile and Amanda's placid confrontations. The latter knows her mom is paying Lily to hang out with her under the guise of studying for standardized tests, so Amanda already has ammo to wield over her manicured pal, who is still processing her father's death and mother's remarriage.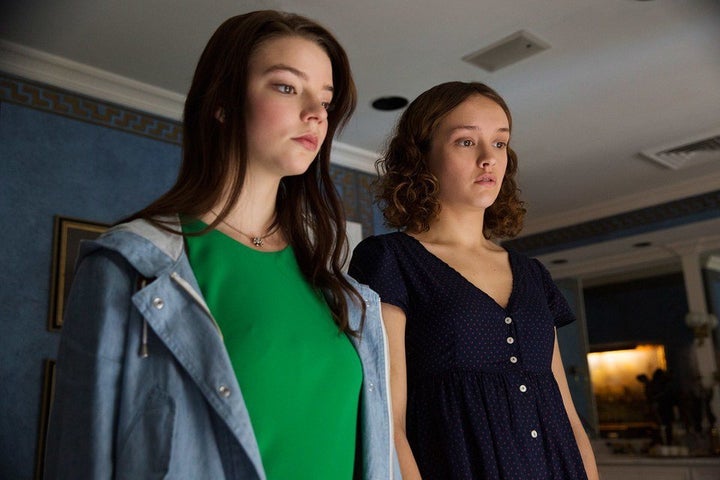 But once Amanda reveals she knows Lily was never really looking to reconnect, the wall between them crumbles: Lily assumes some of Amanda's candor, and Amanda takes on an inkling of Lily's sympathy. As is often seen in teenagers, who are prone to mimicking their peers, Amanda and Lily's personalities slowly merge ― not entirely, but just enough to help them hatch a plan to murder Lily's stepfather with the help of a low-rent drug dealer who owns a gun (a manic Anton Yelchin, nailing his final screen role).
When I first saw "Thoroughbreds" at the Sundance Film Festival in January 2017 ― back when it was titled "Thoroughbred," singular ― I called it "Heathers" meets "Persona." Having again devoured its slick dark comedy recently, those parallels are even more apparent. (As is a touch of "Double Indemnity.") Both of those movies adopt a more heightened reality than "Thoroughbreds," teetering somewhere between satire and low fantasy. And yet they share distinct DNA.
In "Persona," Ingmar Bergman's cryptic avant-garde experiment, a stage actress (Liv Ullmann) becomes physically and emotionally indistinguishable from her vulnerable nurse (Bibi Andersson) who has always felt unheard. The actress has stopped speaking, giving her ample time to listen. In "Heathers," Michael Lehmann's satire, murder and suicide are pastimes for the wealthy, exploited as a means of securing schoolyard popularity ― a biting critique of capitalism.
Amanda and Lily's murder plot isn't designed to earn them social points, but it is a way of escaping their realities. Lily can flee the torment of her wicked stepfather, and Amanda can escape the tedium of a life where no one thinks she has much worth. The camera remains fixed on the girls, following them as they move through Lily's lavish home and cutting to sudden close-ups to expose their inner machinations. Watching them, murder feels like justifiable vengeance, a way out of being undervalued and misunderstood. Finley's knack for black humor adds a deliciousness to the proceedings.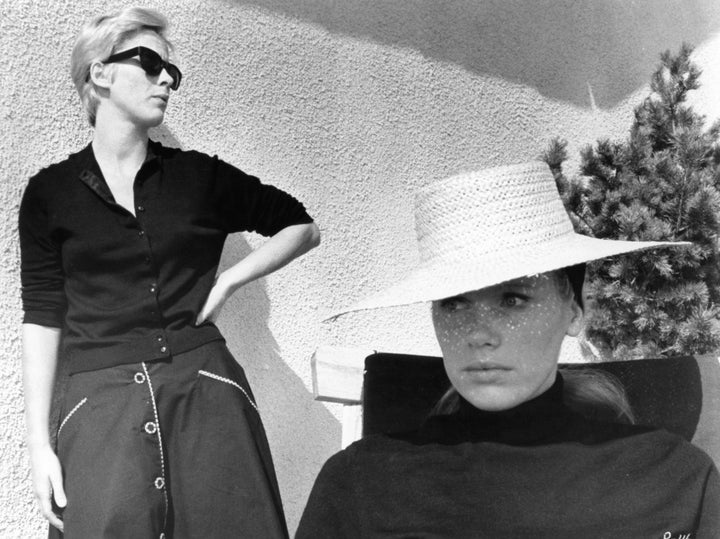 "Thoroughbreds" further departs from psychodramas of yore by avoiding the hysterics that sometimes define these movies' protagonists. It's telling that all of the aforementioned titles are directed by men, as are 1962′s "What Ever Happened to Baby Jane?" and "Carnival of Souls," the genre's installments that most portray their women as fanciful basket cases. ("Hysteria won't solve anything," a man tells Candace Hilligoss' distraught character in "Carnival of Souls.")
As Emily Yoshida wrote last year in a sharp Vulture essay about psychodramas, "A scene without a man will never matter as much as a scene with one; a scene without a man isn't as real as a scene between two women — hence the unreality that so many of these films exist in." Interestingly, Finley is more generous to his characters than some of the other fellas responsible for female-fronted psychodramas: "In a way, the core structure of the movie is a romantic comedy," he recently said. "For me, that's the one genre that really doesn't have a hero and a villain." He's able to pay homage to Lynch and Bergman and Roman Polanski and Billy Wilder while still modernizing the tropes he borrows.
By the time "Thoroughbreds" ends ― no spoilers ― everything we know about Amanda and Lily has shifted. But it's not as if they become foreign versions of the girls we first met. To Finley's point about this being a rom-com of sorts, Amanda and Lily are unconventional soulmates. Like any great couple, they invoke in each other qualities they didn't know they possessed. Some of those qualities are dark, brooding and bitter, giving "Thoroughbreds" a certain self-aware camp. Dark occurrences in picture-perfect suburbia begs for irony.
And like its predecessors, the movie leaves a sense of horror in its bloodstained wake: the horror of murderous intrigue and impulsive adolescence. The key difference? It convinces us that its characters' oddities shouldn't invite fear. In fact, they might be sort of brilliant.
Popular in the Community