WASHINGTON ― Democratic vice presidential nominee Tim Kaine called on FBI Director James Comey to publicly clarify whether anyone at the FBI has read the new batch of Hillary Clinton-related emails that appeared in a separate investigation of former congressman Anthony Weiner.
Comey sent a letter to Congress on Friday announcing the discovery of emails that were potentially relevant to the probe of Clinton's private email server. Appearing on ABC's "This Week" on Sunday, Kaine called that letter an "unprecedented move" that was in violation of two protocols ― those two protocols being the disclosure of information from an ongoing investigation and the public pronouncement about a potential investigation into a candidate immediately prior to an election.
"If he hasn't seen the emails, they need to make that plain and release the circumstances of those once they have done the analysis," Kaine said. "That's what Hillary said immediately when she spoke to the press on Friday. She said you can't break both protocols and leave it up in the air with a question mark. You owe people the complete information."
There is little information about what the FBI actually knows about the emails, which were reportedly found on the personal computer of Weiner, the estranged husband of Clinton aide Huma Abedin. Weiner is being investigated for allegedly sexting with a minor. According to a report by Yahoo's Michael Isikoff, the FBI does not even have a search warrant to read the emails yet. This has left several large questions up in the air about how many emails have been discovered and whether they are simply copies of previously obtained emails.
Clinton campaign chairman John Podesta echoed Kaine when he appeared on CNN's "State of the Union" on Sunday morning, saying, "[Comey] might have taken the first step of actually having looked at [the emails] before he did this in the middle of a presidential campaign."
Podesta also wanted to know if Comey would inform the public about whether Russia hacked emails of his that are currently being distributed by WikiLeaks.
"Maybe Jim Comey, if he thinks it's important, will come out and let us know in the next nine days," he said.
HUFFPOST READERS: What's happening in your state or district? The Huffington Post wants to know about all the campaign ads, mailers, robocalls, candidate appearances and other interesting campaign news happening by you. Email any tips, videos, audio files or photos to scoops@huffingtonpost.com.
Before You Go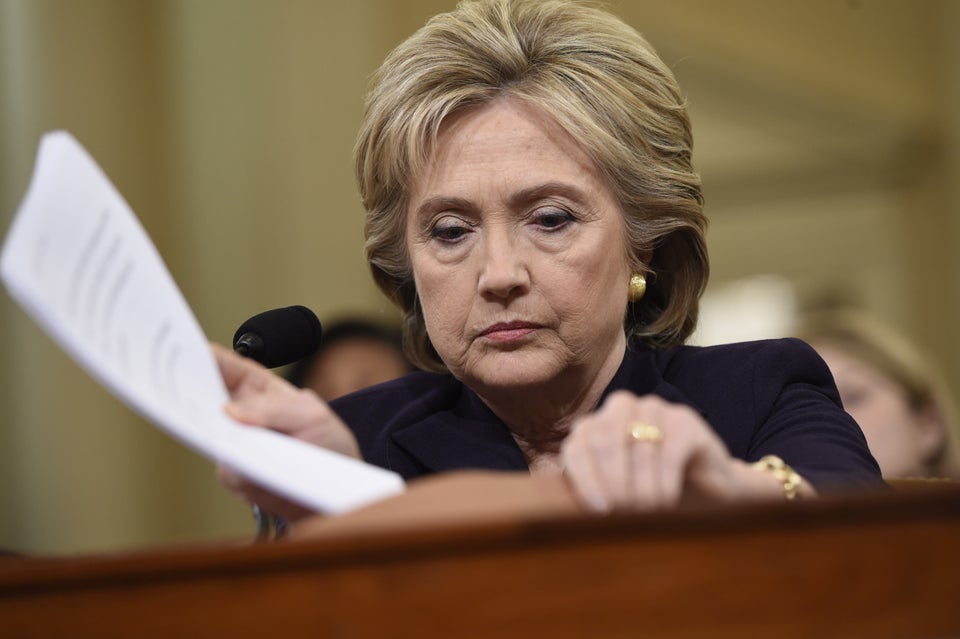 Here Are Hillary Clinton's Many Facial Expressions During Her Benghazi Committee Testimony
Popular in the Community